Apple Configurator
By Apple
Open the Mac App Store to buy and download apps.
Description
Apple Configurator makes it easy for anyone to mass configure and deploy iPhone, iPad, and iPod touch in a school, business, or institution.

Three simple workflows let you prepare new iOS devices for immediate distribution, supervise devices that need to maintain a standard configuration, and assign devices to users. Quickly update your devices simultaneously to the latest version of iOS, configure settings, and install apps and data for your students, employees, or patrons.

Apple Configurator can be used by larger organizations and businesses to set up new devices, install enterprise apps, and enroll each device with a Mobile Device Management solution for remote management by an IT administrator. It is perfect for the classroom or student lab where devices need to be quickly refreshed and kept up to date with the correct settings, approved policies, apps and data. Apple Configurator can also be used to personalize devices with data and documents for specific users.

Prepare devices
• Configure multiple devices simultaneously
• Update devices to the latest version of iOS
• Create and restore a backup of settings and app data from one device to other devices
• Import apps into Apple Configurator and sync them to new devices*
• Use the built-in editor to create and install iOS configuration profiles
• Enroll devices with your Mobile Device Management solution for remote management

Supervise devices
• Organize supervised devices into custom groups
• Automatically apply common configurations to supervised devices
• Quickly reapply a configuration to a supervised device and remove the previous user's data
• Import apps into Apple Configurator and sync them to supervised devices*
• Define and apply common or sequential names to all devices
• Restrict supervised devices from syncing with other computers

Assign devices
• Add users and groups manually or autopopulate via Open Directory or Active Directory
• Check out a device to a user and restore the user's settings and data on that device
• Check in a device from a user and and back up the data for later use, possibly on a different device
• Apply custom text, wallpaper, or the user's picture to a device's Lock screen
• Import and export documents between your Mac and Apple Configurator
• Sync documents between assigned devices and Apple Configurator

*Installing paid apps from the App Store requires redemption codes from the Volume Purchase Program for Education or Business. The Volume Purchase Program is not available in all regions.
What's New in Version 1.7.1
Apple Configurator 1.7.1 contains improvements and bug fixes including:

• Improvements to iTunes Store authentication, including a fix for failure to authenticate with certain Apple IDs
• Devices are erased before restoring a backup
• Support for new configuration profile payloads and settings introduced in iOS 8
• Content Filter: Plug-in filter type
• Domains
• Email & Exchange: Per-message S/MIME encryption switch
• Restrictions: Allow Handoff, Allow iCloud sync for managed apps, Allow backup of enterprise books, Allow notes and highlights sync for enterprise books
• Restrictions (supervised only): Allow Erase all Contents and Settings, Allow configuring restrictions, Allow Internet results in Spotlight
• VPN: Check Point Mobile VPN and IKEv2 connection types and Always-on VPN
Screenshots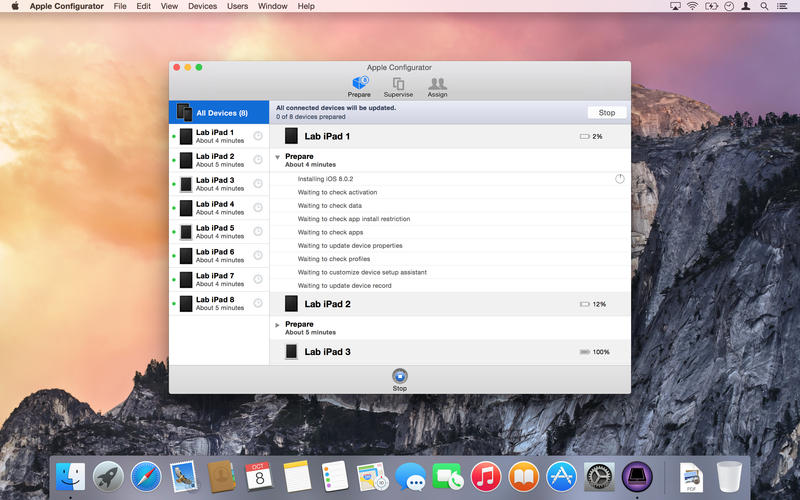 Customer Reviews
iPads & Configurator just not working properly
Thank goodness, someone else with the same problems as me, my school has only just started buying iPads, so we only have 15, but they are so difficult to manage with configurator, that we will not be buying very many more. Maraca looks good, but won't work with proxies. All the other decent MDM's charge, I was quoted £20 a device for AirWatch.

When installing new apps, I have given up trying to install in bulk and just do 2 at a time connected to my MacBook Air, I can see what is happening, don't have to worry about I-Tunes passwords popping up, if one doesn't load, then at least it is only a 50/50 chance of which one has a problem.

The only thing Apple have been helpful on is giving me instructions on how to use VPP and ensuring that I have had redeemable codes for the free software that comes with all Apple devices capable of iOS 8.1 and above. The devices should all come with Pages, Numbers, Keynote, Garageband adn i-Movie, when you use configurator for multiple devices, you are asked to purchase these licences. I had to email Apple a copy of my purchase invoices and they sent me a list of redeemable codes to use.

If you are going to use Configurator, please bear these comments in mind, it really isn't the answer to MDM.
Password Wipe
Every time I use the apple con fig on my iphone 4 white it wipes the password PLZ FIX QUICK

Also the app is very good I love it great adget to have at your side and does exactly what it is meant to
Awful piece of software.. READ IF YOUR A TECHNICIAN
I work in a school with around 120 iPads in a shared environment for the students. Before I started here the school had already invested a lot of money and time into Apple's EcoSystem with Mac's and iPads being used reguarly. The Macs are problematic but I can deal with them! The iPads though are another story, we are unable to manage our iPads using an MDM like Meraki due to bandwidth issues, when pushing out an app from Meraki and having 120 iPads downloading that app individually from the internet can really kill your network. We can't use Cache Server on our Mac Server because our LEA Broadband means we share the same public IP as all the other schools so as soon as we turn on cache server every other school in our county can't use Apple kit to download things. This is also the case with many other LEA supplied broadband deals across the UK so you might want to check before buying iPads if planning to use them with Meraki that you can enable things like Cache Server or have a very reliable and fast internet connection.

Due to that we are stuck with this rubbish… Apple Configurator I swear will be the death of me. When plugging in mutliple iPads you'll find silly problems like Apple Configurator getting stuck on "Authorising Apps" for no apparent reason and then when you force quit the application and restart it and sign in again it will work….. but wait for only some of the iPads and now your going to have to guess which iPads are done properly. The app will sometime only reckognise some iPads have been plugged in for example if you have 5 plugged in sometimes only 4 will show up, for no good reason.
When updating to a new iOS version the app automatically puts the iPad into "Restore" mode this deletes everything on the iPad and starts a fresh image so this means it wipes all work done by the children off the iPad so we are having to make sure we save the files onto a local server, (Don't even get me started on how hard this is to do) before we connect them to Apple Configurator. Worst thing though is sometimes the iPad will get stuck in "Restore" mode and meaning you have to completely restore the device in order to get Apple Configurator responding to it again, though because you've restored it you have lost all your app licneses that where installed on that particular iPad. Proxy Servers are another huge issue.

It's a nightmare, there's a lot more issues but I won't keep boring you! If you're a user and don't tend to see this side of things (managin the devices) then they're great, but if your a Network Manager or Technician within a UK school enviroment I reccomend you stay well clear of iPads and have a look into some better alternative such as Surface Pro's or Learnpads.

I am extremely disappointed with Apple and how useless their customer support has been whenever talking to them about anything technical to do with networking, they never understand and I actaully have an email from them stating iPads shouldn't be used in a shared enviroment in a school. So if you can afford 1:1 deployment of the things go right ahead, if your planning on sharing class sets, run a mile and don't stop.

Apple devices are great when used at home as local user but please stay well away in a network environment. You have been warned! I would also reccomend you taking a look at the EduGeek website and searching for Apple iPads in Forums and you'll see this is not just me winging it's 9/10 technicians having problems with the deployment of these devices, though when telling Apple they don't care and simply turn the other way when it comes to complex School Networks. They've done their bit after all…. they've sold you the devices.
View in Mac App Store
Free

Category:

Utilities

Updated:

13 November 2014

Version:

1.7.1

Size:

14.5 MB

Languages:

English, Chinese, Dutch, French, German, Italian, Japanese, Korean, Spanish

Developer:

iTunes S.a.r.l.
Compatibility: OS X 10.10 or later