Aviva Drive
By Aviva PLC
This app is only available on the App Store for iOS devices.
Description
Take the Aviva Drive challenge with this nifty app that monitors your driving skills

Once you've completed 200 miles, you'll get an individual driving score between 0-10 (10 being the safest). We'll give you driving feedback and calculate your personal Aviva Drive discount. Also after 200 miles, you will see your driving performance (as a star rating) for acceleration, cornering and braking on every journey, plus begin to earn distance badges.

Safer drivers who score 7.1 or above save an average of £170 on their Aviva comprehensive car insurance - a saving achieved by 55% of them.*



 View your progress – Keep and eye on your progress and track your route within the built in map function. And once you're done, you can view a summary of all your completed journeys.
Auto record - The first rule of safe driving is to never use your mobile phone while you're behind the wheel. So Aviva Drive intuitively records your journey by detecting movement via your phone's GPS – clever stuff, and no action required.
You'll get a notification when the app starts and the chance to review all auto-recorded journeys afterwards. So if someone else was driving, you can make sure their skills (or lack of) don't affect your score.
Earn Badges – With Aviva Drive, you can collect badges for safer driving skills, driving at specific times and reviewing the app.


Optimum accuracy - Some things affect the precision of GPS on your phone, so for the most accurate score, we recommend you use an in-car cradle or place your phone in a stable position.



We won't use GPS data which could be unreliable, so you may find the mileage recorded by the app for some journeys is less than the actual mileage you've driven. 
Battery usage - GPS requires battery power. If you're planning a long journey, consider using an in-car charger.

Continued use of GPS running in the background can dramatically decrease battery life.


Low scores - A score of 3.1 or above recognises your safer driving behaviour and is rewarded with a discount. Aviva won't penalise drivers with lower scores. Our competitive standard premium will still be available, but without the Aviva Drive discount.
Your data - The data we collect will be used to help us build an understanding of your driving behaviour and risk, and we will adhere to the high standards that Aviva apply for all customer data collected.

The auto-record function means you don't even have to remember to start the app, provided your phone is switched on, the app will automatically record your journeys for you.

Keep safe on the road and never use your phone whilst you're driving, stop in a safe place and turn off your engine before interacting with the app.

*Based on policies bought direct from Aviva between October 2016 and April 2017. Discount is available on first car per policy and depends on score and price - minimum £200. Discount does not apply to optional extras. Compatible handset required. Data charges may apply.
What's New in Version 1.90.404
iOS 10 users will now receive notifications when journeys start automatically

Minor bug fixes and stability improvements
iPhone Screenshots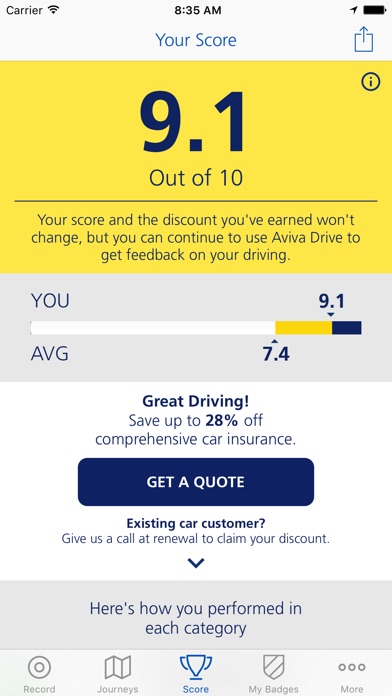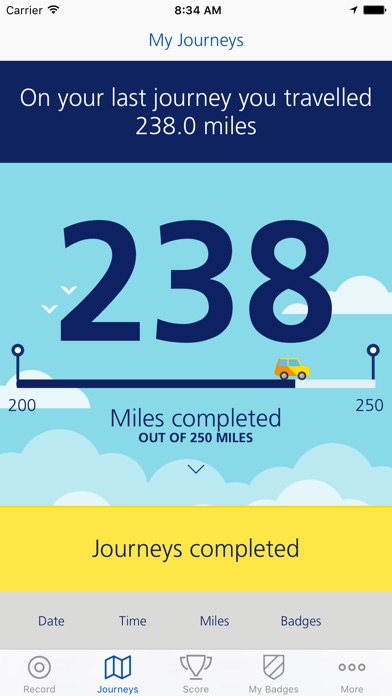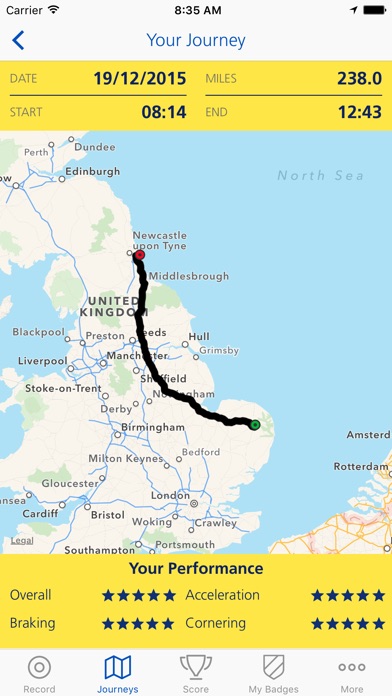 Customer Reviews
Why no updates to score
I downloaded the app in advance of my renewal with Aviva. Did the 200 miles with a mix of town, country and motorway trips. It definitely made me more aware of driving style which is good. However, I was scored as 6.9 with a comment of a little hard braking and aggressive acceleration. I can recall one instance of hard braking over the week - when another motorist cut across three lanes of a roundabout! To me the harsh braking actually demonstrated good reactions/ awareness. The only instances of 'aggressive ' acceleration was when joining motorway traffic, where you need to quickly get up to speed! The score given seemed harsh and strange bearing in mind I actually got badges for these areas! I've also noticed that if I click on score- for a split second it's showing a score of 7.9 / before reverting back to 6.9!!
I like the app - it makes you think. However Aviva say that once you've got your score (after the first 200 miles) - that's your score / full stop. It seems you get no scores going forward i.e. no new score for next year's renewal! Surely, it's a good thing to continue using the app and if you're driving improves- evidenced by an improved score, this should be taken into account at renewal??
Great saving but a few bugs
Firstly I'll start by saying that my renewal was due at the end of November. So I started using this app ready to get a quote. On the day I got my 200 mile score I did a quote online and then straight away one through the app. All details were exactly the same. Except my price was £300 cheaper through the app with a score of 9.0. Couldn't be happier and much cheaper then the renewal I had anywhere else including my existing insurer. And I mean by a lot, £60 pm cheaper than them. I'm not a high risk driver, 16 yrs no claims, mid 30's and a standard car and now it feels that has been reflected in my price.

On to the downside. The auto record is a bit touch and go. I've probably done twice the mileage that it has recorded. I don't always remember to go into the app and start the journey. I don't understand when my commute is 27 miles with no traffic but it doesn't always pick up the journey, but then will pick up a short journey. It actually hasn't recorded anything in December at all and I have done plenty of driving since Friday.
So far so good..
The app really helps with keeping you conscious of the speeds you're doing, your braking, your cornering and fuel consumption. A couple of issues I have with this, the 'auto-record' does not always record from the start of your journey so you can sometimes miss a couple of miles off of your overall trip. This isn't a major issue but annoying when you're so close to hitting 200 miles! Another issue is that the cornering does not seem to be accurate at all. I travel to and from work daily and perfectly within the speed limits and slow down when cornering, yet it seems next to impossible for me to be able to get a top score for cornering. It seems that sometimes the app doesn't want to say you're a perfect driver so will take points off you in a certain area so you constantly think you have to improve. This may not apply to everybody, just my opinion! I'd recommend it though, but I can't give a higher score at the moment as I haven't had a quote through to confirm this has actually helped me.
View in iTunes
Free

Category:

Finance

Updated:

31 July 2017

Version:

1.90.404

Size:

58.0 MB

Language:

English

Developer:

Aviva PLC
Compatibility: Requires iOS 8.0 or later. Compatible with iPhone, iPad 2 Wi-Fi + 3G, iPad Wi‑Fi + Cellular (3rd generation), iPad Wi-Fi + Cellular (4th generation), iPad mini Wi-Fi + Cellular, iPad Air Wi-Fi + Cellular, iPad mini 2 Wi-Fi + Cellular, iPad Air 2 Wi-Fi + Cellular, iPad mini 3 Wi-Fi + Cellular, iPad mini 4 Wi-Fi + Cellular, 12.9-inch iPad Pro Wi-Fi + Cellular, 9.7-inch iPad Pro Wi-Fi + Cellular, iPad Wi-Fi + Cellular (5th generation), 12.9-inch iPad Pro Wi‑Fi + Cellular (2nd generation) and 10.5-inch iPad Pro Wi‑Fi + Cellular.