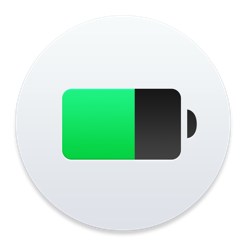 Battery Monitor: Health, Info
4+
Description
- Over 1 MILLION downloads worldwide - Thanks for your amazing support!
- Featured worldwide by Apple in "INVALUABLE UTILITY" and "NOTIFICATION CENTER WIDGETS" -

Battery Monitor helps you to easily access and monitor battery information from your menu bar.

Main features:
- Quick battery overview nicely displays the most important health and status information of your battery
- Charge percent and time in menu bar
- Detailed battery information
- Configurable low and full battery alert
- Great looking themes

We'd like to know how to improve our apps, contact us at Rocky Sand Studio http://www.rockysandstudio.com
[fixed] Several small bugs
Ratings and Reviews
Macbook was losing battery at a rate of knots and this took care of proplems in safari
Bought a MacBook Pro in oct and after 21 recharges the mac was losing the battery in less than 2 hours the battery was dead.
I though it was something to do with safari and mackeeper that had installed it self
this software Malwarebytes found the solution and corrected what ever it might have been as
the battery is no longer disappearing into the sunset and I am know at 9 hours of time and not 2 like last week…
hope this helps others as I was getting ready to complain to apple about this problem.
which seems to be in safari , which is now totally integrated into the system and can not be erased and reinstalled
Nice app
this app is proberbly one of the best at its job, giving you Clear info about your macs battery health and also having a option to desplay the time remaining un till charged/discharged on the menu bar
The best!
Very simple, but offers everything needed for free: low battery notification alert, information about battery condition and capacity, plus it's highly customisable. Highly reccommend.
Information
Seller

Rocky Sand Studio Ltd.

*WEA.AppPages.Size*

4.5 MB

Category

Languages

English, Simplified Chinese

Age Rating

Rated 4+

Copyright

© 2014 Rocky Sand Studio Ltd.

Price

Free
Supports
Family Sharing

Up to six family members will be able to use this app with Family Sharing enabled.