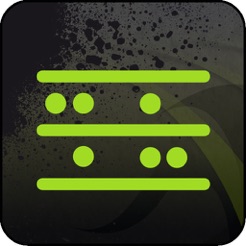 Description
*** BEATMAKER 3 AVAILABLE NOW ***

BeatMaker™: the mobile music creation studio for the iPhone and iPod Touch.



Inspired by professional drum machines, samplers and sequencers, BeatMaker combines them into one inspirational instrument.

Ideally suited for live performance and intuitive composition, with ease, produce complete songs using trigger pads, sequencing tools, audio effects and much more !

Pick up samples from the original sound-bank, including many genres and special sound packs made by featured musicians and producers.
Record your own audio samples on-the-go and use them instantly into your composition!

Expand your sound library from your computer and other beatmakers through our growing user community.

For amateurs and professionals alike, BeatMaker unleashes your musical creativity !


FEATURES:

• 16 sample-based trigger pads, with multi-touch support (up to 5 pads at once)
• Low latency playback and sample-accurate audio engine
• Live pattern recording and arranging
• Audio recording from microphone or headset
• Step sequencer with different resolutions for easy and precise pattern creation
• Change the volume, pan and pitch of each steps to compose rich melodies and beats
• Multi track song sequencer: arrange your patterns into complete songs
• Create unlimited number of patterns of different sizes (one to four bar)
• Export your songs to Audio file (WAV) and MIDI score and share them with your friends
• Original sound library provided with multiple genres: BreakBeat, Drum & Bass, Dub, Electronica, Funk, Hip-Hop, Jazz, Rock and more to come !
• Featured artist/producer sound library: Richard Devine, Man Parrish, Jacque Polynice, Rafiralfiro, ...
• AIFF and WAVE audio file support (any sample rate, 8 to 24-bits resolutions)
• Network sharing capabilities via BeatPack, to upload and download content
• 2 effect channels, each with 4 effects
• Synchronized delays with feedback and wet-mix control
• 3-band Equalizers (Lo, Mid, Hi)
• "Bit-Crusher" for down-sampling and bits resolution reduction
• Lowpass, Hi-pass and Bandpass filters
• Transport toolbar for quick playback control, with BPM, signature and metronome support
• Handy selection mode to control multiple parameters on pads at once
• Individual/multiple loading of samples
• Automatic sample slicing over the pads (Chop)
• Control volume, pan, semi-tone, octave, tuning, fade in/out and sample start/end positions on each pad
• Velocity, Pitch, Pan spreading, allowing you to use the 16 pads as a mini-keyboard for easier melodic composition
• Wave editor permits to manually selects your samples Start/End position markers
• Automatic change of sample pitch to match a particular sample duration for each pad
• Output channel selection (3 buses available: Main Out, FX 1, FX 2) for each pad
• Mute and Reverse samples during your performances
• X/Y Cross Controller for live manipulation of combined effect and sample parameters
• Loading and saving of your kits & projects
• File browser for file management (load, save, new files, directory and delete) and BeatPack content management (upload, download)
• Auto discovery of local BeatPack servers (via Bonjour)
• Sample preview within the browser
• Auto-saving of your current project
• and much more...

DOCUMENTATION, BEATPACK & COMMUNITY

• BeatMaker User's Manual PDF is available on our website, for free, at http://www.intua.net/shop.html

• BeatPack, the Mac/PC synchronization companion application, is available for free at http://www.intua.net/shop.html

• BeatMaker community/forums are waiting for your participation at http://www.intua.net/forums

• Follow us on Twitter at: http://www.twitter.com/intua
- Built-in FTP server for uploading and downloading samples, kits and projects.
Ratings and Reviews
Still good
I have to say I bought this app years ago when it was new and loved it,recently moved back to Apple and it's still epic,not sure why people where complaining about not getting no2 for free but I hope you see this untua and realise you know you did a great job x
Another unhappy customer
So, like many before me, I supported early development of BeatMaker and bought this app full price when it was still hot off the press, and here I am asking myself, what were you thinking Intua!? Just didn't care about us supporters enough to offer us and update... So what, we just get nothing now you've got your new version out yeah? Shame on you. Your company and brand ethic is everything that is wrong in this world... Greed...
Sneaky Developer
I paid a high price for this app fairly early on, back in the days of the iPhone 3G. Yesterday I came back to the iPhone scene to find that instead of getting an upgrade to this expensive app - I have to buy a completely separate app. Thanks for letting me fund the development of your new app guys. I won't be purchasing anything else from you and I'd advise that others pay attention to what's happened here.
Information
Seller

INTUA

Size

174.4 MB

Category

Compatibility

Requires iOS 3.1 or later. Compatible with iPhone, iPad and iPod touch.

Age Rating

Rated 4+

Copyright

© 2008-2011 Intua

Price

£3.99
Supports
Family Sharing

Up to six family members will be able to use this app with Family Sharing enabled.