Codea
By Two Lives Left
Open iTunes to buy and download apps.
Description
"It's kind of like the Garage Band of coding." – Wired

"Codea for iPad is a super slick way to write and run programs on your iPad." – Gizmodo

Codea lets you create games and simulations — or just about any visual idea you have. Turn your thoughts into interactive creations that make use of iPad features like Multi-Touch and the accelerometer.

We think Codea is the most beautiful code editor you'll use, and it's easy. Codea is designed to let you touch your code. Want to change a color, or an image? Tapping will bring up visual editors that let you choose exactly what you want.

Codea is built on the Lua programming language. A simple, elegant language that doesn't rely too much on symbols — a perfect match for iPad.

Here's how you use it: type your code. Press play to watch it run. Interact with it. Get creative.

FEATURES

• A fully featured 2D and 3D renderer
• Lots of great example projects to learn from, including games
• Touch your code: tap colors, images and sounds to adjust them
• Export your finished projects to Xcode to produce real apps
• Complete in-line reference documentation accessible from keyboard
• Intelligent syntax highlighting and auto-completing code editor
• Import your own assets from Dropbox
• Full physics engine for complex motion
• Add parameters so you can tweak variables at runtime
• Interact with accelerometer and multi-touch on your device
• Generate retro-game sound effects
• GLSL Shader Language support with live shader editor
• Bluetooth keyboard support and keyboard shortcuts
• Video recording: Record videos of your projects and share them
• Air Code: code live from your PC using WiFi
• Much, much more

IMPORTANT INFORMATION

• Join the forums at http://codea.io/talk to ask questions, share ideas and get help when you need it

• If you would like to help translate Codea into your language please join the translation effort at http://translate.twolivesleft.com

• If you need help or wish to get in contact with us, please use the support link on this page
What's New in Version 2.3.2
It's been a while since the last update, but there's plenty more to come!

We've added support for the iPad Pro. Coding on your iPad has never been more incredible.

This update also focuses on iOS 9 improvements.

NEW FEATURES

- Spotlight search support. Your projects will show up in Spotlight and you can tap them to go straight to editing.
- Ability to export a plain zipped project archive
- Improved error messages with stack trace
- Support for OpenGL ES 3.0
- Mesh instances: efficient rendering of multiple meshes
- Support for settable voices and language in speech API
- Matrix attributes (mat4) supported in shaders
- Matrix uniform arrays supported in shaders

IMPROVEMENTS

- Revamped Xcode export with support for Xcode 7 and Bitcode
- Better support for iOS 9 features, such as two-finger caret dragging
- Support for iOS 9 bluetooth keyboard shortcut hints (hold the command key when using an external keyboard)
- Disables the default iOS 9 input assistant bar

FIXES

- Fixes matrix * vec4 bug
- Fixes incorrect initial camera orientation under iOS 9
- Allows saveText() to delete assets when passing nil
- Fixes possible crashes when using bad parameters with camera()
- Fixed bug in Cargo-Bot example (requires example project restore)
- Code editor optimisations
iPad Screenshots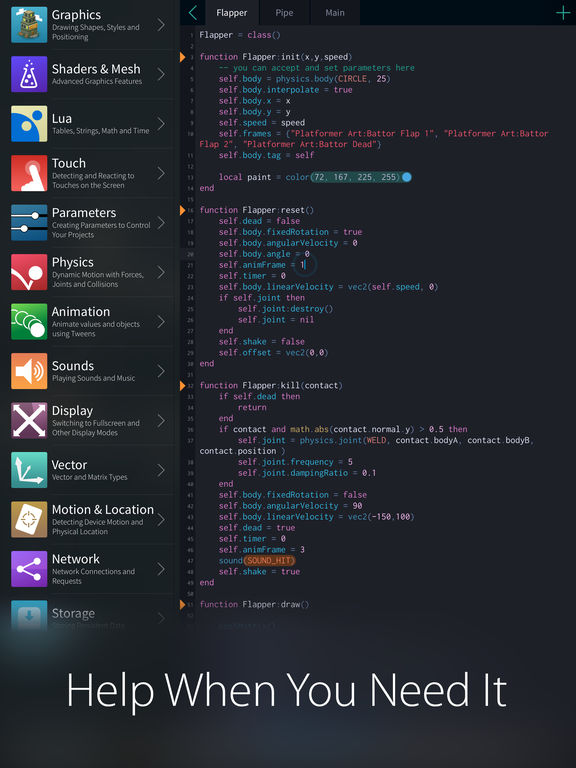 Customer Reviews
The most fun you can have on an iPad
My only experience of programming was BASIC, more than twenty years ago. The learning curve with Codea at first is undoubtedly steep, as it is with any programming language, but fortunately there are a ton of great tutorials online (I particularly recommend the blogs coolcodea and codeatuts) and an incredibly supportive community at Codea Talk. Within a day I was creating 2D sandbox style games. A few months on and I am importing Blender models (code for doing this is on Coolcodea) and building a 3D game. Codea has the same code base (Lua and Box 2D) used to create Angry Birds and the like. It also supports all the power of Open GL graphics (3D, shaders etc). This, combined with all the assets on your iPad, a code editor that prompts you with commands and variables you've previously defined, a slide out reference panel etc, combine to give you incredible power in a very accessible package. One of the most impressive apps I have ever used, and the app I use most often, by a very long way. You can export your code as an Xcode project for upload to the App Store (App Store upload requires a Mac with Xcode). Not just an app, Codea is a platform.
Excellent
Simple to use with great examples. Get code up and running very quickly. Just a few lines allows you to do some pretty impressive stuff. Regular updates means it keeps getting better and better, plus a vibrant online community ensures that there is plenty of support if you get stuck.

Regular updates just keeps on adding value -a few years down the line and new releases of the software. Outstanding value for money
An investment worth making - Majormorgan 8bitmagicgames
I couldn't believe my luck when I discovered this app. It's brilliance is in that I can create my app anywhere just using this device - in fact I code my games on the train to and from work!

My first game MightyMower is on the App Store and is just a bit of fun. With the new Codea updates and tools I've been able to up the stakes with my new game #Starsceptre which will rock!

And the gem at the heart is the programming community. They are there to help you and you can't help but get involved. This is a brilliant investment for anyone wanting to learn to program and make not only their first iPad app but also to be able to make it universal too. Thank you Two Lives Left for this gift of an app.
View in iTunes
£14.99

Category:

Productivity

Updated:

04 December 2015

Version:

2.3.2

Size:

51.2 MB

Languages:

English, Catalan, Dutch, French, German, Italian, Japanese, Portuguese, Russian, Simplified Chinese, Slovak, Spanish

Developer:

Two Lives Left
Compatibility: Requires iOS 8.0 or later. Compatible with iPad.
More iPad Apps by Two Lives Left