DOOM 3
By Aspyr Media, Inc.
Editors' Choice
Open the Mac App Store to buy and download apps.
Description
The Gateway to Hell is Open.

The ruins of an ancient Martian civilization have unlocked the secrets to teleportation, and the Union Aerospace Corporation's (UAC) will stop at nothing to harness this world-altering technology. As part of a marine detachment sent to protect the facility, your duty seemed simple enough until the invasion. Now, in an epic clash against pure evil, you must fight to understand who is with you, who is against you, and what must be done to stop this nightmare from reaching Earth. DOOM 3 draws you into one of the most frightening and gripping 3D gaming experience ever created.

*** Please Check System Requirements Prior to Purchasing. ***

In order to run the game with satisfactory performance, your Mac must meet these minimum system requirements: CPU Processor: Intel Core 2 Duo / 1.8 GHz / 1GB RAM / HD Space: 2.0 GB / ATI Radeon x1600; NVidia Geforce 7300; 128MB VRam

MULTIPLAYER REQUIREMENTS:
•Internet (TCP/IP) or LAN (TCP/IP) play supported
•Internet play requires broadband connection

NOTICE: This game is not supported on volumes formatted as Mac OS Extended(Case Sensitive)

NOTICE: This game is rated M for Mature by the ESRB.
__________________________________________
THANK YOU FOR PLAYING DOOM 3 FROM ASPYR!

BE THE FIRST TO KNOW!
Get the latest Aspyr news, get insider information, deals and more...
SURF US: http://aspyr.com
LIKE US: http://facebook.com/aspyrmedia
FOLLOW US: Twitter http://twitter.com/aspyrmedia
Screenshots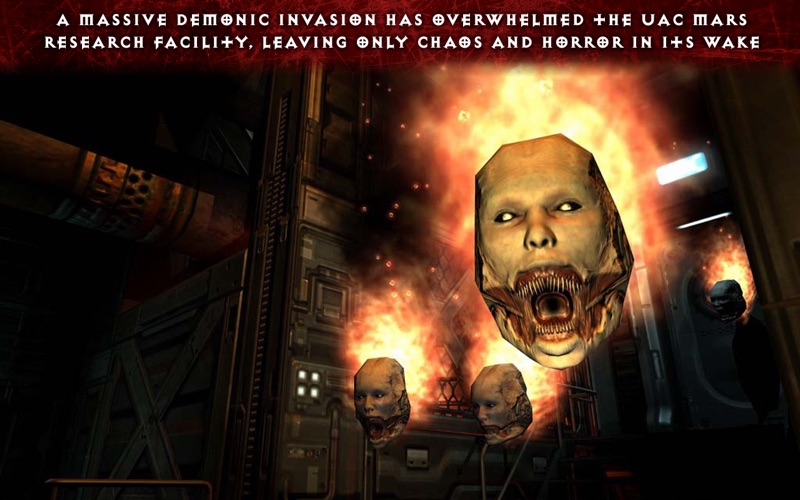 Customer Reviews
Hell's Teeth!
I first played this on my souped-up PowerMac G4 back in 2005 and it scared the heck out of me. I'm happy to report that it still does. It's true; you're not going to find glorious true-to-life textures and the latest in spiffy graphics, but the look and feel of the whole game is spot on, and the storyline is really nicely paced.

Where this game still blows many modern games out of the water though, is in it's sound design. You're given hints as to what's coming next in the audio effects; sometimes in ways that aren't resolved for another 20 minutes of gameplay, and the result is a downright creepy. As mentioned by another review, play it in the dark, with headphones on. It'll be in your head for days.
Truly terrifying
This is quite an old game now, and texture-wise in close-up it shows a little. Medium & long distance graphics are amazing though. You get a real sense of place. The game is very linear - but (& it's a big but) it is absolutely superb. This is terror like you wouldn't believe. Play it on the biggest screen you can, at the highest resolution you can, and as loud as you can...in the dark. I promise you, you'll be utterly terrified. It's big, bold, scary as hell and intense as anything you will experience. The game ran great on my 2011 iMac, with everything pushed up to 11. At £6.99 this is an absolute steal (last time I looked it was £35). Serious quality, serious SERIOUS scares and an experience in terror that everyone shouldplay through at least once. I can't recommend this enough (and I'm currently playing Skyrim too, so that says a lot). Go on - have a go; but be prepared to scream out loud...
Not working after loading screen?
From the Support pages: 'Deactivate your internet connection and launch the game. After the initial launch is successful, you can enable your internet connection.' Quite important, that one!
View in Mac App Store
£9.99

Category:

Games

Released:

15 December 2011

Version:

1.3.1

Size:

1.56 GB

Language:

English

Developer:

Aspyr Media (iDP)
Compatibility: OS X 10.6.8 or later