eBay for iPad
By eBay Inc.
Essentials
Open iTunes to buy and download apps.
Description
The eBay for iPad app is a must-have for savvy eBay users, bargain hunters, fashion addicts, and techno-geeks alike. On the couch, or on the plane, the eBay for iPad app lets you browse, search, buy, and sell in a beautiful interface designed from the ground up, optimized for iPad.

Inspiration is just a swipe away with full access to eBay's millions of items on your iPad. Our trend spotters and style mavens highlight new unique items daily alongside special limited-time shopping events, trending collections, and remarkable deals that save you money. Whether you're checking out what's hot today, or digging deep for that one-of-a-kind find, a world of new and vintage merchandise from eBay's sellers is waiting for you.

Shop with ease and confidence, with free shipping on over half of the 800 million listings. All purchases are made directly through eBay's secure servers, and virtually every item is covered by eBay Money Back Guarantee.

eBay for iPad is built with your feedback and suggestions. We'd love to hear from you! http://getsatisfaction.com/eBayMobile
What's New in Version 3.4.1
Version 3.4.1 of eBay for iPad is a quick update to provide more direct access to key search, buying, and selling functions. We are continuing to advance this capability for future updates to follow.

Following:
An improved Following screen provides easy access to your Searches, Recently Viewed Items, Watched Items, and Members & Collections.

The Following screen allows you to manage and edit these lists all in one place.

The Following link is now more visible on the start screen for faster access.


Selling:
Selling is now accessible from anywhere in the app – just tap 'Sell' at the top of the app screen to start a listing.

Sellers, we've also added the familiar color-coded status indicators along with Watching/Bidding information so you can easily check how your listings are doing.

Search:
Followed and Recent Searches are now more accessible and discoverable with a single tap on Search.

We are fast at work bringing more exciting functionality to eBay for iPad. Watch for future updates. Your feedback is important to us. Please continue to share it and reach out to us with any questions.
iPad Screenshots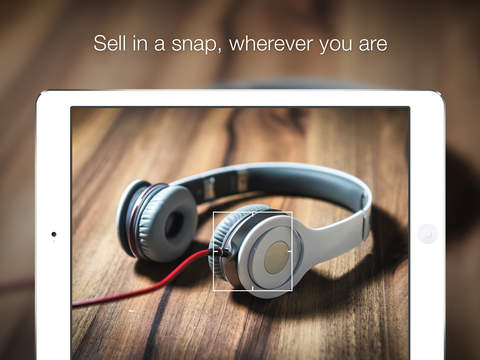 Customer Reviews
Upgrade improves but problems still remain
FINALLY eBay has given us an upgrade to iron out some of the more annoying features that litter the "new format" it delivered to its unsuspecting customers a short while back. So what's different? Well, it seems that common sense has prevailed in that deleting earlier searches is now possible, helpful seller/buyer information is displayed in the "Watching" section so you don't have to go hunting to find how many bids have been placed or when an item was listed and the glaring omission of a "Sell item" button on the homepage has been rectified. The big plus of the new format was always that you can place bids right down to the wire and not have to wait for a nervous, cheek clenching 4-10secs for the app to process and log your final bid! However, there are still many issues with this app that only serve to frustrate and alienate regular buyers and sellers. A particular annoyance is the lack of immediate information as to where an item is located. True, you can set a filter to exclude items posted from outside the UK or outside the EU but it's not at all clear from the outset how to do this and so ending up purchasing an item from China to find that it's travelling by donkey post and won't be with you until over a month's time is frustrating to say the least! So...an improvement but hey, eBay? Why fix what ain't broke in the first place??!
Dreadful - both the app and the contempt for Ebay Users
I see no improvement with this dreadful version. I'll mention 1 of the many problems, as I know other people will add to the list: I feel sorry for sellers as I am not bothering to look at them any more. I used to be able to see who had new items as there was a little dot beside their name, now you have to click on them. Sorry, no time to do that with the amount of sellers I watch. I think the other reviewers are right - this update has been created to wipe out the 9,000 + negative reviews. I wrote a negative review of the previous app and it wasn't even posted, so goodness knows how many negative reviews it really got - hundreds of thousands for all we know. That's what it and this app deserves. Ebay. Thousands of sensible people have given you the sort of feedback companies are usually desperate to elicit. Normally, companies want to know how to improve things. When are you going to listen to your users? This is an insult. The app doesn't even do the basic things you need - like see the recent items of your sellers. Is it too much to ask that you produce a functioning app? Thanks goodness I have the 3.333 version (or whatever the decent version was) on my other IPad, or I wouldn't be bothering with ebay.
Mrs
Very disappointed with this app. It never seems to retain information out in. Saved searches are often altered with no warning and for no reason and ten the only way is to erase and start all over again. Radio buttons often fail to work or to register, for example, the slide button on the refine section fails to stay green when it is moved to that station. Often, refinements fail to register even though they are highlighted. No feedback star number is displayed by the side of my name so I have to surf to find out if I have been left recent feedback. I am unable to see a synopsis of buds and watches on items for sale. Each item has to be reviewed individually. This makes the process cumbersome. I would prefer to return to the previous format but can't figure out how to do that. It is very easy to post items for sale, though
View In iTunes
Free

Category:

Lifestyle

Updated:

11 March 2015

Version:

3.4.1

Size:

52.5 MB

Languages:

English, French, German, Italian, Portuguese, Russian, Spanish

Developer:

eBay Inc.
Compatibility: Requires iOS 7.0 or later. Compatible with iPad.
More iPad Apps by eBay Inc.