iShia
By Seyed Mohsen Hosseini-Milani
This app is only available on the App Store for iOS devices.
Description
An attractive but simple app offering basic Islamic information for practicing Muslims in their daily religious duties and worship acts, currently available in Arabic and Farsi, English support will follow.

Features:
• Supports iOS 8+ and the interface is in Arabic and Farsi (English soon).
• Apple Watch support.
• Important Islamic and Shia historical events.
• Daily acts of worship and instructions according to Mafatih al Jinan.
• Prayers timetable calculation based on 7 standard formulas of calculations.
• More than 3000 cities around the world are preset and the ability to use GPS.
• A valuable essential library of 5 books: The Holy Quran, Nahj ul Balagha, al Sahifa al Sajjadiyya, Mafatih al Jinan and Kamel al Ziyarat.
• Main book scrolling and the second view e.g. translation scroll lock.
• An easy method of viewing and browsing book pages and navigating between them.
• Very accurate and different method of calculating Hijri months and dates.
• Automatic and manual DST handling.

―――

تطبيق لتوفير المعلومات الأساسية للمؤمنين الشيعة باللغات العربية والفارسية، وقريباً الإنجليزية.
تم تصميم هذا التطبيق بهدف تسهيل وصول المستخدم الشيعي خصوصاً والمسلم عموماً الى المعلومات الأولية الإسلامية على أجهزة أبل: آيفون وآي بد وساعة أپل الذكية.

الإمكانيات:
• يعمل على نظام iOS 8+ داعماً اللغات العربية والفارسية.
• يدعم ساعة أپل الذكية.
• عرض الأحداث والوقائع من التاريخ الإسلامي.
• عرض الأعمال والعبادات اليومية من كتاب مفاتيح الجنان.
• عرض الأوقات الشرعية اليومية حسب 7 طرق محاسبة قياسية.
• مزوّد بمعلومات أكثر من 3000 مدينة في العالم اضافة الى استخدام الـ GPS.
• مكتبة تحتوي على 5 كتب مقدسة ومهمة إسلامية وهي «القرآن الكريم، نهج البلاغة، الصحيفة السجادية، مفاتيح الجنان وکامل الزيارات».
• امكانية تناغم (إقفال) النص للكتاب الأصلي والنص الفرعي (الترجمة أو التفسير).
• عرض مبسط للصفحات وسهولة الإنتقال فيما بينها.
• إستخدام أسلوب دقيق ومتمايز لمحاسبة الأشهر القمرية.
• ملاحظة التوقيت الصيفي بشكل دقيق.

―――

نرم افزارى جذاب و در عين حال ساده، جهت برآورده كردن نيازهاى اوليه هر کاربر شيعه، به زبان فارسى و عربى و بزودى به انگليسى.
اين نرم‌افزار جهت تسهيل رفع نياز هاى معنوى اوليه هر کاربر شيعه بر روى دستگاه هاى اپل: آيفون و آي پد و ساعت هوشمند اپل توليد شده است.

امکانات:
• بر مبناى سيستم عامل iOS 8+ با پشتيبانى زبان هاى فارسى و عربى.
• پشتيبانى ساعت هوشمند اپل.
• نمايش رخدادهاى روز جهان تشيع.
• نمايش اعمال وارده روز بر اساس کتاب شريف مفاتيح الجنان.
• محاسبه و نمايش اوقات شرعى به هفت روش استاندارد موجود.
• اطلاعات بيش از 3000 شهر در اقصى نقاط دنيا با امکان استفاده از(GPS).
• كتابخانه اى متشكل از پنج منبع گرانقدر اسلام « قرآن، نهج البلاغه، صحيفه سجاديه، مفاتيح الجنان و کامل الزيارات» با محيطى بسيار زيبا و کاربردى جهت مطالعه.
• استفاده از امکان قفل ترجمه براى سهولت در قرائت متن اصلى و استفاده از ترجمه آن به صورت همزمان.
• استفاده از دقيق ترين روشهاى محاسباتى نجومى براى تعيين ابتدا و انتهاى ماه قمرى به صورت منحصر به فرد.
• تنظيم خودکار ساعت بهاره براى نيمه اول سال شمسى


*** Notice ***
Users who have purchased the old app MUST NOT pay for this app through IAP, they SHOULD update their (old) app when the update becomes available, register their purchase with us and then have their new app re-registered without making a new payment.
Apologies for any inconvenience caused.

*** تبيه ***
يجب أن لا يقوم المستخدمون للنسخة السابقة بشراء هذا التطبيق، بل يجب ان يقوموا بتحديث نسختهم السابقة و تم تسجيل شرائهم معنا، ثم تسجيل النسخة الجديدة بناء على شرائهم السابق.

*** توجه ***
كاربران نسخه قبلى نبايد اقدام به خريد مجدد اين نسخه نمايند، بلكه بايد نسخه قبلى را بروز رسانى نمايند و اطلاعات خريد خود را در سامانه ما ثبت نموده، سپس اقدام به ورود آن اطلاعات در نسخه جديد نرم‌افزار نمايند.
What's New in Version 2.1.2
Bugs Fixed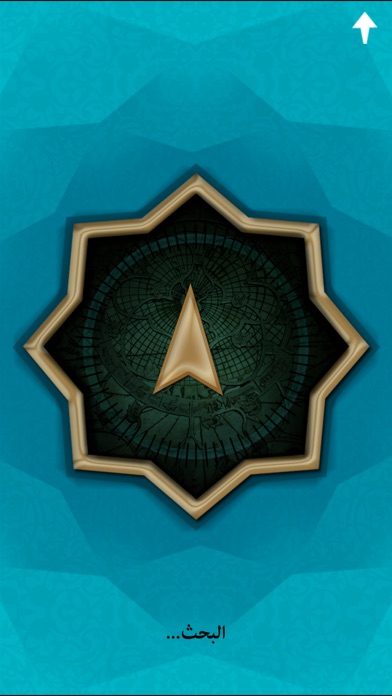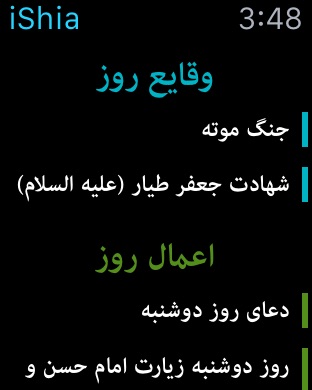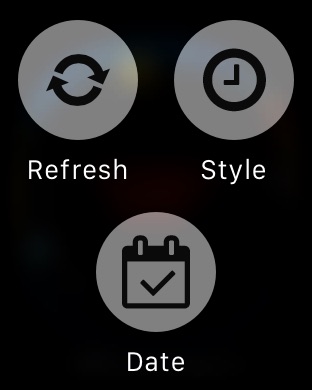 Customer Reviews
صفوى
رائع جزاكم الله خيرا
View in iTunes
Offers Apple Watch App for iPhone
Free

Category:

Utilities

Updated:

06 April 2016

Version:

2.1.2

Size:

50.2 MB

Apple Watch:

Yes

Languages:

Arabic, Persian

Developer:

Seyed Mohsen Hosseini-Milani
Compatibility: Requires iOS 8.0 or later. Compatible with iPhone, iPad and iPod touch.
Top In-App Purchases
Full Version£9.99
More iPhone Apps by Seyed Mohsen Hosseini-Milani