Logic Pro X
By Apple
Essentials
Open the Mac App Store to buy and download apps.
Description
Logic Pro X is the most advanced version of Logic ever. Sophisticated tools for professional songwriting, editing, and mixing are built around a modern interface that's designed to get creative results quickly and also deliver more power whenever it's needed. Logic Pro X includes a massive collection of instruments, effects, and loops, providing a complete toolkit to create amazing-sounding music.

Powerful Interface
• Consolidate and control multiple tracks or create rich, layered instruments with Track Stacks
• Smart Controls allow you to manipulate multiple plug-ins and parameters with a single move
• An enhanced Mixer lets you move, copy, and bypass channel inserts more efficiently
• Quickly re-order song sections and try new ideas using Arrangement Markers
• Autosave keeps your work safe and sound
• 64-bit architecture supports large projects containing hundreds of tracks and sampled instruments

Professional Music Production
• Fix out-of-tune vocals and change the melodies of recorded audio with Flex Pitch
• Manipulate the timing and tempo of any recording with ease using Flex Time
• Record and seamlessly punch in and out of one or multiple tracks
• Keep takes organised with take folders and build comps quickly with Quick Swipe Comping
• Automation can be part of a region, not just the track, which makes it easier to use effects creatively
• Create and mix music from anywhere in the room using Logic Remote on iPad
• Produce simple lead sheets or orchestral scores with built-in Score editor
• Create and edit MIDI using a comprehensive set of editors and tools

Drum Production
• Create authentic acoustic, electronic, or hip hop drum tracks using Drummer, a virtual session player and beat producer
• Choose among 28 distinct drummers that can take your direction and perform millions of unique grooves
• Build your own acoustic drum kits with Drum Kit Designer using a diverse collection of deeply sampled, professionally mixed snares, toms, kicks, hi-hats, and cymbals
• Customise the sound of your electronic beats using Drum Machine Designer

Keyboards and Synths
• Get inspired by a collection of synths that provide analog, wavetable, FM, and physical modeling synthesis
• Play or create a wide variety of rich sampled instruments with the EXS24 Sampler
• Instantly turn a simple chord into a rich performance with the Arpeggiator
• Transform simple ideas into elaborate performances using nine MIDI plug-ins
• Create classic '70s- and '80s-style synthesizer tracks using Retro Synth
• Play faithful models of vintage keyboards with Vintage B3, Vintage Electric Piano, and Vintage Clav

Guitar and Bass Gear
• Build your own guitar or bass rig with Amp Designer using vintage and modern amps, cabinets, and mics
• Design a custom Pedalboard from a collection of delay, distortion, and modulation stompboxes
• Access the Tuner with just a click to quickly get in tune

Creative and Production Effects
• Play your sounds through realistic acoustic spaces using Space Designer convolution reverb
• Use a range of multi-tap, vintage tape, and stereo delays
• Add movement to your tracks with a variety of modulation effects
• Get the perfect mix with a variety of EQs, dynamics, and other mixing tools
• Put the finishing touch on your project using a collection of mastering plug-ins

Sound Library
• Over 1800 instrument and effect Patches
• More than 750 meticulously sampled instruments
• 3600 Apple Loops in modern urban and electronic genres

Compatibility
• Expand your instrument and effects library with third-party Audio Units-compatible plug-ins
• Import and export XML to support Final Cut Pro X workflows
• Export and share your songs directly to SoundCloud
• Open projects from Logic 5 or later

Minimum System Requirements
4GB RAM
Display with 1280-by-768 resolution or higher
OS X v10.9.5 or later
Requires 64-bit Audio Units plug-ins
6GB available disk space for minimum install / 35GB hard disk for full Sound Library installation
What's New in Version 10.1.1
• Pre-fader sends are no longer affected by VCA Faders
• VoiceOver can once again access audio channels as well as the track header volume and pan controls
• The Brush Tool no longer gets stuck in fixed pitch mode when selected after using the Pencil Tool
• Resolves an issue that could cause the Download Manager to appear empty
• Additional bug fixes and stability improvements
Screenshots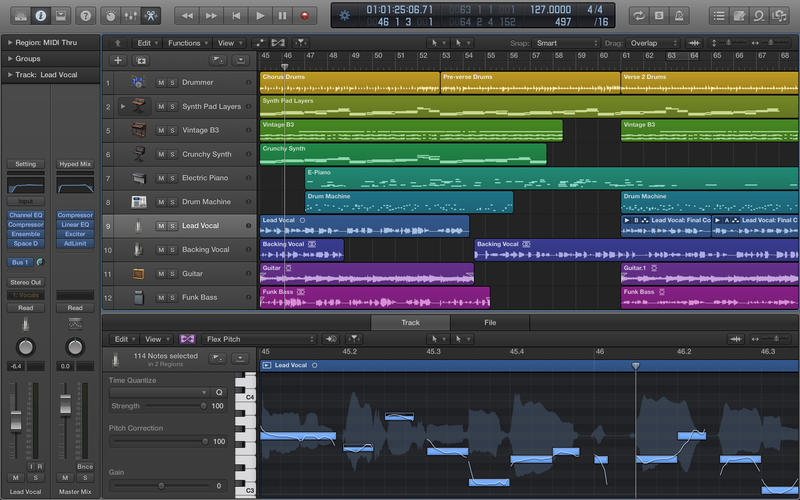 Customer Reviews
buggy, avoid
unfortunately the bugs of 10.1 are still there - they're not as bad but your work will still be interrupted, especially work to timecode or featuring automation.
it isn't fair on the users to have to do Apple's bug-finding work for features that weren't broken in 10.0.7. Still refuses to quit on OSX 10.9.5

leaving my previous review here since it's still relevant.
10.1 is buggy. This is the simplest way to put it. The compressor UIs and drum machine designer are nice but when automation breaks midi things stop being fun very quickly. Also, Logic could "move automation to region" for ages so why this is advertised as a new feature is beyond me. Just saying. If you have moved your sound content to another drive, 10.1 will kill the symlinks upon installation of sound content (much of which is marked obsolete on first launch). Stick with 10.0.7 and keep your sanity, 10.0.7, unlike 10.1, is unusually stable for a Logic.
BUGS,BUGS,BUGS & MORE BUGS
UPDATE 10.1.1

IF YOU HAVE OS X 10.9 MAVERICKS, DON'T UPGRADE TO 10.1 OR 10.1.1 Even though I reported it Apple as Usual Havent fixed the Problem, You will have NO Midi, Not even with a simple USB Keyboard Controller, This Update canot see the Midi Setup, there is NO MIDI COMMUNICATION WHAT-SO-EVER.

DON'T DO IT, AS A RESULT I HAVE NOW MOVED OVER TO CUBASE, I AM FED UP WITH APPLES ATTITUDE TO ALWAYS PROVIDING BUGGY SOFTWARE, THEN TAKING MONTHS TO RESOLVE.

Unfortunetly my computer automatically updated my computer to 10.1, which is totally unusable at the moment, for some reason the who Midi Section Stops Working, the midi ports are not comutication with Logic 10.1 via midi or USB.

If it is working for users on Yosemite 10.10 then I think it is a compatability issue with OS X 10.9 Mavericks.

In addition, I wish Apple would focus more on the midi side as aposed the the plugins, they are seriously runniung the risk of turning professionals away from Logic and moving to Steinberg Cubase, as I seem to be doing at the moment.

I have used Logic since the 80's when it was owned by C-Lab, but now finding myself moving to Cubase which saddens me, It seems Logic for the more creative professional musician, seems to be coming to an end, It seems apple are set out to only focus on the bedroom geek musician, using a few plugins and a simple controller keyboard.

APPLE GET YOUR ACT TOGETHER, You Need real professional musicians in you R&D Team to develope a functional Daw System that people can take seriously.
great App
I am a beginner always been passionate about music however never really had the time to attemp to create music however while I have been working away from home I have been using Logic pro and I have found it easy to use from the use of YouTube and various other tutorial sites.

Suppose it can be as technical or as idiot proof as you want it. At first it was a bit daughting paying the initial 150 price tag but when I put it into prospective its kept me in on some Saturday nights so it's most prob paid for itself by now….

Hope you enjoy as much as me.
View in Mac App Store
£149.99

Category:

Music

Updated:

26 February 2015

Version:

10.1.1

Size:

1.05 GB

Languages:

English, Chinese, French, German, Japanese, Spanish

Developer:

iTunes S.a.r.l.
Compatibility: OS X 10.9 or later, 64-bit processor