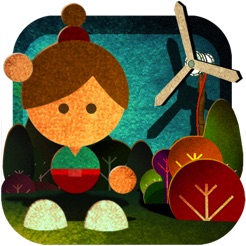 Description
***SALE! 60% off! For a limited time only***
To celebrate the launch of the sequel Lumino City, the game is now 60% off.

*** IGF 2012 Finalist: Excellence in Visual Art ***

An illuminating puzzle adventure.

"Undoubtedly one of the most unique-looking games around."
Eurogamer

"Charming to the extreme."
Games TM

"The best of point and click gaming... amazing visual presentation."
Jay is Games

"A rare treat. Even Lume's main menu is more beautiful than most big-budget shooters."
Bit-Gamer

Small and perfectly formed, Lume is the prequel to Lumino City, also available in the App Store.

With a set built entirely out of paper and cardboard, and sumptuously filmed, Lume is a game with a style unlike any other.

Power to your grandad's house has failed. What's more, he's nowhere to be seen. Immerse yourself in Lume's photoreal world, solve perplexing paper puzzles to help restore the power, and uncover a deeper mystery behind the blackout.

This game forms Part 1 of a larger story. Lumino City continues this story, and if you've enjoyed this introduction please check it out.

PLEASE NOTE: Lume is in English only.
Ratings and Reviews
Beautifully executed but is more coming?
It is an amazing concept but on completing all the puzzles in this level, you're told that's all there is... despite there being a path to "the village" in the game you're not able to go down. The description says it's the first part of an ongoing adventure but it's not clear whether the rest of the adventure is going to be provided with updates or whether I'll have to pay more to get the next levels. The graphics are great and the puzzles fun but you need to be aware that you're only getting one level for this price (at the moment?)
Mixed feelings
I have not yet completed the game. The graphics are excellent, except that the game size remains small on the screen and may not be enlarged whatever the window size. This is frustrating because it is hard to see what to click and disappoining because I was not aware before purchase. I guess it came over to OS X in iPad screen size. I'll certainly carry on to the end, which likely will be soon because the game is short. It has put me off buying Lumino City for now.
Beautiful, and fun but disappointing.
I was really enjoying this game, it was challenging, beautiful and I was really enjoying it, but when it was over so fast I was extremely disappointed, I hope that the rest of the game comes in the form of an update to the current version, because if the price is £4 each instalment I won't be buying it again. Would be a shame to price the game out of the market!
Information
Seller

State of Play Games Ltd

Size

22.2 MB

Category

Compatibility

OS X 10.6.6 or later

Languages

English, French, German, Italian, Japanese, Korean, Simplified Chinese, Spanish, Traditional Chinese

Age Rating

Rated 4+

Copyright

© State of Play Games Ltd

Price

£1.99
Supports
Family Sharing

Up to six family members will be able to use this app with Family Sharing enabled.