Man of Steel
By Warner Bros.
Editors' Choice
Open iTunes to buy and download apps.
Description
PLAYERS LOVE MAN OF STEEL!
* Apple EDITORS' CHOICE Award!
* 4.5 star rating from users!

Man of Steel is a must-have iOS game! Try the innovative combat style, check out the unbelievable graphics, fly through the air, knock your enemies into the interactive environment… the possibilities are endless!

BRAWL WITH ZOD, FAORA, AND MORE
- Attack, dodge, block, and utilize various super powers including flight, super speed, and heat vision to defeat Zod and his evil forces.
- Play through an in-depth Story Mode or set a personal high score in the intense Survival Mode.
- Battle a challenging cast of mini-bosses and technologically advanced foes featured in the Man of Steel movie!

BECOME SUPERMAN LIKE NEVER BEFORE
-Unlock and purchase up to 6 different suits from the Man of Steel movie.
-Upgrade your suits to become a truly unstoppable force!
-Customize your experience by upgrading the specific abilities YOU want to use.
-Embrace the true strength of Superman with bone-crunching combos, all with the swipe of a finger.

AMAZING GRAPHICS
-Delivers next-gen graphics with beautifully detailed animations and cinematic sequences.
-Fight in a variety of detailed and interactive 3D environments including Smallville, the Kent Farm, and more.

Requires iOS 5 and later
What's New in Version 1.3
- Now save the world on your iPod touch 4th generation!
- The final chapter of story mode is finally here... Take the battle to Zod in Metropolis, and experience an epic new battle on the ground and in the air.
- Unlock and upgrade four more suits for the Man of Steel: Original, Classic, New 52, and Red Son.
- Save the world!
iPhone Screenshots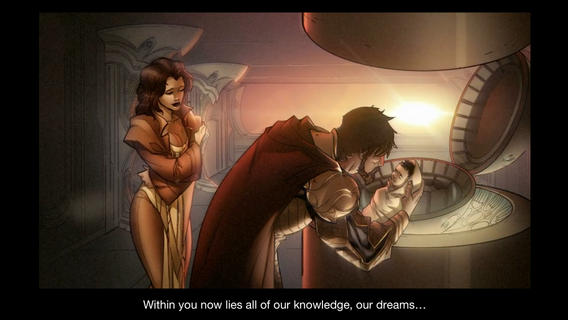 Customer Reviews
Average
The obstacle that every film game adaption faces is making something that doesn't spoil the film. This game succeeds in that respect but fails in almost every other.

The game is a basic swipe to punch game with the super power thrown in like super speed, laser eyes etc all with RPG elements of getting experience to better your hero.

Other than the swipe to punch controls you have no other control over your character what so ever.

This game works really well as a handheld game. With the entire game broken up in short levels in which you can complete in a few short minutes (though they can get tough so replaying earlier levels for experience is essential).

The games graphics are decent. Not spectacular. This games graphics is tailored to be able to run on older ios devices.

The games story is where it really falls however. The story is advanced only by the few extremely short comic book style cut scenes. Scenes so short you could hardly consider you were progressing through one.

This game would have benefitted from a tailor made story for the game. This is the main thing that's holding it back.

Because the repeated stages, repeated enemies, repeated repeated repeated.

It ruined it for me. It's a decent bus ride game. But don't expect anything you could call immersive that you could sink hours into without realising. It eventually turns into a grind for experience just so you can complete the game and delete it.
PT
It's great at the start... The menu score is immense!!! But then... Crash after crash, I've completed one 'mission' and it's crashed around 6 times? So I'm not going to play again until the crash bug is fixed... It'll ruin the game completely otherwise!
Update doesn't work
I was excited to see that you guys had made it available for iPod 4th gen and very thankful but after booting up the game, I'm sad to announce that the game works no better than it did before. Sorry; the ratings still a 1 star as the update doesn't work :(
View in iTunes
£4.99

Category:

Games

Updated:

25 July 2013

Version:

1.3

Size:

1.04 GB

Languages:

English, Chinese, French, German, Italian, Japanese, Korean, Polish, Portuguese, Russian, Spanish

Developer:

Warner Bros. Entertainment
Compatibility: Requires iOS 5.0 or later. Compatible with iPhone 4, iPhone 4s, iPhone 5, iPhone 5c, iPhone 5s, iPhone 6, iPhone 6 Plus, iPhone 6s, iPhone 6s Plus, iPhone SE, iPhone 7, iPhone 7 Plus, iPad 2 Wi-Fi, iPad 2 Wi-Fi + 3G, iPad Wi-Fi (3rd generation), iPad Wi-Fi + Cellular (3rd generation), iPad Wi-Fi (4th generation), iPad Wi-Fi + Cellular (4th generation), iPad mini Wi-Fi, iPad mini Wi-Fi + Cellular, iPad Air, iPad Air Wi-Fi + Cellular, iPad mini 2, iPad mini 2 Wi-Fi + Cellular, iPad Air 2, iPad Air 2 Wi-Fi + Cellular, iPad mini 3, iPad mini 3 Wi-Fi + Cellular, iPad mini 4, iPad mini 4 Wi-Fi + Cellular, 12.9-inch iPad Pro, 12.9-inch iPad Pro Wi-Fi + Cellular, 9.7-inch iPad Pro, 9.7-inch iPad Pro Wi-Fi + Cellular, iPad Wi-Fi (5th generation), iPad Wi-Fi + Cellular (5th generation), iPod touch (4th generation) and iPod touch (5th generation) and iPod touch (6th generation)
Top In-App Purchases
Journal of XP£4.99
Tome of XP£9.99
Box of Keys£4.99
XP Doubler£0.99
Keys Doubler£0.99
Wealth of XP£19.99
Safe of Keys£9.99
Chest of Keys£19.99
Library of XP£48.99
Codex of XP£99.99