Modern Combat 2: Black Pegasus
By Gameloft
This app is only available on the App Store for iOS devices.
Description
Modern Combat 3: Fallen Nation is coming this fall! Watch the exclusive trailer on YouTube : http://bit.ly/oV9zvX

Check out the new update below!

Finish what you started.

In Modern Combat 2: Black Pegasus, complete the mission unveiled in the first opus of one of the most acclaimed FPS games on the iPhone, this time on fronts all over the globe.

"Modern Combat 2: Black Pegasus looks like a big step forward for the series." SlideToPlay

"I was impressed with the console-quality graphics and gameplay elements." PC Mag

Modern Combat 2: Black Pegasus further improves the exemplary gameplay of the first Modern Combat for an astounding immersion in a modern war experience and the one of the most complete FPS multiplayer games on the iPhone.

AN IMPECCABLE PRODUCTION ENHANCED BY THE MOST TENSE GAMEPLAY YET
- The original control modes (Default, Screen Tap, Virtual Sticks) have been further refined for an impressive gameplay fluidity.
- A new full gyro advanced control mode has been added for even more gaming comfort.
- Gyro-based QTEs and improved headshot sensations add to the stunning intensity of the gameplay.

A STUNNING DIVE INTO THE HEART OF A GLOBAL MODERN CONFLICT
- Embody one of the 3 playable characters and throw yourself into 12 battlefields set in the Middle-East, Eastern Europe and South America.
- Facial animations and instant-kill slow-motion create a breathtaking sense of immersion.
- 15 weapons from real military forces that you can gather directly from your enemies and upgrade with several accessories.
- Blur effects when taking fire and dynamic lightning on your weapon contribute to the realism of the war experience.

THE MOST COMPREHENSIVE FPS MULTIPLAYER EXPERIENCE ON THE APP STORE
- Engage in 10-player online and local confrontations.
- Choose between 4 multiplayer modes: Battle, Team Battle, Defuse the Bomb & Capture the Flag.
- XP progression through 72 ranks, reward messages, unlockable weapons and leaderboards ensure heated multiplayer competition.
- Gather your squad and face your favorite foes through Gameloft LIVE!

***************************************************************************
Follow Gameloft on Twitter to get more info about this game and all our upcoming titles at http://twitter.com/gameloft or read our official blog at http://blog.gameloft.com/

I found a new @Gameloft Game! Modern Combat 2: Black Pegasus: http://bit.ly/blackpegasus #222 Join the hunt: http://j.mp/GameHunter and follow @Gameloft!

What's this? http://j.mp/GameHunter
What's New in Version 1.2.6
• Fixed a bug that prevented to display the correct online rank
• Fixed a bug with the camera when you invert the Y-axis & shot
• Minor bug fixes

iPhone Screenshots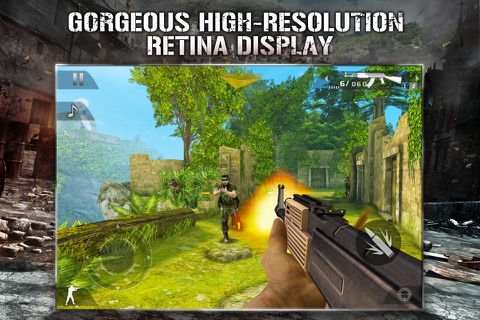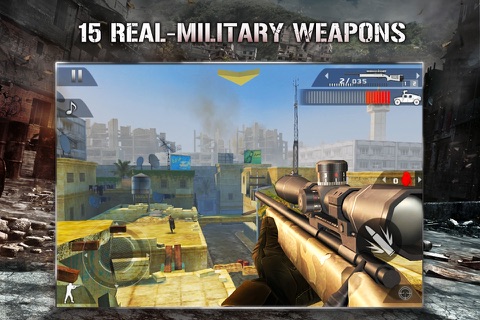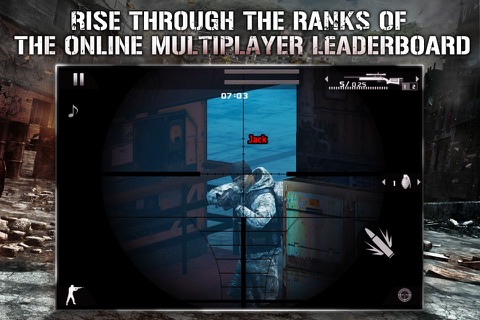 Customer Reviews
This game is better than the 3rd
I have downloaded both; Fallen Naton Modern Combat 3 and Black Pegasus Modern combat 2. Fallen nation has a really bad and laggy multiplayer, however Black pegasus has a really good multiplayer with a much better system of equiping guns and there are no glitches. On fallen Nation, accasionally suddenly half of all your money on multiplayer disappears! This is SOOOO annoying. Also, it keeps crashing and going back to the home screen so you cannot take all the xp from the match. The campagin modes are practically the same so dont bother getting fallen nation unless you have completed campagin on black pegasus and you are looking for more gameplay. On a final note, black pegasus takes up less space on your device as fallen nation and this is yet another reason why you should not bother with fallen nation.
Great
If you think BFBC2 for iPhone is better than this you've got problems. It's got a perfect mix of both graphics and gameplay, something rainbow six wasn't so good at. It's not only got a good campaign with a strong A1 but has a great online multiplayer. You get the basic maps but new people have to buy the DLC map pack strait after to play the new ones. You get deathmatch, team deathmatch, capture the flag and defuse the bomb. Each is unique and can be played differently in every map. Although the campaign might not be as long as it could be it keeps you occupied and is good to replay. If your not sure just buy the lite version
BEST FPS - BUT...
The title says it all but a few problems, the multiplayer needs improvement. I use the default controls of joystick on the left, shoot button on the right and swipe screen to look around. I'm constantly picking up guns by mistake as I'm playing as the pick up weapon button is slap bang in-the-middle of the screen so as I'm running around killing and trying to look around, if I run over a gun it automatically picks it up then by the time I go back to change it I get killed! Please move it to the left or right or something just so long as it's not in the middle of the screen coz that's just such a stupid place to have it.

The map pack is good with 3 new huge maps but these new maps are too big for just 10 players. How about upping it to 20? That would be just sick on the battlefield map!

You have to exit to main menu and break wifi connection to leave a match and join another. How hard would it be to put a "leave match" button without exiting to main menu???

Sort these out on an update soon and its a 5 star game but until you stop ignoring reviews it's down to 1 star from me as these annoying things I've mentioned take so much away from this excellent game.
View in iTunes
£6.99

Category:

Games

Updated:

25 July 2011

Version:

1.2.6

Size:

596 MB

Languages:

English, Chinese, French, German, Italian, Japanese, Korean, Spanish

Developer:

Gameloft
Compatibility: Requires iOS 3.1.3 or later. Compatible with iPhone, iPad and iPod touch.
Top In-App Purchases
Modern Combat 2: Map Pack 1 £1.99