MONOPOLY Game
By Electronic Arts
This app is only available on the App Store for iOS devices.
Description
**YOU VOTED & THE CAT'S OUT OF THE BAG** Thanks to the votes from YOU and thousands of loyal MONOPOLY Facebook fans from 185 different countries, the CAT mover is now available to play with in this latest update as well as in the classic board game version of MONOPOLY!

BUY, SELL & TRADE FAMOUS PROPERTIES
From Marvin Gardens to Water Works to Park Place, own and manage the famous holdings of the MONOPOLY board.

EMPLOY HANDS ON MANAGEMENT
Shake your device to "roll" the 3D dice. Tap the screen to manage your properties. Building hotels or taking a "Chance" is easy and intuitive.

CHOOSE YOUR LEVEL AND LOOK
Play through 3 levels of difficulty and save games in progress. Also customize the number of players, the "game rules," and even the game environment.

FEELING MORE COMPETITIVE?
Challenge up to 3 friends via local WiFi and Pass 'N Play Multiplayer, and up to 2 friends with Bluetooth Multiplayer.

PLAY WITH OTHER iOS FRIENDS
You can even play multiplayer games with friends who have MONOPOLY for iPad (just note that you'll be playing the iPhone/iPod touch version).

So buy Boardwalk! Go directly to jail! Are you ready? It's "GO" time!


Requires acceptance of EA's Privacy & Cookie Policy and User Agreement.

User Agreement: terms.ea.com
Visit https://help.ea.com/ for assistance or inquiries.EA may retire online features and services after 30 days' notice posted on www.ea.com/1/service-updates.Important Consumer Information. This app: Contains direct links to the Internet; Collects data through third party analytics technology (see Privacy & Cookie Policy for details).
What's New in Version 1.4.04
Hey MONOPOLY fans! We've made some behind-the-scenes updates to the game. Thanks for playing.
iPhone Screenshots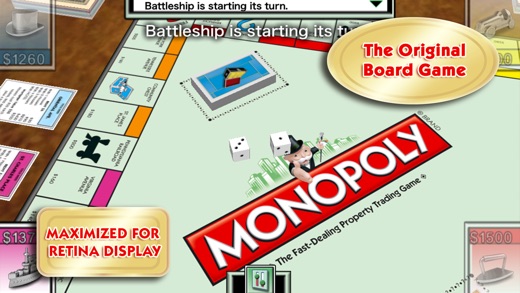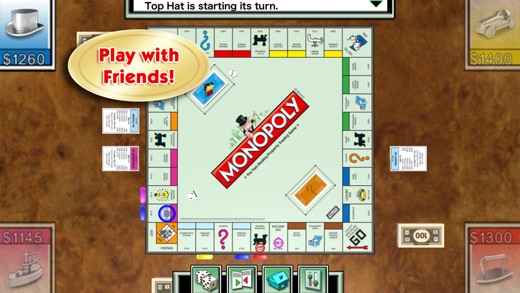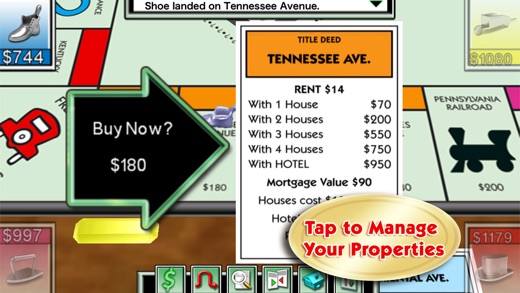 Customer Reviews
Its ok..
Played a load of times now and with different settings. So, bad points first and get ready for tldr...

The dice rolls don't seem random but always rigged. (Game becomes predictable).

Difficulty 3 is just rigged so the AI lands on everything while you land on nothing and have to buy from ai to win (you will always land on tax tiles).

None of the house rules save, you always have to set them each and every game which is annoying.

There are a few graphical bugs, main one is a black line while cat is moving sometimes.

The 3 doubles in a row go to jail happens way too often. - having that said the game sometimes riggs the ai to land on 'go to jail' just so next turn it lands on another tile to complete the set, which happens more often on diff 3.

The ai will double + the amount of times you pass go.

This game should be free considering all the bad points and i feel like the game was rushed (ea used to be cool man).

Good points? Its under £1. Played in moderation on difficulty 2 is fine. Playing with mates is even better. The love for a classic family game in the palm of my hands.

So, 3 stars and an honest review.

Advice to ea - get a better randomiser on dice (or actually use an rng). - more players (inc ai). - more difficulty settings. - add online turn based! Real time and multi day mode (could charge more? To new players?).

My first ever review.
Totally Rigged
It's good fun if u play it occasionally but if u play regularly, u realise the game is rigged... the dice are not random; it is always loaded against you. In the level 2 setting, I have played 5 games when for the first four rounds, I was always sent to jail without passing go, whereas the AI got all the pass go cards and bought up all the properties. Also when u play the shortened version where the properties are distributed at the onset, no matter what deal you do, the AI never land in your properties whereas you always land on theirs even if they own only one set and you own three!!
AI difficulty shouldn't mean the dice and cards get rigged, it should just be harder to make the deals retaining the true randomness of the dice and the cards. Once I owned two third of the board and the other two AI just one third, I got both the assessed for street repairs cards in succession, losing £1800 in succession.
Hasbro, sort it out... let the dice and cards remain truly random.
Horrendously fixed
This game is great to beat a bit of boredom! Otherwise it's horrendously fixed! I've just had to quit a game because it became farcical!
I had the two dark blues, greens, yellows and browns with hotels on each. Two CPU players were bankrupt leaving one CPU with the reds, oranges, purples, light blues and stations with hotels on each. The game had clearly decided the remaining CPU was going to win before the game had even started! I quit the game with £22K while my opponent, the top hat had £16K.
A never ending game where for every time the top hat landed on my properties I'd land on his 2/3 times! Got that bad the game became confused and started dishing out ridiculously ordered chance cards and dice rolls to suit the top hat but because I had all the expensive properties the top simply couldn't win!
Horrendous!
View in iTunes
£0.99

Category:

Games

Updated:

03 November 2016

Version:

1.4.04

Size:

194 MB

Languages:

English, French, German, Italian, Japanese, Spanish

Developer:

EA Swiss Sarl
Compatibility: Requires iOS 8.1 or later. Compatible with iPhone, iPad and iPod touch.