One You Active 10 Walking Tracker
By Public Health England
This app is only available on the App Store for iOS devices.
Description
Active 10 tracks your walking and shows you when to increase your pace to benefit your health.The app is designed to quickly and simply help you do more brisk walking in bursts of ten minutes, known as Active 10s. It tracks all your walking and rewards your progress.

Key features:
• Breaks your target down into manageable chunks of ten minutes of brisk walking
• Shows you when you've walked at the right speed
• Gives you goals to work towards
• Rewards your progress
• Shows where you can convert normal walking into Active 10s
• Provides hints and tips

BRISK WALKING BENEFITS YOUR HEALTH

We all know how important it is to be active. The good news is that you don't have to go to the gym or start expensive fitness programmes, walking counts too!

Just ten minutes of brisk walking every day can get your heart pumping and can make you feel more energetic, as well as lowering your risk of serious illnesses like heart disease and type 2 diabetes. Going for a brisk walk is a great way to clear your head.

Active 10s are simple to fit into your day, from taking the dog out to going for a lunchtime walk.

Note: Continued use of GPS running in the background can impact battery life.

This app relies on your phone's inbuilt sensors to measure activity so you may experience varying levels of accuracy especially in older devices/operating systems. To improve accuracy, keep your phone in a pocket close to your body rather than in a loose coat pocket or bag.

This is an early version of the app. If you have any feedback for how we can improve the app please send it to oneyou@phe.gov.uk.

Frequently asked questions: https://www.nhs.uk/oneyou/active10/faqs#xQYHQxaKMtCArDuc.97
What's New in Version 1.3.4
Added instructions in case motion and fitness is already disabled
iPhone Screenshots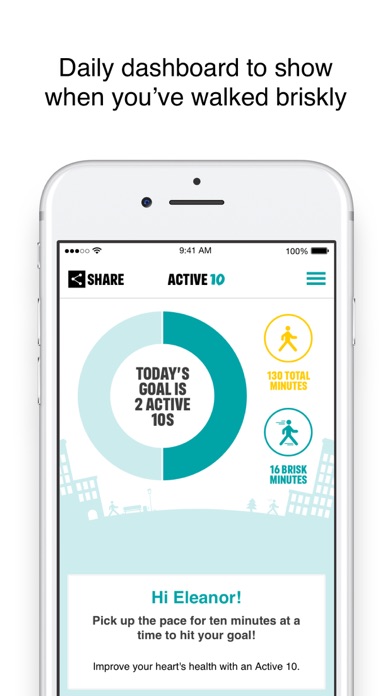 Customer Reviews
Good idea but!
This app is a good idea and I like the way it shows when you are walking briskly. However, I am not over happy with location services being on all the time and would prefer "whilst using" setting to be allowed. Only used it one day so far so accuracy cannot comment on but what I seen looks correct. It is a basic app though as today I cannot find anyway of seeing what I did yesterday only a graph showing I did 40 minutes above my 10 minute brisk walk goal. This app needs some work on it to give it more features. I have used a different Public Health England app before and that was also rather basic! This app is an excellent idea but I don't think it will be on my phone long if updates are not forthcoming in the very near future to change location services option and giving it a few more features.
*********************
Thanks for responding to my review. I have now upgraded to 4 stars as having used it daily now I can see that the accuracy is correct. I also appreciate that Location Services do need to be on to track my daily activity and also I know now that it is not draining my battery too much which was one of my concerns for this. I would though still like to have some history of my previous days/weeks/months with detail as some other Apps do. On the whole it is a good App and I really like the fact I can see when I am walking briskly. Will now keep on my phone for a bit longer and look forward to seeing future updates.
Missing the Point!!!
I liked the idea of this and for me it seems fairly accurate so far. It's nice to see how much brisk walking I've accumulated in a day and over time. The main problem is the Active 10's. I get that they want the 10 minutes brisk to be continuous walking but then there is no screen to see those achievements. I'm not sure for example if I achieved an Active 10 yesterday or the day before. All it shows is the cumulative amount of brisk walking. Seeing as the focus is an Active 10, I am very disappointed that I cannot see when I have achieved these over time. I am motivated by seeing things like this and to be honest the app isn't very motivating for me if I can't see the Active 10's I've achieved. You get a badge/reward when you complete your first active 10 and then for a continuous week. But I don't know if I'm on day 7 and need to make a special effort to achieve the badge or where I am... Without actually showing me how I'm doing on the Active 10s this app actually doesn't get me to walk any more and I just use it to glance at every few days out of interest rather than it actively engaging and encouraging me. This is a pretty big oversight. Unless this improves I'll probably delete the App and won't be recommending it to anyone either.
Handy App
Logs all activity that involves moving from one place to another. That in itself is useful as it highlights active and sedentary periods during the day. I am not entirely convinced that the logging of the 'brisk' walking periods is totally accurate. Some periods when I know I have been walking briskly have not been recognised whereas other periods where I was not expecting walking to be recognised as brisk have been. I am a little disappointed that brisk periods under ten minutes do not count towards the goal even when accumulated they suggest the target has been reached. I accumulated 20 mins brisk walking yesterday but because they were in small chunks I 'failed' to reach my target. So far as time delay in updating mentioned by some other reviewers I have found updating occurs when the app is on the home page. Easy to swipe between pages and keep up to date. I will continue to use the app if only to get me off the sofa more often.
View in iTunes
Free

Category:

Health & Fitness

Updated:

29 August 2017

Version:

1.3.4

Size:

23.4 MB

Language:

English

Developer:

Public Health England
Compatibility: Requires iOS 9.0 or later. Compatible with iPhone 5s, iPhone 6, iPhone 6 Plus, iPhone 6s, iPhone 6s Plus, iPhone SE, iPhone 7, iPhone 7 Plus and iPod touch (6th generation).
More iPhone Apps by Public Health England