Star Wars®: Knights of the Old Republic®
By Aspyr Media, Inc.
Essentials
Open the Mac App Store to buy and download apps.
Description
It is four thousand years before the Galactic Empire and hundreds of Jedi Knights have fallen in battle against the ruthless Sith. As the last hope of the Jedi, you must lead a band of freedom fighters in an epic struggle to save the galaxy.

Can you master the awesome power of the Force on your quest to save the Republic? Or will you fall to the lure of the dark side? Hero or villain, savior or conqueror…you must choose wisely as you alone will determine the destiny of the entire galaxy!
Features:

• Immersive, action-packed Star Wars role-playing experience with customizable and evolving playable characters.
• Choose from nine customizable characters to build your party of three adventurers, including humans, droids, Twi'leks, Wookiees and more.
• Journey spans seven different worlds including Tatooine, Sith world of Korriban, Jedi Academy on Dantooine and Wookiee homeworld of Kashyyyk.

*** Please Check System Requirements Prior to Purchasing. ***

** System Requirements **
Operating System: Mac OS X 10.6.8 Processor: Intel chipset | CPU Speed: 1.8 GHz or faster | Memory: 512 MB or higher Hard Disk Space: 5.0 GB free disk space | Video Card (ATI): Radeon X1600 | Video Card (NVidia): GeForce 7300 | Video Memory (VRam): 128 MB

Recommended System Requirements:

Operating System: Mac OS X 10.6.8 | CPU Speed: 2.4 GHz | Video RAM: 256 MB

NOTICE: Integrated video chipsets are not supported (THIS INCLUDES 2010 MACBOOK PRO(low end models); 2010 MACBOOK AIRS AND 2010 MAC MINIS.)

NOTICE: This game is not supported on volumes formatted as Mac OS Extended (Case Sensitive)

LucasArts, and the LucasArts logo are trademarks of Lucasfilm Ltd. BioWare and the BioWare logo are trademarks or registered trademarks of EA International (Studio and Publishing) Ltd.. © 2003-2017 Lucasfilm Entertainment Company Ltd. or Lucasfilm Ltd. & ® or ™ as indicated. All rights reserved. Aspyr is a registered trademark of Aspyr Media, Inc., and the Aspyr star logo is a trademark of Aspyr Media. Mac and the Mac logo are trademarks of Apple Computer, Inc., registered in the U.S. and other countries. All other trademarks and trade names are the properties of their respective owners.
What's New in Version 1.3.8
* Greatly improve performance for certain graphic cards
* Fixed dropping audio sounds effects
Screenshots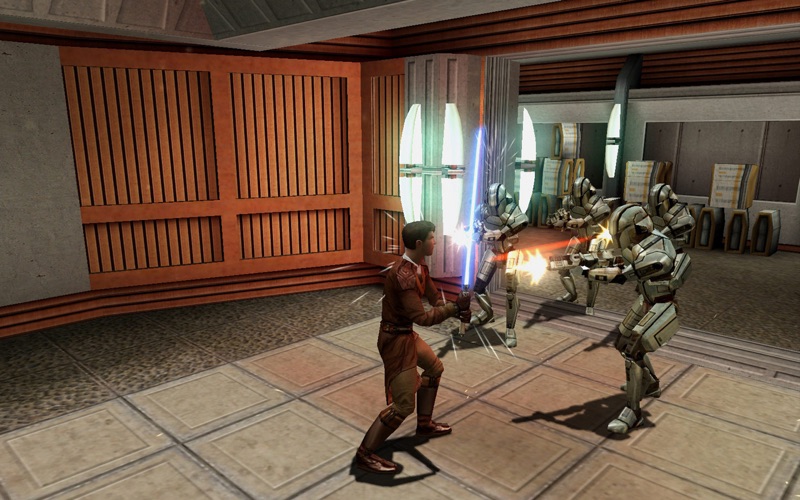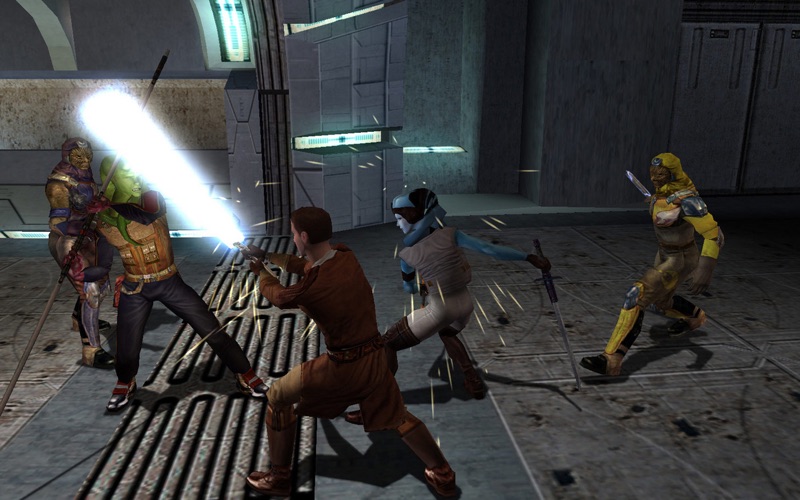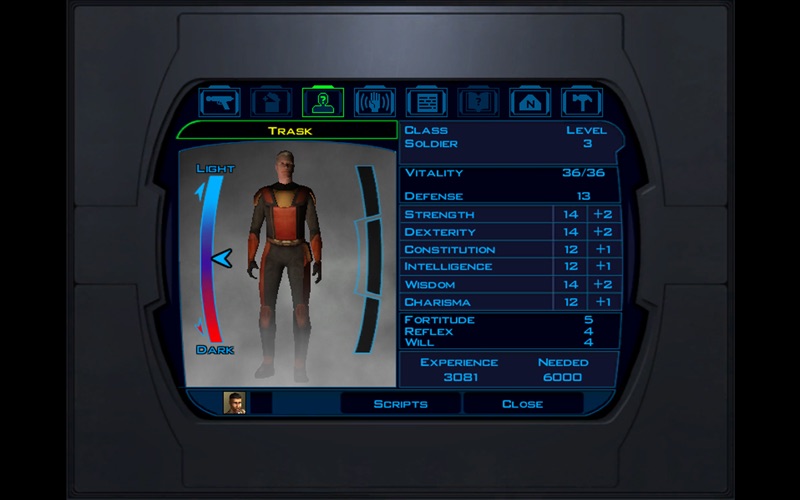 Customer Reviews
attack controls need to be fixed… okish agme
I expected this to be a good game and at £2.99 it seemed a bargain when all the other star wars games were alot more, so I got it. After playing it for a while I can't really play any more, the graphics are worse than advertised and if you put the settings higher which I did it doesn't really make much of a difference, I find that the game is complex but that is fine but the real thing that bugs me of is the attack system, which is completely outdated hard to use and useless, in any game nowadays you can attack while moving, but in this you have to select targets and the game stops and then you have to excecute the commands and it makes it a lot harder to fight, especially since the AI doesn't have to deal with this, if the combat system was updated to modern standards than I might consider playing. since the graphics aren't good. The only good proper star wars game that isn't lego seems to be Star Wars the force unleashed. But I have to admit a full proper game on a computer from star wars for £2.99 is a huge bargain probably the biggest i've seen on the app store especially when you get £4.99 on ipad which are decnt and don't last you that long.
Great game but ran into a major issue (could someone help)
When you fight your way through the sith embassy in mannan you should come across a door that allows you into the training room; I cannot access it, no matter what I do the door stays locked. Then I researched some gameplay and found that you should stumble into a selkath that accesses the door, I do not.
I do not know wheather my game has been corrupted or not but it seems that the only way to access the training room is by stumbling into a selkath, but in my case it does not even spawn. I've tried everything e.g using troids with extremely high computer and security skills, and it still did not work.
I'd also like to note that the saved game picture (the picture that is taken as a preview of where you left off) is a completely blank white page colour.
If anyone has had this issue or knows how to fix this please reply… Thanks.
Great game, but it crashes at the same bit EVERYTIME
Loving the game, never played it when I was younger, very much enjoying it now. Well I was… up until the point where I just faced Malak for the first time (which was awesome), but then the game decides to crash everytime after I destroy a bunch of Sith Fighters. Want to know if this a regular problem with the game as I really don't want to start another game again for this to keep happening. Other than that, a great game and well worth 8 quid, assuming it doesn't crash for you.
View in Mac App Store
£9.99

Category:

Games

Updated:

16 March 2011

Version:

1.3.8

Size:

3.28 GB

Language:

English

Developer:

Aspyr Media (iDP)
Compatibility: OS X 10.6.6 or later