Tiki Totems
By Rafal Staszewski
This app is only available on the App Store for iOS devices.
Description
■ OVER 200 LEVELS
■ MORE LEVELS COMING EACH MONTH
■ WORSHIP THE TIKI GOD !

✭✭✭✭✭✭✭✭✭✭✭✭✭✭✭✭✭✭✭✭✭✭✭✭✭✭✭
REVIEWS

"If you are a big puzzler fan, Tiki Totems is either a blessing or a curse. Its addictive nature and ease of use make it easy to pick up, and its continued variety and challenge make it difficult to put down." 4/5 stars
148apps.com

"I can tell you guys it's the most fluid physics game I've played from the app store. "
-EssentialParadox (Toucharcade Forum)

"Its a great twist to a classic game (the one where you're supposed to clear similar colored blocks)"
-La.voed

✭✭✭✭✭✭✭✭✭✭✭✭✭✭✭✭✭✭✭✭✭✭✭✭✭✭✭
IMPORTANT

We have just fixed the memory problem that was causing a crash on some devices. Uploading newest version now - everything should work fine once 1.4.1 is live

We apologize for the inconvenience and certainly hope all of you will be able to enjoy the game from now on
✭✭✭✭✭✭✭✭✭✭✭✭✭✭✭✭✭✭✭✭✭✭✭✭✭✭✭

Introducing Tiki Totems!
An exciting new physics puzzle block destroying game. Appease the Tiki Gods by carefully removing the unnecesarry blocks that dim the might and glory of their beautifull totems. BUT BE CAREFUL!! don't drop the totem on the ground cause that makes them angry, and when they get angry you know what happens. Villages and villagers burn.

✭✭✭✭✭✭✭✭✭✭✭✭✭✭✭✭✭✭✭✭✭✭✭✭✭✭✭
FEATURES

208 unique and exciting levels for you to enjoy!

Multiple block types, each with different behavior!

OpenFeint integration with tons of achievements!

Vivid graphics, custom music and sounds!

The first TRULY RESPONSIVE physics game.


✭✭✭✭✭✭✭✭✭✭✭✭✭✭✭✭✭✭✭✭✭✭✭✭✭✭✭
VIDEO TRAILER

Watch the video trailer by going to http://tinyurl.com/tikitotems3

✭✭✭✭✭✭✭✭✭✭✭✭✭✭✭✭✭✭✭✭✭✭✭✭✭✭✭
STORY

The tribes of the mythical island Tikonia have for centuries worshipped the Tiki God.
All was fine and dandy until one day the tribe elder looked at the gathered worshipers and asked a simple question, "My beloved, how do we know that our great God really exists?". As his words traveled throughout the crowd , he already knew that this was indeed a BIG mistake. The Tiki God was angry, very angry. I mean really really angry like flowing lava is going to burn down your village angry. But that still doesn't describe it well... more like flying burning meteors are going to smash you all ANGRY.

Something had to be done, the elders have decided. YOU will try and appease the angry God. Yes, yes.. we know we've already tried that and he burned everyone before you, but they just didn't treat his totem with care and respect and probably mixed the blocks in the wrong order... NOW GO and save us or we're all going to burn.

✭✭✭✭✭✭✭✭✭✭✭✭✭✭✭✭✭✭✭✭✭✭✭✭✭✭✭
USEFUL LINKS

Spokko website
http://www.spokko.com/
TouchArcade discussion

http://forums.toucharcade.com/showthread.php?t=32405
What's New in Version 1.8.1
- fixed news system crashing for some people when they received remote notifications
- new and improved news system should work properly now
iPhone Screenshots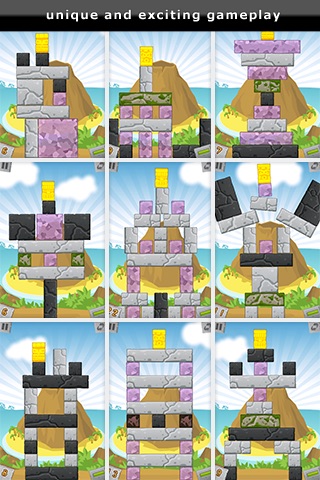 Customer Reviews
Bug in pack 3
As others have said, its promising until you get to a level in pack 3 where the block falls off the side before you can do anything. The skip button simply hangs the game so this bug ruins the game.
Screen
Screen loads the 4seconds later it goes blak nd don't change good game but don't work properly
Tiki Totems good stuff
I personally think tiki totems is an outstanding game. It may sometimes be hard but that makes it better. I think having to buy the skips prevents people using them all the time so overall this is one of my faves!
View in iTunes
Free

Category:

Games

Updated:

28 March 2011

Version:

1.8.1

Size:

10.5 MB

Language:

English

Developer:

Rafal Staszewski
Compatibility: Requires iOS 3.0 or later. Compatible with iPhone, iPad and iPod touch.
Top In-App Purchases
5 Skip Level Points£0.99
Extra levels pack 1£0.99
Extra levels pack 2£0.99
Hardcore pack 1£0.99
Reflex pack 1£0.99
More iPhone Apps by Rafal Staszewski