TomTom GO Mobile
By TomTom
This app is only available on the App Store for iOS devices.
Description
GET THERE FASTER with the all-new TomTom GO Mobile app
>> Drive up to 50 FREE miles every month

The new TomTom GO Mobile app is a sleek combination of the latest TomTom car navigation technology and world-class traffic information. You will always choose the best route available based on accurate, real-time traffic information that gets you to your destination faster, every day.

BENEFITS
>> Offline navigation you can rely on: No need for an internet connection to plan your route.
>> Insanely accurate traffic information: Get highly accurate traffic information, in real-time*.
>> Drive more relaxed with speed camera alerts: Join our community of millions of drivers sharing speed camera locations in real-time*.
>> See buildings and landmarks in stunning 3D: Know exactly where you are so you never miss a turn.
>> Quick access to your favourites: Start driving to your favourite places with a single tap on the map.

FREE MILES
Download TomTom GO Mobile and drive with the app for a fixed number of free miles every month. Upgrade to Unlimited Navigation to drive without miles restriction. Select from a one year or three year subscription, depending on your driving needs.

NOTICE FOR OWNERS OF THE ORIGINAL NAVIGATION APP
The original TomTom Navigation app for iPhone is no longer available for purchase. As an owner of the original app, you will continue to receive updates to the app and the map. For instructions on how to reinstall the app go to http://www.tomtom.com/22248/. Owners are also entitled to a FREE three year subscription to the GO Mobile app. Make sure you have the latest version of the original Navigation app installed and go to the shop to redeem your upgrade to the GO Mobile app. For a video tutorial on how to upgrade you can watch https://www.youtube.com/watch?v=XRX6H24gb2g

FEATURES
- World Maps: Install and update maps from around the world at no extra cost.**
- TomTom Traffic: Always know where delays are and whether a faster route is available.*
- Safety Cameras: Drive more relaxed with speed camera alerts, trusted by millions of TomTom drivers.*
- Offline Maps: Maps are stored on your device so you don't need internet access or data roaming to plan a route.
- Points of Interest: From gas stations to hotels, your app comes pre-loaded with millions of useful POIs.
- Navigate to Contacts: Never memorize an address again. Select a contact from your list and the app will plan your route.
- Quick search: Find destinations faster with Quick Search. It starts finding locations as soon as you start typing.
- Tap and go: Tap on your favourite destination on the map, and you're on your way.
- Advanced Lane Guidance: Clearly see which lane to take at key junctions.

MORE COMING SOON
We continue to introduce new features with each update. For an overview of what we are looking into go to http://tomtom.com/22093

* These services require a mobile phone connection. Your operator may charge you for the data used and costs may be significantly higher when used abroad. On average TomTom Services uses less then 10MB per month. Check http://tomtom.com/20719 for availability per country. The question of the legality of services to warn for speed cameras is not clear in Germany. You therefore use this service at your own risk. TomTom does not accept any responsibility for the consequences of use of the service in Germany. For more information please go to http://tomtom.com/5560
** Data storage constraints may apply. Download 4 or more full updates of any installed map per year. You need a WiFi or cellular data connection to download new maps and updates.

Continued use of GPS running in the background can dramatically decrease battery life.

TomTom reserves its right to unilaterally withdraw and/or to amend this offer and/or to amend the terms and conditions.
What's New in Version 1.9.2
- Works with iOS 11: Don't worry if you have already upgraded your iPhone to iOS 11. This app is fully tested with iOS 11 so you can update with confidence.
iPhone Screenshots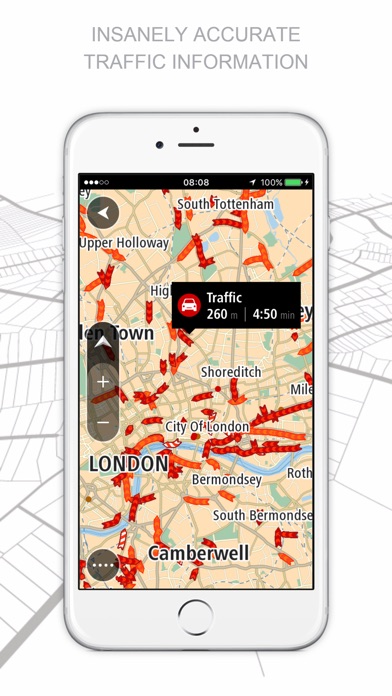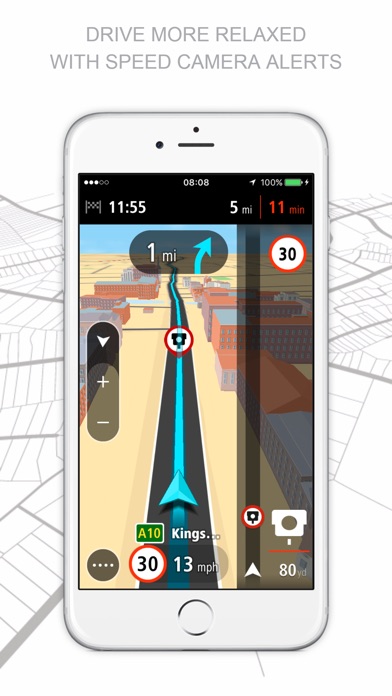 Customer Reviews
Tomtom Go Mobile
I have been using the old paid Tomtom app on my smartphone for years and it's always been brilliant. But Tomtom now tell me that the old app is being phased out, but as an existing user I am entitled to 3 years free subscription to the new Tomtom go mobile app. So I followed their instructions and downloaded the new app... so far so good... I haven't deleted the old app yet. Anyway I then fired up the new app, and a message pops up (and you can't get past it) confirming my entitlement to the free 3 years subscription, and to click on the message which will take me back to the old app, where I need to follow instructions to claim my free subscription. So I clicked on the message and sure enough it takes me back to the old app... and guess what? no instructions at all. I went to the store section in the old app, hoping for guidance but it just shows the new Tomtom go mobile app as a download, but I have already got it downloaded grrrrr! have contacted customer service but no response grrrr again. So I am in limbo, they have driven me from being a loyal user who always recommended Tomtom to friends... to a very unhappy user... I just don't get their thinking behind things, don't they want to make any money???
Sorry, but it's (still) not a patch on old app
(New review) ok - now day is finally here when old app no longer works I still feel like I have lost a faithful friend. Used at least twice a day, have tried and tried to get used to this new version but while 'it does the job' - is far too basic and missing so many features from old app, like customisation , directions to a calendar event etc. Now running in parallel with google map and Waze but likely to stick with google - end of an era.
(Original review)I held back writing a review until I had used it a few times, but have to say I really do not like this app. I loved my old tom tom app, and have used it for many years. While I grumbled like others at the switch to monthly payments, given the choice of this ( even free for 3 years) and paying monthly for the old app, I would choose the old one every time. Feels like a massive step back, so unless it starts to be redeveloped to look and feel and act more like old app, I will be using Waze again when my old app is finally not supported any longer. 😢
Lag still not fixed...
Beware - if driving in unfamiliar territory, this app will drive you round the bend because the position lags so badly. If the route requires multiple direction changes, you will find it's still animating the first turn when it's time to make the next.

*Still unusable, even after updates.

**Another update, no improvement to lag but added a worthless navigate to photo feature. Stupid priorities from whoever is developing this app. Every time you hit a direction arrow it zooms in and plays some kind of fixed animation that bears no relation to your actual position. Roundabouts are impossible to follow as a result and if you go straight on over a mini roundabout you can literally be a hundred yards up the road before the app finishes animating and catches up. Ridiculous.

*** Alternative route is a good addition but giving choice at start of planning would be better than digging into the menu. Routing around traffic now works. But lag is as bad as ever, so still hopeless when in unfamiliar territory.

**** Nov 17. No improvement in lag. Now ETA is broken, often showing random distance to destination. Traffic updates seem worse too - now often only telling me about a jam after I'm in it. Is that because users are abandoning TomTom in droves so there is less crowdsourced traffic data? Shame Waze still doesn't have an offline map or I'd be giving up on TomTom for good.
View in iTunes
Free

Category:

Navigation

Updated:

16 October 2017

Version:

1.9.2

Size:

270 MB

Languages:

English, Czech, Danish, Dutch, Finnish, French, German, Greek, Hungarian, Italian, Norwegian Bokmål, Polish, Portuguese, Russian, Slovak, Spanish, Swedish, Turkish

Developer:

TomTom
Compatibility: Requires iOS 9.0 or later. Compatible with iPhone, iPad and iPod touch.
Top In-App Purchases
1 Year Unlimited Navigation£17.99
1 Month Unlimited Navigation£4.99