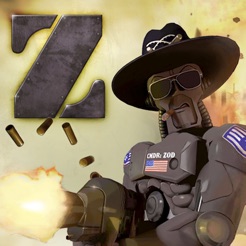 Description
"Z", the classic Real Time Strategy Game by the Bitmap Brothers remade for the Mac OS. Fans of this classic strategy title are in for a real treat. Everything is in here from the terrific comedy cut scenes to the frantic game play making this is the definitive version of Z.

•Z is a real time war game played in a totally free environment.
•A breathtaking race to capture territory and resources. Crush your enemy before they overpower you.
•Over thirty minutes of humorous movie sequences provide intros and outros for each level.
•Movie and in game voiceovers are spoken in English, French, German, Italian or Spanish.
•Z has a conditional Music system, which reflects in real time the mood of the battle.
•Z has six types of Robot soldiers each with their own individual personalities. Will they carry out your orders and march into the jaws of hell? Or will they chicken and run?
•Robots perform up to 40 different actions, armed with rifles, machine guns and antitank missile launchers.
•Twenty challenging levels set on five planets each with a unique terrain ranging from Arctic waste to lands of fire and lava.
•In game world map and radar which can be displayed at any time.
•Lots of hardware for you and your soldiers to control, ranging from three types of tanks, jeeps, repair vehicles and armoured personal carriers to field guns and missile launchers.
•Robot leaders provide you with spoken alerts throughout the game.
•Capture and control installations including factories manufacturing robots and vehicles, radar and vehicle repair facilities.
•You choose what kind of robot or vehicle your factories manufacture.
•Z comes with pictorial player guide.

Z is... the fastest, funniest, most frantic, feature-packed action-strategy game you'll play this century!
* Z is now Retina Display compatible.
* Fixed save game bug
Customer Reviews
Unplayable on MacBook Pro with Retina Display
The description says this has no been made compatible for devices with retina display, but when I try and run it on a 2014 MacBook Pro only a quarter of the screen is visible in a very low resolution. Beware….
can't play it
i only see the bottom part and can't play it!!!! using mac retina.
They broke it!! can still play from level 1…..
This is a great game but the latest update has brought back the issue were you cannot load from your saved games (was previously fixed), and there is another issue were you cannot send cranes to any location only flag and repair bridges etc. How can I use them as cannon fodder?? joke ( this also affects ipod touch version and possibly iPhone). Can these be fix asap please.

Also when is the 20 mission expantion pack going to be added to the existing 20 levels? ( For thoese who wonder what im talking about, when the origonal was released a 20 level expansion pack was released after and the maps were huge! as some took me hours to complete) I will keep trying to install them using the disk in the hope it will work one day! (this is a joke).

Currently using macbook pro intel hd 3000.
Information
Seller

Kavcom Limited

Size

332.9 MB

Category

Languages

English, French, German, Italian, Spanish

Age Rating

Rated 12+ for the following:

Infrequent/Mild Alcohol, Tobacco, or Drug Use or References

Infrequent/Mild Cartoon or Fantasy Violence

Infrequent/Mild Profanity or Crude Humour

Copyright

Z The Game © 2011 The Bitmap Brothers, all rights reserved. Z © 1996 The Bitmap Brothers, all rights reserved. The Bitmap Brothers name and logo is a trademark of the Bitmap Brothers who is whole owned by Michael J Montgomery.

Price

£2.99
Supports
Family Sharing

Up to six family members will be able to use this app with Family Sharing enabled.