Galdir - Rebel of the North
Book 2, Barbarian Warlord Saga - A Roman War Novel
Fredrik Nath
This book can be downloaded and read in Apple Books on your Mac or iOS device.
Description
A dark tale of Celtic mysticism, grief and battle.

Although Galdir regards himself as a free man, he is still enslaved by his past - and his future. Unable to throw off the yoke of prediction, embittered by the defeat of his nation which has been annexed by Rome, and forced to serve the Roman Emperor as an auxiliary commander of cavalry on Hadrian's Wall, he faces increasingly fierce attacks from hostile Celtic tribes north of the Wall.

But in Galdir's volatile world such a precarious situation could never last for long. "Rebel of the North" takes us to a divided nation north of Hadrian's Wall, where Galdir joins forces with Cimbri mercenaries, falls in love with a Celtic Princess, and hears a disturbing prophecy of battle and leadership - a prophecy which foretells of a Germanic warrior who will unite the feuding Northern tribes and drive the seemingly unstoppable Roman forces out of their land.

"Rebel of the North" continues the epic tale of Galdir - slave, barbarian, mercenary and Warlord.

Categories: Roman fiction; British historical fiction; action & adventure.
Screenshots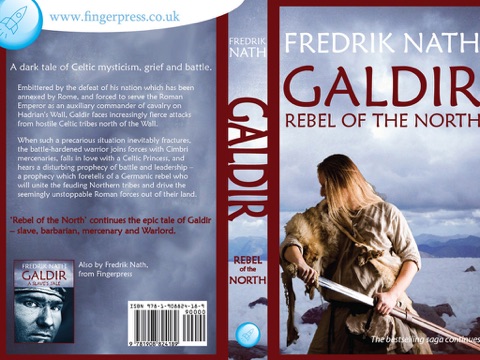 Other Books in This Series
View in iTunes
£2.99

Category:

Historical

Published:

28 November 2012

Publisher:

Fingerpress

Print Length:

450 Pages

Language:

English

Series:

Book 2, Barbarian Warlord Saga