The Most Amazing Places to Visit In London
More Than 400 Unusual, Surprising and Captivating Spots In London
Reader's Digest
This book is available for download with iBooks on your Mac or iOS device, and with iTunes on your computer. Books can be read with iBooks on your Mac or iOS device.
Description
Reader's Digest
The most amazing places to visit in London

More than 400 unusual and surprising places 

Get an insider's view of the capital with this guide that focuses on the most rewarding sights to see, from the leafy suburbs to the busy City. Whether you are a visitor or long-time resident, London has surprises to offer and places to amaze you, be it the tent-like tomb of explorer Sir Richard Burton in an East Sheen churchyard, the street in the City that is technically in Cambridgeshire, the best place to play outdoor table tennis or a restaurant in a former asylum which also housed MI5 and MI6. A special section on the Olympic park looks at all the amazing new buildings and the park itself. Superb photographs illustrate the rich diversity of London's sights making this an inspirational travel guide that you can take anywhere and also enjoy at home.

• 10 large maps make navigating your way around London easy 
• Suggestions for quick visits as well as longer excursions
• Full postal code included in each address for GPS location finding 
• Three-in-one travel book – portable guide, gazetteer and home reference
Screenshots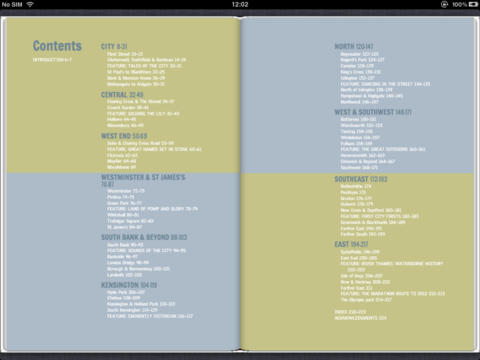 Customer Reviews
Best London guide
If there's any books about London you can find me reading them, and this one's my favourite. It's all about 'amazing' London, and filled with 'amazing' facts it is. I love that this is not just about the usual landmarks, all the stuff you've heard before. This book actually tells you something new, about the places you've already seen and other hidden gems you wouldn't have known about until this book told you. It's pretty handy as an ebook too as you can take it round the city with you and use as a virtual tour guide. Fantastic.
The Most Amazing Places to Visit in London
One of the best things about this new eBook is that it is both visually exciting and genuinely surprising. After leafing through the pages, and admiring the beautiful photography, I embarked on a delightful voyage of discovery.

Most people might start with the Contents page, but, as an eBook novice, I've enjoyed scouring the index for the most unusual entries to explore. At a touch, I could then discover the grisly murder after which Bleeding Heart Yard was named, that Marylebone's Cabbages and Frocks market sells everything from designer clothing to to crêpes and Bedouin fare, that displays at the British Dental Museum include walrus-tusk dentures, that Winston Churchill honed his oratory skills in Harrow's Speech Room, or that on every first Sunday in February, clowns gather at The Clowns Church in Dalston to pay tribute to Grimaldi and other clowns past.

It's not all quirkiness, of course – besides the curious, there's all the grandeur, elegance, history and Royalty that you'd expect from a London title. And this is a fun way to appreciate it. Reading a few of the fascinating features that describe key aspects of each London area, I found the type – once enlarged – was clear and easily legible. This is a super eBook – I will certainly be buying it (and the book itself) for French friends who are coming to London in June.
Helpful London Guide
A truly helpful guide which goes beyond the usual places to visit in London. Not only is this ebook visually interesting it's also very straightforward to use despite the vast content to get though.

To anyone who is visiting London or wants to learn more about this great City, then this book is highly recommended!
View in iTunes
£4.99

Category:

Travel & Adventure

Published:

01 October 2011

Publisher:

Reader's Digest

Print Length:

224 Pages

Language:

English