The Pillars of the Earth
Book 1, The Kingsbridge Novels
Ken Follett
This book can be downloaded and read in iBooks on your Mac or iOS device.
Description
A spellbinding epic tale of ambition, anarchy, and absolute power set against the sprawling medieval canvas of twelfth-century England, this is Ken Follett's classic historical masterpiece.

A MASON WITH A DREAM

1135 and civil war, famine and religious strife abound. With his family on the verge of starvation, mason Tom Builder dreams of the day that he can use his talents to create and build a cathedral like no other.

A MONK WITH A BURNING MISSION

Philip, prior of Kingsbridge, is resourceful, but with money scarce he knows that for his town to survive it must find a way to thrive, and so he makes the decision to build within it the greatest Gothic cathedral the world has ever known.

A WORLD OF HIGH IDEALS AND SAVAGE CRUELTY

As Tom and Philip meet so begins an epic tale of ambition, anarchy and absolute power. In a world beset by strife and enemies that would thwart their plans, they will stop at nothing to achieve their ambitions in a struggle between good and evil that will turn church against state, and brother against brother . . .

The Pillars of the Earth is the first in The Kingsbridge Novels series, followed by World Without End and A Column of Fire.
From Publishers Weekly
03 December 2007 –
With this book, Follett risks all and comes out a clear winner, escaping the narrow genre of suspense thrillers to take credit for a historical novel of gripping readability, authentic atmosphere and detail and memorable characterization. Set in 12th-century England, the narrative concerns the building of a cathedral in the fictional town of Kingsbridge. The ambitions of three men merge, conflict and collide through four decades during which social and political upheaval and the internal politics of the church affect the progress of the cathedral and the fortunes of the protagonists. The insightful portrayals of an idealistic master builder, a pious, dogmatic but compassionate prior and an unscrupulous, ruthless bishop are balanced by those of a trio of independent, resourceful women (one of them quite loathesome) who can stand on their own as memorable characters in any genre. Beginning with a mystery that casts its shadow on ensuing events, the narrative is a seesaw of tension in which circumstances change with shocking but true-to-life unpredictability. Follett's impeccable pacing builds suspense in a balanced narrative that offers action, intrigue, violence and passion as well as the step-by-step description of an edifice rising in slow stages, its progress tied to the vicissitudes of fortune and the permutations of evolving architectural style. Follett's depiction of the precarious balance of power between monarchy and religion in the Middle Ages, and of the effects of social upheavals and the forces of nature (storms, famines) on political events; his ability to convey the fine points of architecture so that the cathedral becomes clearly visualized in the reader's mind; and above all, his portrayals of the enduring human emotions of ambition, greed, bravery, dedication, revenge and love, result in a highly engrossing narrative. Manipulating a complex plot in which the characters interact against a broad canvas of medieval life, Follett has written a novel that entertains, instructs and satisfies on a grand scale. 400,000 first printing; $400,000 ad/promo; Literary Guild main dual selection; author tour.
Screenshots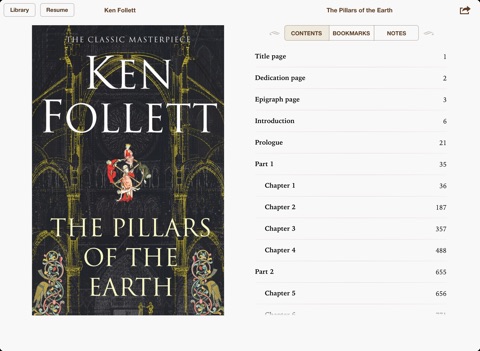 Customer Reviews
I adore this book...
I first read this many years ago and read it in 2 days (and a lot of the nights). I re read it many times having to replace the first copy when it fell apart. I have the audio book and the Sony eReader version, yet this was still the first book I looked for with my new iPhone app - and I am delighted to be able to buy it again.

Why do I love it so much? Follett has created an immensely rich and detailed world with a wonderful range of characters in which I can lose myself. it's not all happily ever after but it is incredibly interesting and believable. And the best bit is it is very long so it is not like many great books that are over too soon!

Now I have it with me all the time, whenever the real world gets me down I can dip in and be inspired by those who achieved truly great things with everything against them.
Stunning
Quite simply the best money ever spent
Pure brilliance
My whole family have read these two books!
Other Books in This Series
2.
View in iTunes
£4.99

Category: Historical
Published: 04 September 2008
Publisher: Pan Macmillan
Print Length: 1100 Pages
Language: English
Series: Book 1, The Kingsbridge Novels