The Wind in the Willows
Kenneth Grahame & Beyond the Story Limited
This book can be downloaded and read in iBooks on your Mac or iOS device.
Description
Follow the adventures of Toad, Ratty and Mole in our iBook release of 'The Wind in the Willows' by Kenneth Grahame. Features the same gorgeous artwork and movies as our App Store version, as well as the voice of national treasure Stephen Fry (chapter introductions and songs).
From Publishers Weekly
15 September 2003 –
Inga Moore's illustrations lend a luminous air to the tale of Mole, Mr. Toad, Badger and Rat in Kenneth Grahame's The Wind in the Willows, abridged by Moore. She uses delicate pen-and-ink drawings and watercolor wash to convey framed images of cobblestone streets, spot illustrations of Badger's welcoming hearth and wide framed expanses of the countryside.
Screenshots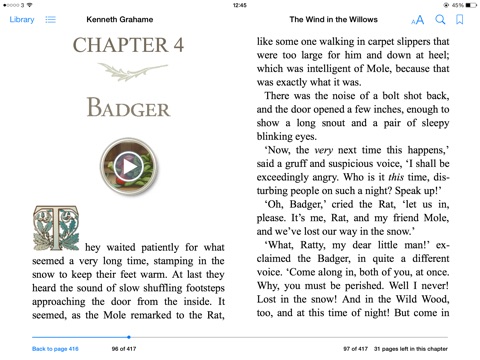 View in iTunes
£2.49

Category: Classics
Published: 01 December 2013
Publisher: Beyond the Story Limited
Print Length: 243 Pages
Language: English
More by Kenneth Grahame & Beyond the Story Limited