Treasure Island
Robert Louis Stevenson
This book can be downloaded and read in Apple Books on your Mac or iOS device.
Description
Treasure Island is an adventure novel by Scottish author Robert Louis Stevenson, narrating a tale of "buccaneers and buried gold". First published as a book on 23 May 1883, it was originally serialized in the children's magazine Young Folks between 1881 and 1882 under the title Treasure Island or, the mutiny of the Hispaniola with Stevenson adopting the pseudonym Captain George North.
Traditionally considered a coming-of-age story, Treasure Island is a tale known for its atmosphere, characters and action, and also as a wry commentary on the ambiguity of morality — as seen in Long John Silver — unusual for children's literature now and then. It is one of the most frequently dramatized of all novels. The influence of Treasure Island on popular perceptions of pirates is enormous, including treasure maps marked with an "X", schooners, the Black Spot, tropical islands, and one-legged seamen carrying parrots on their shoulders.
From Publishers Weekly
08 March 2010 –
The classic pirate novel is even more fun to read accompanied by well-done pictures. By capturing the feel of another time and place, readers are easily transported into the long-ago seafaring adventure. The art also helps readers become more comfortable with the old-fashioned language and phrasing. The European-styled thin line art is welcoming and approachable. Although cartoony, there's enough detail to stand up to Stevenson's textual imagery. The story is full of all the elements expected: mysterious omens, frightening strangers, a treasure map, seafaring adventure, murderous mutiny, and a boy's first journey to becoming a man. With up to 14 panels per page, this graphic novel is dense but not crowded, although the pages open up to show the ship, with full-page panels conveying the vista of the open ocean. This is a substantial adaptation, given the number of panels, inclusion of the original text, and the length of the book, much longer than the usual classic comic adaptation. The handsome hardcover will stand up to multiple readings, making this a fine choice for libraries or children's gifts.
Screenshots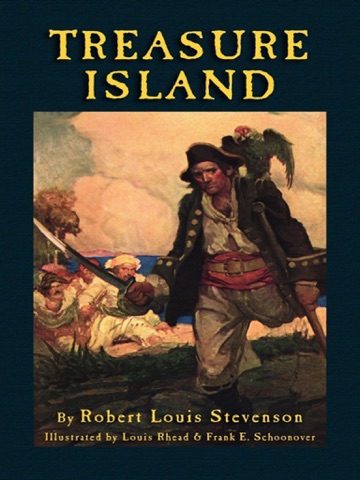 Customer Reviews
.
A good book i wouldnt recogmend for english classes and young children at the age of 16 and under
View in iTunes
Free

Category: Fiction & Literature
Published: 25 February 2006
Publisher: The Project Gutenberg
Print Length: 295 Pages
Language: English
More by Robert Louis Stevenson