Woman Vs Womaniser
What He Knows Vs What You Don't
J.C. Johnson
This book can be downloaded and read in iBooks on your Mac or iOS device.
Description

THIS IS THE BOOK THAT MEN DO NOT WANT WOMEN TO READ!

Do you ever feel like the person you want almost never seems to want you, and the one you don't want is a pest? Want to know why it is actually your behaviour that determines that outcome? 

Do you wish you could see right through him and his games? Want to know precisely when he's lying or manipulating you?

Do you keep meeting the same kind of jerks? Want to know the traffic light system for deciding whether he's worth your time?

Here is the book women have been waiting for - rarely will you come across another like it. JC Johnson's gripping writing style intelligently transports you into his world. It takes you on a passenger seat ride through his life, as he reveals women's blind spots, whilst suggesting unconventional approaches for all women to take. You will no doubt find yourself horrified, yet intensely fascinated by his antics at the same time, as he cleverly keeps you second-guessing what will happen next at crucial points. This book is an essential read. Its insightful perspective from a womanisers viewpoint makes this book a real page- turner. Prepare to be blown away.

"This book contains priceless wisdom" – Hair Magazine

"Written in a unique style juxtaposing narrative with advice, JC Johnson navigates the reader through a roller coaster of events and emotions. Woman VS Womanizer expertly documents the mental metamorphosis of boy into man." - Maria Maxwell BBC

''Powerful, hilarious, heart-wrenching, enlightening, shockingly honest...
a must-read!" - Brit Award-Winning Artist Ms. Dynamite

Read, laugh, weep - and learn
Screenshots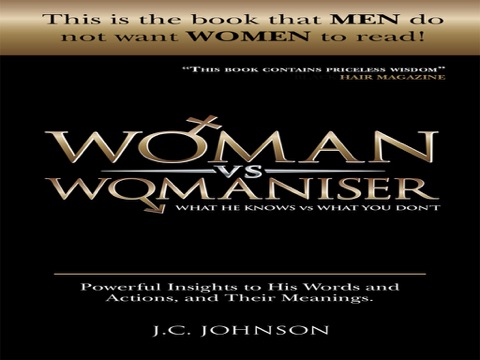 Customer Reviews
An absolutely shocking read
The most painful read of my life but in hindsight a bible to live by....it shocked me and also made me laugh but at the same time I felt sad and angry at the chauvinistic attitude of the author. However once you get past/over the "antics" it offers some powerful and life-changing advice on relationships and it is definitely a book that every woman needs to read in order to have a successful,content and happy partnership for the rest of their lives.
I read this book cover to cover in under 48 hours
The journey this author takes you on is an unbelievable one and very insightful, I had a very entertaining ride and learnt a lot along the way too.
Eye Opener or Reality Check
An eye opener for me but reality for some; Woman vs. Womaniser is indeed a roller coaster ride in every sense of the word. This is a raw account of a man's transition from child to man, written in a style which engages you with every written word. It is the rawness that keeps you captivated. Captivating for me because I couldn't believe the callousness of the child who miraculously transforms to help others by sharing his experiences; captivating for others able to draw parallels to their own or family and/or friends' experiences.

Eye opener or reality check, this book is both 'insightful' and a thoroughly enjoyable read. It became an immediate purchase for all the impressionable females in my life who I hope will know how to read the warning signs and avoid the perils of a young JC Johnson.
View in iTunes
£5.49

Category:

Family & Relationships

Published:

08 January 2012

Publisher:

Insight Publishing

Print Length:

299 Pages

Language:

English