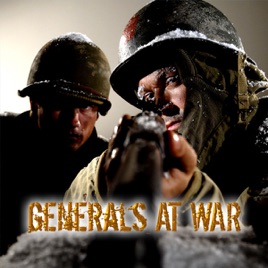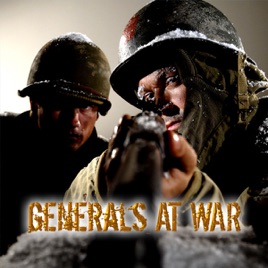 Generals At War, Season 1
Description
This exciting series takes a fresh approach to the great battles of World War Two, examining them through the decisions, dilemmas and disasters of the generals on both sides.
Each of the six uniquely-formatted programmes tells the story of the head-to-head between two commanders - their moves and countermoves - as they
attempt to outwit and outfight each other. In this game of skill, bluff and counterbluff, the lives of thousands of men, their own reputations and those of their political masters at stake.
All the battles - Singapore, El Alamein, Kursk, Stalingrad, Midway and The Bulge - are key turning points in the progress of the war. The generals in charge include some of the most charismatic military leaders of all time: Rommel, Model, Montgomery, Chuikov, Yamashita and Von Manstein among them.
In a dramatic device, a war-time bunker becomes the setting for these epic conflicts as the generals face off across a map table that animates to reveal graphic maps of the battlefield. As they weigh up their options, armies of soldiers march across the table, tanks blast away at each other and planes fly overhead.
In each episode, two modern day military specialists, often generals themselves, get inside the heads of their historical counterparts to unpick their tactics and strategy. They bring their unique insights to the battle and the pressures on generals from political interference to difficult terrain and the vagaries of the weather.
Why does one commander choose to attack while his opposite number decides to stay put? How does a superior tank introduced by one side change the course of the conflict? Does a new technique for street fighting give one army a decisive edge? And how do seemingly insignificant decisions snowball to have major consequences?
Each of the six battles features different challenges from fighting in woods in freezing temperatures, to surviving the heat and dust of the Egyptian desert.
Our military historians are backed up by a team of experts out in the field, including an army tank commander, a former sniper with the Special Forces and an enthusiastic expert in munitions and explosives.
This team of hardmen test, compare and contrast the weapons, machines and supplies of both sides with high-energy demonstrations. Blowing up cars, hurling grenades and Molotov cocktails, they literally test equipment to destruction. In quieter moments, they volunteer to be frozen to evaluate the effectiveness of winter uniforms, dig latrines and demonstrate the subtle art of sniping.
Through their demonstrations, we learn why Japanese carriers caught fire more easily than American ones, how a single man can stop a Panzer tank in its tracks and why a British obsession with hygiene gave them a distinctive edge at El Alamein.
Generals at War has a unique look. Stylish and distinctive graphics establish each battlefield, then chart the ebb and flow of fighting, flying in close to look at small details, then flying out to reveal the bigger picture. Specially shot graphic stills are used to powerful effect to suggest the experience of soldiers in the thick of battle, while actual archive from the battles shows how tactical decisions played out in reality.

© 2008 Windfall Films Limited