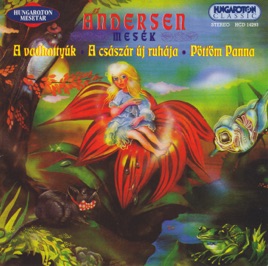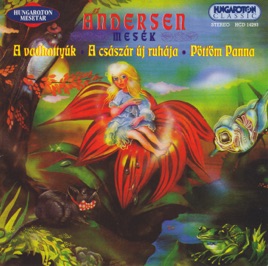 3 Songs, 1 Hour 10 Minutes
Released:

4 Feb 2001

℗ 2001 HUNGAROTON RECORDS LTD.
About Hans Christian Andersen
Born in a slum and struggling through his youth to break through Denmark's class structure, Hans Christian Andersen always considered himself an outsider. And so his plays, novels, and especially his fairy tales are populated by outsiders, some of whom do not live happily ever after. The young Andersen initially hoped to rise from his impoverishment as an actor, but a theater director instead raised money to send him to school. In 1829, he gained his first success not as an actor but as a writer, with "A Walk From Holmen's Canal to the East Point of the Island of Amager in the Years 1828 and 1829." Despite its unwieldy travelogue title, this was a tale of fantasy inspired by the work of E.T.A. Hoffmann. Still attached to the theater, Andersen went on to write several plays, few of which were particularly successful. He made his name more as a novelist, with such works as The Improviser (1835) and Only a Fiddler (1837). It was during this early phase of novel writing that Andersen also began turning out original little tales in folk style. The first of what would amount to 156 stories was published in 1835 as Eventyr, or Tales Told for Children. Eventyr was expanded in 1837 and a second volume came out in 1842. Related collections of stories were regularly issued through 1852, with a last publication, New Fairy Tales and Stories, finally arriving in 1872. One key to Andersen's popularity was his style, which was colloquial rather than literary. Yet he refused to write down to children; he introduced dark feelings and sinister turns of events and expressed special sympathy for outcasts, not just heroes and princesses. Some of his tales celebrated the triumph of goodness and were, indeed, overtly Christian, but others were pessimistic in the tradition of German Romanticism. Andersen was also a poet, and his verse has been set to music by such composers as Grieg, Nielsen, and Schumann (notably Der Spielmann). But his fairy tales have made the strongest impression on composers. Among musical adaptations, sometimes quite loose, of Andersen's tales are Prokofiev's song The Ugly Duckling, Mary Rodgers' musical Once Upon a Mattress (based on "The Princess and the Pea"), and Disney's animated feature The Little Mermaid.
HOMETOWN

Odense, Denmark

BORN

02 April 1805