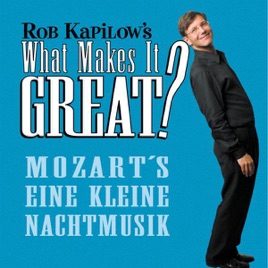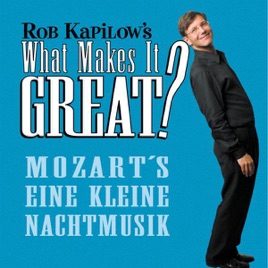 What Makes It Great?: Eine kleine Nachtmusik
| | TITLE | TIME |
| --- | --- | --- |
| | Welcome to "What Makes It Great?" | 0:37 |
| | | 1:35 |
| | First Movement: I. A Breathtaking Pace of Invention | 1:26 |
| | First Movement: II. Let's Look Behind the Scenes | 1:55 |
| | First Movement: III. From Ordinary to Great - Step by Step | 3:09 |
| | First Movement: IV. Surprises Are Everywhere | 1:57 |
| | Second Movement: I. A Simple Serenade | 1:58 |
| | Second Movement: II. Mozart Finds Possibilities Everywhere | 1:03 |
| | Second Movement: III. Emotion in a Few Simple Notes | 1:06 |
| | Third Movement: I. It's All in the Details | 2:21 |
| | Third Movement: II. The Essence of Mozart - One Extra Note | 1:00 |
| | Fourth Movement: I. Utterly Terrifying Mozart | 0:43 |
| | Fourth Movement: II. "Not-Fast-Notes!" | 1:18 |
| | Fourth Movement: III. And the Surprises Keep on Coming | 0:58 |
| | Conclusion: A Letter to his Father | 0:53 |
| | "Eine kleine Nachtmusik" for Strings, K. 525: I. Allegro | 3:51 |
| | "Eine kleine Nachtmusik" for Strings, K. 525: II. Romanze | 2:26 |
| | "Eine kleine Nachtmusik" for Strings, K. 525: III. Menuetto | 5:36 |
| | "Eine kleine Nachtmusik" for Strings, K. 525: IV. Rondo | 2:49 |
19 Songs, 36 Minutes

℗ 2004 ProArte Records
About Antonio Janigro
Italian-born conductor and cellist Antonio Janigro is best known to contemporary audiences for his many recordings with the chamber orchestra I Solisti di Zagreb, an ensemble he founded in 1954. Staples of the record-store Baroque section for many years, they helped build the enormous popularity that has since come to the music of Vivaldi and his contemporaries, and they still hold up well as widely available reissues. Janigro came to Baroque music fairly late in life, however. His recordings as a conductor capped a musical career touched by two world wars.

Janigro once described the atmosphere of his childhood as musical but tragic. He was born in 1918 in Milan to a pianist father whose career had ended when he lost an arm to a sharpshooter in World War I. Janigro started out on piano but switched to the cello at age eight, winning admission to the Verdi Conservatory a year later. At age 11 he performed for Pablo Casals, who recommended Janigro for admission to the prestigious Ecole Normale de Musique in Paris. Studying there in the mid-1930s, he had Casals and Nadia Boulanger as teachers, Dinu Lipatti and Ginette Neveu as classmates, and Stravinsky as an eminence. His repertoire as a performer would range from early music to brand-new compositions. Practicing his cello on a train from Paris to Milan, Janigro was heard by a talent agent, and his career was launched.

After a promising start as a recitalist, Janigro took a vacation to Zagreb, Yugoslavia, just as World War II broke out. Essentially stranded, he began a new career as professor of cello at the Zagreb Conservatory. He continued to tour internationally and to teach cello after the war, with a stint at the conservatory in Düsseldorf, Germany, from 1965 to 1974. In Yugoslavia, however, he worked increasingly often as a conductor. At the behest of the government he formed the Zagreb Radio and Television Symphony Orchestra, serving as its conductor from 1954 to 1964. Taking advantage of Yugoslavia's relative independence from the Soviet domination, he also conducted several top Western European orchestras, but his most extensive touring came with I Solisti di Zagreb. That group, although not affiliated with the historical performance practice movement, offered crisp readings of Baroque orchestral works that sharply diverged from the bloated symphony performances that were the norm at the time.