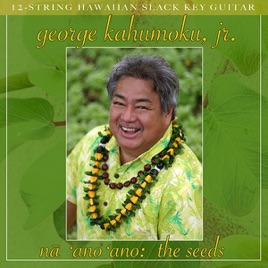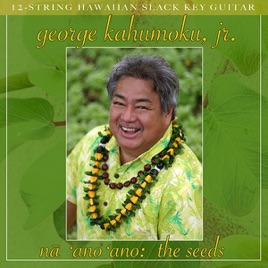 | | TITLE | TIME |
| --- | --- | --- |
| | | 4:31 |
| | | 3:15 |
| | | 3:44 |
| | George Kahumoku, Jr. & Keoki Kahumoku | 4:41 |
| | | 2:42 |
| | | 2:54 |
| | | 4:13 |
| | | 4:23 |
| | | 3:32 |
| | | 2:49 |
| | | 3:54 |
| | | 4:28 |
12 Songs

℗ 2006 Daniel Ho Creations
About George Kahumoku, Jr.
One of the heralds and preservers of traditional Hawaiian culture, George Kahumoku Jr. is an artist, musician, composer, farmer, storyteller, and teacher. As a musician he is best known for playing a 12-string slack key guitar, but his immersion in teaching and promoting the Hawaiian way of life extends far beyond his music. His educational history gives some hint of his range: he is a 1969 graduate of the Kamehameha Schools; a 1973 graduate of the Oakland, California-based College of Arts and Crafts, where he earned a BFA in sculpture; and a 1993 graduate of the Hawaii State Ag-Leadership Program. Since then he has spent the majority of his time as a farmer, musician, and teacher, eventually leasing his organic hog, coffee, and herbal tea plantation out so that he and his family could move to Lahaina, where he teaches in the Special Motivation Program at Lahainaluna High School on Maui.

His music career has been long and equally varied. He began playing professionally in the mid-'60s when he was only 13 with Kui Lee and performed with his brother, Moses, as the Kahumoku Brothers in the '70s and '80s. In 1979, he received the highest honor in Hawaii's recording industry, a Na Hoku Hanohano Award, for his slack key compositions on Aunty Edith Kanaka'ole's album Hi'ipoi I Ka 'Aina Aloha (Cherish the Beloved Land). His sound has been described as being very traditional and organic, with a smooth balance that betrays a harmonious relationship with nature. Displaying both his position in the Hawaiian music scene and his educational bent, he has played a part in several films about the culture and music of Hawaii. He contributed to the soundtrack of Steven Okazaki's 1992 documentary Troubled Paradise and had a part in two slack key documentaries, Eddie Kamae's The Hawaiian Way (1993) and Susan Friedman's 1994 film Ki Ho'alu -- That's Slack Key Guitar. Kahumoku also completed a soundtrack for a film about Hawaii's sovereignty movement, specifically the economic issues that have affected native Hawaiians since the overthrow of Queen Lili'oukalani. The film, titled Onipa'a, is set to be issued by the Office of Hawaiian Affairs.

Kahumoku's work on that film inspired him to release his first solo album, a tribute to Queen Lili'oukalani titled E Lili'u, in 1995. That year also brought Kahumoku's first release with his son, Keoki Kaliko Kahumoku, titled Ho'oilina -- The Legacy. The album, which featured father and son playing slack key guitar and ukulele, includes traditional Hawaiian family songs as well as new compositions. In 1999 Kahumoku also released an album of Hawaiian Christian hymns entitled Hymns of Hawaii with Daniel Ho. Hawaii's Classics followed a year later. ~ Stacia Proefrock
Top Songs by George Kahumoku, Jr.
See All
Top Albums by George Kahumoku, Jr.
See All