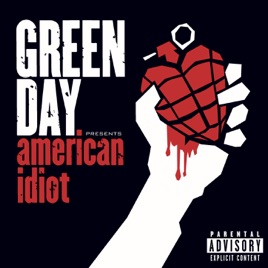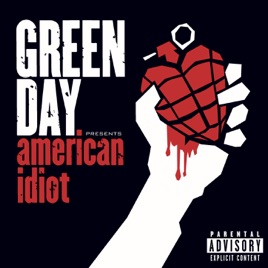 American Idiot (Deluxe Version)
| | TÍTULO | DURACIÓN |
| --- | --- | --- |
| | | 2:53 |
| | | 9:08 |
| | Holiday / Boulevard of Broken Dreams | 8:13 |
| | Are We the Waiting / St. Jimmy | 5:38 |
| | Give Me Novacaine / She's a Rebel | 5:26 |
| | Extraordinary Girl / Letterbomb | 7:40 |
| | Wake Me Up When September Ends | 4:45 |
| | | 9:18 |
| | | 4:12 |
| | Too Much Too Soon (Bonus Track) | 3:30 |
| | | 1:50 |
| | | 2:31 |
| | | 9:05 |
13 canciones, 1 Hora, 14 Minutos

℗ 2004 Reprise Records for the U.S. and WEA International Inc. for the world outside the U.S.
Acerca de Green Day
Si bien su propuesta de punk-pop sardónico no era en absoluto innovadora, Green Day logró acercar al género a toda una nueva generación gracias al sorprendente éxito de Dookie en 1994. Pasado el furor inicial al conjunto le costó mantener su repentina popularidad y al comienzo del nuevo milenio había prácticamente caído en el olvido. Sin embargo, en 2004 volvieron a tener un tan fenomenal como imprevisto suceso con la ópera rock American Idiot, que inauguró una triunfal segunda fase de su carrera. Más maduros y políticos, aunque sin perder la ironía, la banda continuó llenando estadios por todo el mundo y editando discos, alternando entre proyectos conceptuales como 21st Century Breakdown y otros simplemente divertidos como ¡Uno!¡Dos!¡Tré!. Revolution Radio de 2016 buscaba establecer un balance entre ambas tendencias.
ORIGEN

Berkeley, CA

SE FORMÓ EN

1988
Otros usuarios también escucharon
Ver todo