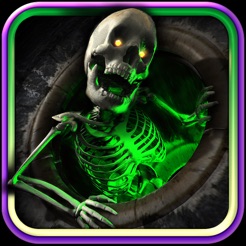 Catacombs
12+
HK$ 8.00
Offers In-App Purchases
Description
Hack & slash your way into the depths and across the realm in this classic arcade-style dungeon crawler.

A great evil has invaded the lands surrounding your people. You are the only hope to defend against an onslaught of creatures determined to plunge your once peaceful homeland into darkness. Take up arms and defeat the source of corruption and return peace to your realm.

Choose your hero from one of three classes:
* Warrior
* Mage
* Archer
* Thief

Variety of enemies including:
* Skeletons
* Giant Spiders
* Slimes
* Orcs
* And more!
All new quest system
New Thief character
New "Survival" mode
Mini-Bosses
New item drops from enemies
Assignable stat points
Improved UI
Improved AI
Ratings and Reviews
Good game!
Easy fun arcade style action game!
Worth to download!
Information
Seller

InMotion Software, LLC

*WEA.AppPages.Size*

16.2 MB

Category

Compatibility

需要 iOS 3.0 或以上版本。與 iPhone、iPad 及 iPod touch 相容。

Age Rating

分級為 12+,因為內容涉及:

頻繁/強烈的卡通或幻想暴力

偶而/輕微的現實暴力

偶而/輕微的驚悚/恐怖題材

Copyright

© 2008-2010 InMotion Software, LLC

Price

HK$ 8.00
Supports
Family Sharing

Up to six family members will be able to use this app with Family Sharing enabled.