Data Dashboard for LabVIEW
開發者:National Instruments
此 App 只在 iOS 裝置的 App Store 提供。
描述
The Data Dashboard for LabVIEW app lets you create a custom dashboard on your iPad that can remotely control and monitor running NI LabVIEW applications. This is done by networking deployed LabVIEW shared variables or LabVIEW Web Services with visual objects like graphs, meters, and switches among many other available controls and indicators.

Features
- Remotely monitor and control LabVIEW applications
- Custom free-form layout and color themes for dashboard objects
- Ability to share dashboards and lock them
- Ability to have multiple dashboards with multiple pages
- New controls and indicators (i.e. list box, xy graph, switch, slider, drop down)
- Ability to interface with secure LabVIEW web services as well as LabVIEW shared variables

Requirements
- NI LabVIEW Application
- NI Shared Variable Server and/or LabVIEW Web Server

LabVIEW is the industry-standard system design software that enables scientists and engineers to create and deploy measurement and control solutions.
2.3 版本的新內容
* New controls skins and improved themes. Controls are now styled the same on all platforms.
* Graph enhancements:
* Plot legend
* Can add plots at edit time
* Edit plot name, style, color, and line thickness individually
* HTTPS LabVIEW web service support for secure communication.
* Improved dashboard sharing options:
* Share functionality now recognizes any file sharing service such as email, Dropbox, Google Drive, and Evernote
* Save to NI Cloud no longer supported
* General UX improvements.
* Bug fixes.
* Crash reporting and usage data collection to help us improve the app.
iPad 螢幕快照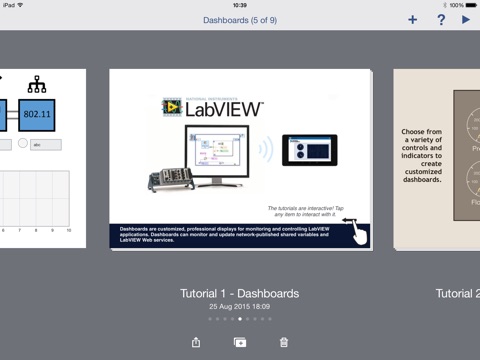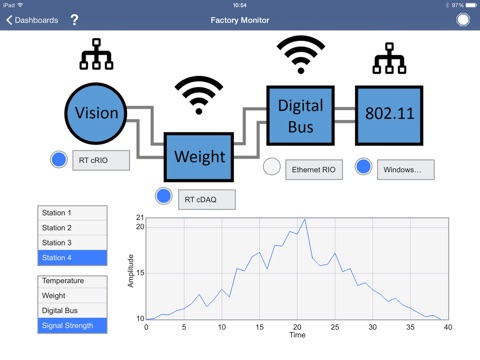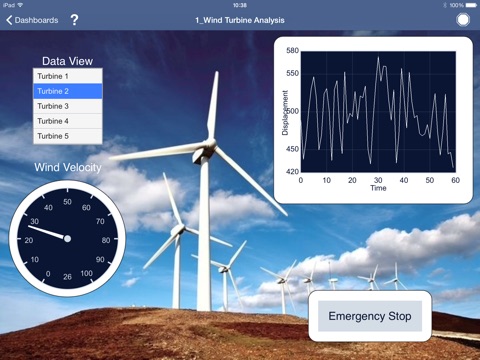 在 iTunes 上檢視
免費

類別:

生產力工具

更新日期:

2015年09月09日

版本:

2.3

大小:

135 MB

語言:

英語

開發人員:

National Instruments
相容性: 需要 iOS 8.0 或以上版本。與 iPad 相容。