Buy Me a Pie!
開發者:Skript, LLC
此 App 只在 iOS 裝置的 App Store 提供。
描述
We help over 6 million users around the world do their shopping routines with joy and pleasure.

The Washington Post: "Buy Me a Pie! lets users see their lists and update in real time."

The Next Web: "This is a neat, easy-to-use app that's beautifully designed. But where Buy Me a Pie really comes in to its own is that a single account can be synced across multiple iOS devices."

TechCrunch: "Buy Me a Pie! is certainly well designed and simple to use, ratching up an average user rating of 4.5/5 in the App Store globally."

***** Featured by Apple App Store in Food & Drink and Productivity categories *****

======================================
You definitely need this app if you know the value of:
======================================

* Time: a well-planned list updated in real time saves precious minutes and hours in a store
* Money: when you know what to buy you're safe from spontaneous purchases and waste
* High spirits: we are sure you'll be happier without frustration caused by double purchases or forgotten items to buy
* Environment: paper shopping lists are made of trees. Our lists are made of lines of program code

==========
App features:
==========

* MULTI-PLATFORM. Use it on iPhone, iPad and any other device by going to Buymeapie.com website
* MULTIPLE SHOPPING LISTS organized into the convenient list of lists with the preview of their contents
* SMART GROUPING. Group your products by aisles with the help of colors assigned to the items, and the app will group the items in the list automatically
* SELF-LEARNING DICTIONARY. The entered items are automatically stored in the dictionary for future fast entry. The dictionary language may coincide the system language or not – the application settings allow both ways
* SMART SUGGESTIONS. The app will automatically suggest a word upon entering a few letters so you can quickly add items to a list. The suggestions reflect your own daily habits
* SIRI INTEGRATION. To have a product added to the shopping list, just ask (iOS 11+)
* DRAG AND DROP SUPPORT in the app for iPad. Came across a right product in a recipe blog or while chatting with your colleges? Just drag it to your shopping list (iOS 11+)
* PIN LIST. Any list can be pinned top by a single tap
* CROSSED-OUT SORTING. The crossed-out products are sorted alphabetically. And if the item has just been marked as bought, it is placed at the very top of the crossed-out section to be easily brought back to the list
* APPLE WATCH COMPLICATION SUPPORT. Shopping lists available on the watch face
* AUTOMATIC SYNCHRONIZATION in background: edit your lists, and we will take care of delivering the changes to your family or friends
* NOTIFICATIONS: see every alteration made to your lists in real-time and get push notification about the changes.
* Pull up the list to clear all checked items
* Turn off the auto screen lock option in the app settings
* Share your lists via text messages or emails
* Easily clone your lists

Bring your shopping experience to the new level of convenience and style!

Buy Me a Pie! is free to download and use. Purchasing the in-app Pro auto-renewing subscription unlocks unlimited shopping lists, sharing lists to unlimited users, additional color groups, ads free version and premium support. Buy Me a Pie! Pro can be purchased as auto-renewable subscription for $0.99 a month or $9.99 a year, as well as life-time license for $24.99 with one-time payment.

Subscriptions will be charged to your iTunes Account at confirmation of purchase. Your subscription will automatically renew unless cancelled at least 24 hours before the end of the current period. You will not be able to cancel a subscription during the active period. You can manage your subscriptions in the Account Settings after purchase.

Our Privacy Policy: http://buymeapie.com/privacy
Our Terms of Use: http://buymeapie.com/terms-of-use
5.0.3 版本的新內容
5.0.3: Fixed synchronization with Apple Watch

5.0: Meet the brand-new "Buy Me a Pie! 5.0"
The new app version opens fantastic possibilities for shopping. Take full advantage of them and feel your shopping experience getting far more personal and convenient.

True accordance with iOS 11
– NEW APPEARANCE. Intuitive and light. Thanks to the new design the app looks like it is a part of iOS 11. We made it appear lighter and added some air to its appearance.
– SIRI INTEGRATION. Instant filling up your shopping list. To have a product added to the shopping list, just ask (iOS 11+).
– DRAG AND DROP SUPPORT in the app for iPad. Import as quick as a flick. Came across a right product in a recipe blog or while chatting with your colleges? Just drag it to your shopping list. You can drag the whole list of ingredients as well (iOS 11+).

More than a smart shopping list
– PIN LIST. More handy than you can imagine. Any list can be pinned top by a single tap. The feature brings more order to your shopping lists.
– CROSSED-OUT SORTING. Find necessary products in a wink. The crossed-out products are now sorted alphabetically, which helps to find the necessary one and tap it back to the active list. And if the item has just been marked as bought, it is placed at the very top of the crossed-out section to be easily brought back to the list.
– HAPTIC FEEDBACK. Elegance in the details. The new version uses haptic feedback when a product is marked as bought. This is one more feature that prevents you from crossing out a product by mistake and an elegant detail that makes the app experience more enjoyable (for iPhone 7+).

New look at Apple Watch
– APPLE WATCH COMPLICATION SUPPORT. Shopping lists available on the watch face. Quick access to your shopping lists directly from the watch face on your Apple Watch requires no additional movements to open the app.
– WORKING TIME ON APPLE WATCH. Shopping more convenient. The app will stay on while you are in the store picking products – no need to open it over and over again.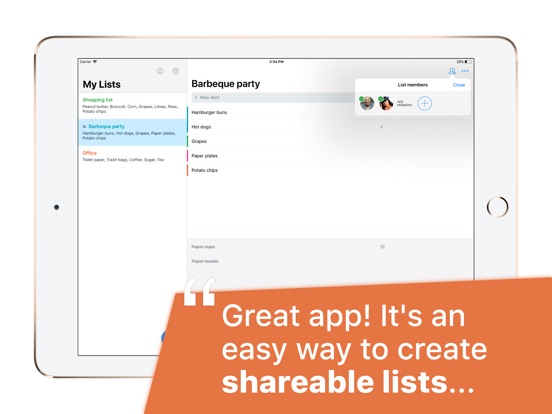 在 iTunes 上檢視
此 App 專為 iPhone 和 iPad 設計
提供 iPhone 版的 Apple Watch App
免費

類別:

生產力工具

更新日期:

2017年10月11日

版本:

5.0.3

大小:

103 MB

Apple Watch:

是

語言:

丹麥文, 俄文, 印尼文, 土耳其文, 巴克摩文挪威文, 希臘文, 德語, 捷克文, 日語, 法文, 波蘭文, 泰文, 烏克蘭文, 瑞典文, 簡體中文, 羅馬尼亞文, 義大利文, 芬蘭文, 英語, 荷蘭文, 葡萄牙文, 西班牙文, 越南文, 韓語, 馬來文

開發人員:

National Business Group Ltd
相容性: 需要 iOS 9.0 或以上版本。與 iPhone、iPad 及 iPod touch 相容。
App 內購買項目排行
Pro SubscriptionHK$ 8.00
Annual Pro subscriptionHK$ 78.00
Lifetime PROHK$ 198.00
Lifetime PROHK$ 98.00
Pro SubscriptionHK$ 78.00