HKG My Flight (Official)
開發者:Airport Authority Hong Kong
此 App 只在 iOS 裝置的 App Store 提供。
描述
"My Flight" is the official mobile app produced by Hong Kong International Airport providing passengers with airport and real time flight information.

Features of the app include real time flight information, notifications of the latest status updates of saved flights, push notifications of airport special announcement, passenger guide, ferry & coach schedule, shopping & dining information, and airport location map.

"My Flight" offers Chinese, English, Japanese and Korean versions.

Note:
User will be charged by their mobile network service provider on the use of data service, please ensure that the option of Data Roaming has been disabled in the Settings of your mobile device.
4.0.6 版本的新內容
"My Flight" will regularly introduce new features to enhance customer experience at HKIA.

Latest features include:

* New interface with updated content

* HKIA indoor map and real-time navigation

* Boarding alert

* Japanese and Korean interface

* Baggage Arrival Notice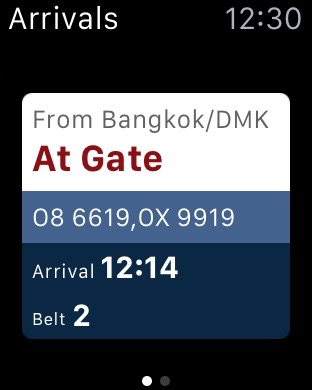 客戶評論
No longer reliable
Very slow when entering the search page, IF you can enter that page
Bumped me out every time I switched to another app and went back to this app
The most reliable parts are the useless wifi prompt and advertisements. It made sure that advertisements are there even though the app isn't working properly.
Unable to track flight iPhone!
The app used to be great but now it's just a useless app with half functions working only. The main function is faulty unable to save and track a flight without each time searching for it. Ridiculous!

Both my iPhone 6 and iPhone X are having this problem.
Should have been removed from App Store
It fails to retrieve flight information. I wonder why people are so generous to give 2 or more stars for an App which is completely useless.
在 iTunes 上檢視
提供 iPhone 版的 Apple Watch App
免費

類別:

旅遊

更新日期:

2017年11月13日

版本:

4.0.6

大小:

137 MB

Apple Watch:

是

語言:

日語, 簡體中文, 繁體中文, 英語, 韓語

開發人員:

Airport Authority
相容性: 需要 iOS 8.0 或以上版本。與 iPhone、iPad 及 iPod touch 相容。