HK Road Info 香港道路實況
開發者:First Water Tech Ltd
此 App 只在 iOS 裝置的 App Store 提供。
描述
香港道路實況可以讓你方便地查看香港各地的交通狀況。所有交通資訊由香港政府提供。你也可以把經常要觀看的地點加入我的最愛,以後便可以很輕易地觀測道路實況。

HK Road Info allow you check Hong Kong traffic information easily. You can view traffic snapshots provided by Hong Kong Government easily. You can also set the favorite snapshots that you always check.

=====

免責聲明
本網站/產品/服務載有的一些資料,是複製或摘錄自香港特別行政區政府(下稱「政府」)「資料一線通」網站(http://www.gov.hk/Data.One/)的資料。本網站、產品或服務提供複製或摘錄自「資料一線通」所載的資料或連接至「資料一線通」的連結,並不構成政府與本網站、產品或服務或其所載任何內容有關的任何人士有任何形式的合作或聯繫。本網站、產品或服務並無任何材料構成政府申述、保證或暗示其同意、認可、推薦或批准本網站、產品或服務的任何內容。對於因你使用或不當使用或依據或不能使用本網站、產品或服務的任何內容而引致或所涉及的任何損失、毀壞或損害(包括但不限於相應而生的損失、毀壞或損害),政府概不承擔任何法律責任、義務或責任。

DISCLAIMER
This website / product / service contains information that is copied or extracted from data made available by the Government of Hong Kong Special Administrative Region (the "Government") at http://www.gov.hk/Data.One/ ("Data.One"). The provision of information copied or extracted from or a link to Data.One at this website or in relation to the product or service shall not constitute any form of co-operation or affiliation by the Government with any person in relation to this website, the product or the service or any contents herein. Nothing in this website, the product or the service shall give rise to any representation, warranty or implication that the Government agrees with, approves of, recommends or endorses any contents of this website or the product or the service. The Government does not have any liability, obligation or responsibility whatsoever for any loss, destruction or damage (including without limitation consequential loss, destruction or damage) howsoever arising from or in respect of your use or misuse of or reliance on or inability to use any contents herein.
iPhone 螢幕快照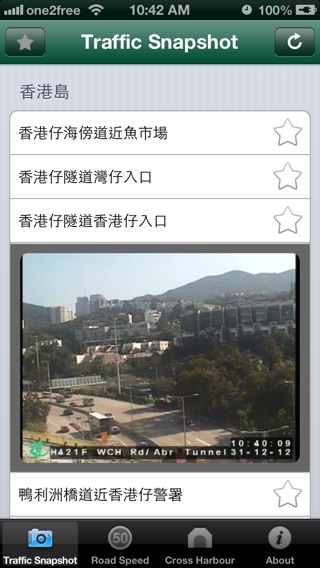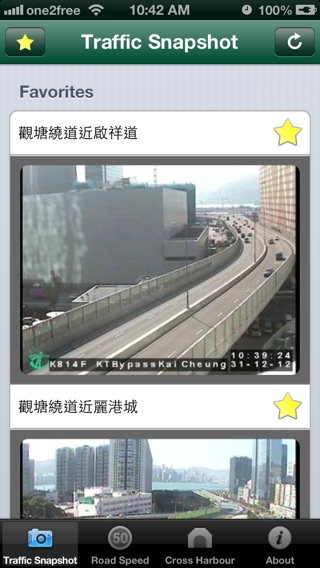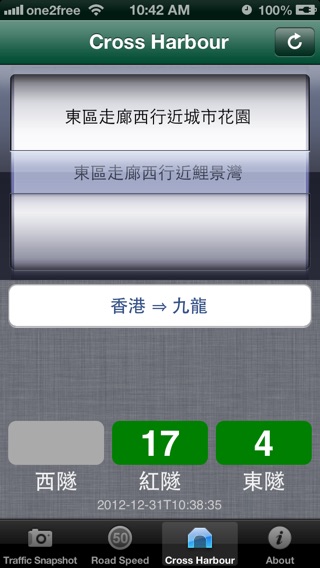 客戶評論
Some Cameras No Service
Some cameras are showing no service while other app can show the same camera view. This is a very good app and hope you can fix this soon. Thank you!
Good app
Easy to use as well. Especially like the "favorite" function for live view spots.
user friendly
bookmark for specific camera

current average speed for road

no advertisement
在 iTunes 上檢視
免費

類別:

工具程式

更新日期:

2013年05月11日

版本:

0.7.3

大小:

3.7 MB

語言:

繁體中文, 俄文, 法文, 英語

開發人員:

First Water Technologies Ltd
相容性: 需要 iOS 5.0 或以上版本。與 iPhone、iPad 及 iPod touch 相容。
First Water Tech Ltd 開發的更多 iPhone App