My365
開發者:SIROK, Inc.
此 App 只在 iOS 裝置的 App Store 提供。
描述
2.9 million download on AppStore!!

"1 day, 1 photo."
The photo calendar app that captures your memories, "My365".

Capture the most memorable moment of the day with your camera, use the filters to look more beautiful.
Then place that photo onto your calendar.

Capture and keep those moments that made you who you are — meals, parties, dates, shopping, hairstyles, outfits, scenery, birthdays, or your children and pets growing up.

"When I look back on my everyday life, it is full of beautiful memories."


[Key features]
■ Calendar
Post one picture per day.
Look at your friends' calendars.
■ Posting pictures
Make your moments more beautiful with 20 types of filters.
Share them on Twitter and Facebook.
■ Feed
Like or comment on your friends' pictures.
■ Interesting
View popular or newly added pictures, or pictures from suggested users.

・Private mode
Choose to keep your pictures private, or only show them to your friends.


We'd love to hear your feedback. Shoot us an email at support@my365.in with your comments and suggestions.
iPhone 螢幕快照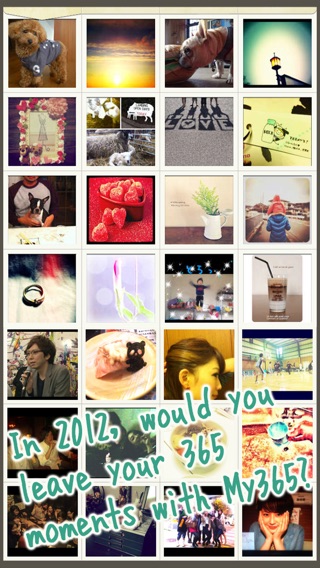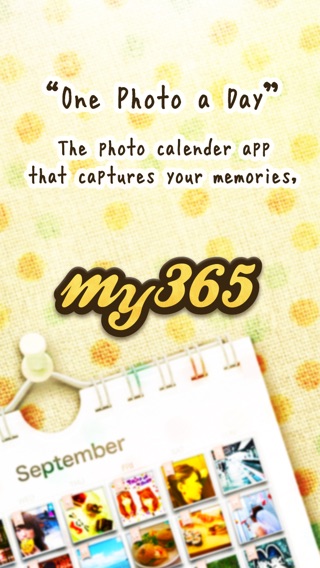 客戶評論
Edit share doesn't work!
Love this app, but currently can't use the share function, so all my friends unable to view my photos and updates on facebook.
Please help!
Recently I want to upload the photos on 365 it keep saying that failed to upload photo... I cannot upload the photos few days already... Please fix it. Also I would like to fill the inquiry in the app, it fail also. It shows a blank page and I cannot fill anything.
Can't to upload pictures
Failed to uploading pictures about one week already!!!!!
在 iTunes 上檢視
免費

類別:

照片和影片

更新日期:

2015年06月21日

版本:

2.5.11

大小:

27.5 MB

語言:

日語, 法文, 泰文, 簡體中文, 英語, 西班牙文, 韓語

開發人員:

SIROK, Inc.
相容性: 需要 iOS 5.1.1 或以上版本。與 iPhone、iPad 及 iPod touch 相容。