Kanji
By Lima Sky
This app is only available on the App Store for iOS devices.
Description
Kanji is among the TOP 10 paid educational apps in Japan!


******************************
"I LOVE your Kanji App. Very clean design, very well made." - Customer review (US)

"Great product, use it all the time on the train in Tokyo." - Customer review

"Simple intuitive interface makes it easy to remember the characters... " - Customer review (US)
******************************


******
NEW IN THIS VERSION: when adding a new kanji to your custom list, you can now search for a particular kanji by entering a meaning or drawing the kanji. (for drawing kanji you need to enable Chinese keyboard under settings)*

Over 2000 additional examples for a total of over 4000 examples.
********


::::::::::::::::::::::::::::::::::::::
Kanji is the most popular Kanji learning app in the iTunes app store
::::::::::::::::::::::::::::::::::::::

"Kanji" is a must-have flashcards application for anyone learning the Japanese language.

It consists of 2040 kanji characters that are listed for taking the Japanese Language Proficiency Test - level 1, level 2, level 3, and level 4. For level 2, level 3 and level 4 kanji there are two exmaple words that use that kanji, and every example has reading in hiragana and the meaning in English.

You can create and save your own kanji lists by selecting kanji that you want to learn from the set of 2040 available kanjis, meanings, and readings. For example, you can create a custom kanji list that consists of all the kanji you need to learn for your next Japanese class. You can create as many lists as you want and can come back to them at any time.

Every kanji in the set is represented with a large image on its own card. Tapping on the card will reveal on and kun reading and meaning.

You can flip quickly through kanji meanings by swiping the card with your finger to move to the next or go back to the previous card. Checking off the card marks it as "mastered" and will remove it from the set for next reviewing. You can also go to the master list to manually select or deselect any of the kanji you want to include or exclude from the review.

Each kanji card has:
- on reading, kun reading, and English tranlsation
- two example words for all level 1, level 2, level 3 and level 4 kanji characters, over 4000 examples in total!
- hiragana reading and English translation for every example

Features:
- a complete set of 2040 kanji characters from the Japanese Language Procifiency Test level 1, level 2, level 3, and level 4
- over 4000 example words with readings in hiragana and meaning in English
- select which kanji you want to learn from the list of level 1, level 2, level 3, and level 4 kanji and create your own custom review and learning lists.
- search for kanji by entering a meaning or drawing the kanji (for drawing you need to enable and choose Chinese keyboard)*.
- intuitive, clean, and simple interface - you move through the cards by swiping them with a finger.
- your kanji selection is saved when you exit the application and remembered for when you come back to study more
- shake to restart going through the list.
- does not require internet connection

*To chose the Chinese keyboard go to: Settings: General -> Keyboard -> International keyboard -> Chinese -> Handwriting

------------------------------------------
Make sure to also check out KanjiPop - practice Kanji in a fun way! (just search for KanjiPop)
------------------------------------------

This package has included material from the EDICT and KANJIDIC dictionary
files in accordance with the licence provisions of the Electronic
Dictionaries Research Group. See
http://www.csse.monash.edu.au/~jwb/edict.html and http://www.edrdg.org/
What's New in Version 1.6.3
- kanji lists are now displayed with on and kun readings for every kanji

- bigger kanji on kanji lists for better readability

- bug fixes


***** Your 5-star iTunes reviews and ratings keep the updates coming! Thanks for using Kanji! *****

iPhone Screenshots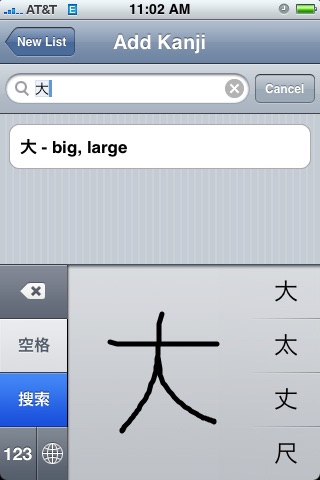 View in iTunes
8,99 kn

Category:

Education

Updated:

28 July 2009

Version:

1.6.3

Size:

0.4 MB

Language:

English

Developer:

Lima Sky
Compatibility: Requires iOS 2.0 or later. Compatible with iPhone, iPad and iPod touch.