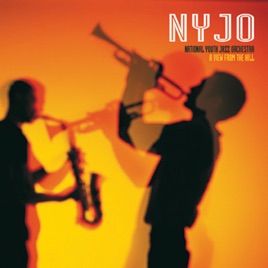 | | TITLE | TIME |
| --- | --- | --- |
| | | 4:45 |
| | | 6:49 |
| | | 7:37 |
| | Don't Try and Argue With Me | 4:12 |
| | | 6:41 |
| | | 7:33 |
| | | 7:48 |
| | | 5:21 |
| | | 4:28 |
| | | 3:41 |
| | | 8:22 |
| | | 6:55 |
12 Songs

℗ 2006 One Media Publishing
About NYJO
In 1965 Bill Ashton, a teacher at a London school, formed the London Schools Jazz Orchestra. This was an organization in which youngsters could pursue musical ambitions in a setting that related to music which interested them, rather than forms imposed upon them by the educational hierarchy. Thanks to Ashton's persistence in the face of establishment hostility the orchestra survived, later becoming known as the London Youth Jazz Orchestra and, eventually, the National Youth Jazz Orchestra. In 1974 NYJO became a fully professional organization and remains the UK's only full-time professional big band playing jazz. Although Ashton's conception was to create an atmosphere in which young musicians could develop their craft, NYJO has long since passed the stage of being either a training ground or even a 'youth' orchestra.

The extraordinarily high standard of musicianship demanded by the band means that newcomers to its ranks must have already achieved a very high standard of technical competence before auditioning. Ashton's leadership is a mixture of democracy and benign autocracy. The band's members choose the music, which varies from the brand-new to charts originally played by editions of NYJO that were on the road when present members were barely walking, and Ashton organizes the musicians' choices into an entertaining programme. Although the nature of the orchestra means that it is in an almost constant state of flux, NYJO has developed an identifiable sound. Much of the music that is played by the band is original, often written by members, and everything is especially arranged. While many arrangements are 'in-house', others come from outside. Among the arrangers are Paul Higgs, David Lindup, Brian Priestley, Chris Smith, Terry Catharine, Bill Charleson, Neil Ardley, Alec Gould and Ashton. Many exceptional talents have passed through NYJO's ranks over the years, including Steve Argüelles, Julian Argüelles, Chris Hunter, Lance Ellington, Paul Hart, Dave O'Higgins, Phil Todd, Andy and Mark Nightingale, Stan Sulzmann, Chris Laurence, Richard Symons, Gerard Presencer and Guy Barker. Ashton's interest in songwriting has ensured a succession of good singers with the band, including Sumudu 'Sunny' Jayatilaka, Carol Kenyon, Helen Sorrell and Litsa Davies.

Over the years NYJO has travelled extensively, appearing in various European countries and also visiting the USA. The band's many albums have proved successful and help spread the sound of a remarkable orchestra that, although effectively the creation of one man, has come to represent the best in big band jazz and consistently denies its name by being both international and fully mature.