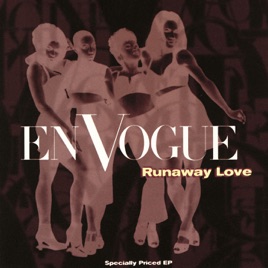 TITLE
TIME

Runaway Love (feat. FMob)

4:59

Whatta Man (feat. En Vogue)

En Vogue & Salt-N-Pepa

4:56

Hip Hop Lover (Hip Hop Remix)

4:20
3:58

What Is Love (Extended Club Remix)

5:35

Runaway Love (Extended Version) [feat. FMob]

5:01
6 Songs

℗ 1993 Atlantic Recording Corporation for the United States and WEA International Inc. for the world outside of the United States.
About En Vogue
The female vocal quartet En Vogue was conceived and put together by the production team of Denzil Foster and Thomas McElroy, both former members of Club Nouveau. Foster and McElroy wanted a vocal group who could exude sultriness and intelligence in addition to vocal proficiency, and as producers, they wanted material that would fuse R&B and girl group traditions with hip-hop and new jack swing rhythms. The two held auditions and settled on a membership of former Miss Black California Cindy Herron, Maxine Jones, Dawn Robinson, and Terry Ellis. The new group performed two songs on Foster and McElroy's FM2 album, and the producers crafted an image of them as stylish, sophisticated, and sexy. Originally called For You, the women switched to the more elegant Vogue, and then En Vogue after learning of another group with a very similar name.

En Vogue's debut album, Born to Sing, appeared in 1990 and launched the pop crossover smash "Hold On," which peaked at number two and helped the album go platinum. The group attracted comparisons to the Supremes, even though groupmembers shared lead vocals and intentionally designated no particular singer the "star." In between albums, Herron appeared in the film Juice. When En Vogue returned in 1992 with Funky Divas, critical and commercial response was overwhelming. The album's wide array of styles, from pop and R&B to rap, rock, and reggae, were lauded in print; the first three singles -- "My Lovin' (You're Never Gonna Get It)," "Giving Him Something He Can Feel" (both covers of songs written by Curtis Mayfield), and "Free Your Mind" (which borrowed a chorus line from George Clinton) -- reached the Top Ten, and the album went multi-platinum. En Vogue were in the Top Ten again in 1993, backing Salt-N-Pepa on their hit "Whatta Man."

As En Vogue was recording its third album, Dawn Robinson left the group. Before they released the record, "Don't Let Go (Love)," a song the group contributed to the Set It Off soundtrack, became a number two single in early 1997. Six months later, the band released their third album, EV3. The group's first compilation, The Best of En Vogue, was released in the summer of 1999. 2000 saw the release of Masterpiece Theater (originally titled Something New, Something Old, Something Borrowed, Something Cool) but immediately after an interview on BET the group was informed that they were dropped by their label due to slower than expected sales.

In 2001 Amanda Cole was added as a fourth member but soon after Maxine Jones announced her desire to spend more time with her young daughter and departed. Returned to a trio, the group started touring again and in late summer Rhino released their second compilation, The Very Best of En Vogue. Things were quiet until the group returned at the end of 2002 with a contribution to the Deliver Us from Eva soundtrack and their first Christmas album, The Gift of Christmas, on a small, independent label Discretion Entertainment. Promotion for the album was so limited that only those who regularly visit En Vogue fansites were aware of it and to make matters worse, Amanda Cole left the group in the middle of 2003 for a solo career. A false rumor that Chanté Moore had joined the group proved untrue and talks with Dawn Robinson and Maxine Jones failed to bring either back to the group permanently. In September of 2003 the group appeared out of nowhere for a small European tour with Maxine Jones filling in temporarily for Cindy Herron (who had just had her fourth child) and a new member, Rhona Bennett, made her debut. Bennett had recorded an album as simply Rhona for Sony in 2001 (which included the hit "Satisfied"), and also had a recurring role on The Jamie Foxx Show. Jones and Herron traded places again and the new trio released Soul Flower in early 2004 on 33rd Street Records. ~ Steve Huey
ORIGIN

Oakland, CA

FORMED

Jul 18, 1988