Catan HD
By USM
This app is only available on the App Store for iOS devices.
Description
"Catan", the legendary strategy game provides gaming fun anytime, anywhere.

True to the original game, you can compete with up to four players for the most settlements, the longest roads and the largest army. You can trade with each other and claim the precious land with all its resources.

Challenge other Catan fans online via cross-platform multiplayer to prove your strategy skills or play against the AI:
Various computer opponents, each with their own individual characteristics, will prove themselves worthy competitors: the pirate Jean, who knows no compromise, Vincent the merchant, who never allows himself to be cheated, Sean the knight, who takes what is rightfully his...

The popular Catan expansions "Seafarers", "Cities and Knights" and two new special scenarios are available as In-App purchases.

The complete Seafarers expansion includes more than 10 additional scenarios with an extensive campaign. Become Harbormaster, discover new islands and extra game elements like ships, gold fields, treasures and pirates. Ahoy!

The Cities and Knights expansion introduces various new gameplay mechanics that add even more variety to Catan. Invest new trade goods in city improvements to build one of the three metropolises of Catan – but beware of the barbarians attracted by Catan's new wealth! You'll need your best knights to fend them off! C&K contains a short campaign and 7 challenging maps.

Exciting adventures await you in the two new scenarios "Enchanted Land" and "The Great Canal". Vanquish dragons and bag their treasures or build a canal to help barren grain fields bloom once more.

Features:

- Available languages: English, German, French, Dutch, Spanish, Portuguese, Japanese
- Original "Settlers of Catan" rule set
- Update 4.0+: Synchronous online multiplayer games
- Smart computer opponents with individual strategies
- Scrollable game board including zoom option
- Freely combinable game settings
- Game statistics
- Comprehensive tutorial
- Seafarers LITE: New scenario "The 4 Islands" and two additional game variants
- Cities and Knights LITE: Test the new expansion in the scenario "The first Island"
- 3 different graphic sets to choose from


*****
Catan FAQ:

Question: An expansion seems gone after an update or reinstallation of Catan or after restoring the device?
Answer: Don't worry, your initial purchase is already saved in your iTunes account. You can restore your InApp purchases by selecting the restore-option in the Catan IAP menu.

Question: I lost my campaign progress after reinstalling, updating or restoring my device. Is there any way to restore it?
Answer: When saved games can't be automatically restored, we've integrated a cheat code: In the campaign mode go to select player and enter "CatanWarp*" (* = 1–15) as your player name and confirm. Exit the game via the home button and restart it. The campaign can now be continued from the specified level number (1–15). Levels up to the specified number will be unlocked in the custom game mode as well.

Question: Are dice rolls really random?
Answer: Of course! All dice rolls are 100% random and not modified in any way. We're avid Catan players ourselves. We've played the iOS version hundreds of times while developing the program. There have been times when we won and lost a few games in a row because of the dice - just like when playing the board game!


*****
Questions or suggestions for improvements:
Mail to ios@usm.de
We are looking forward to your feedback!

For more information on news and updates: www.usmgames.com
or visit us on www.facebook.com/UnitedSoftMedia and twitter.com/USM_News

*****
What's New in Version 4.6.2
- Fixed some edge case bugs with 'brawn before brains' achievement
- Fixes and optimizations regarding game almanac
- Various smaller tweaks, bugfixes and optimizations
iPad Screenshots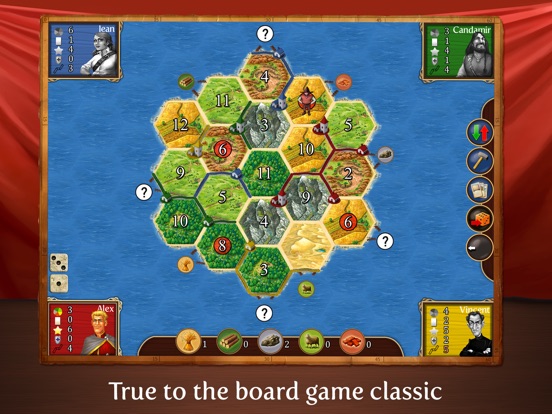 Customer Reviews
Tomer
+ Very good, better than playing the physical board game in many ways. COMPLETELY WORTH BUYING. 👍👍👍👍👍
- The game interface fails sometimes💩, I figured out that it can be fixed by restarting the app. Until it happens again... This bug should be fixed. (I'm playing with an iPad pro)
- There are not as many maps and scenarios available on the app as there are in the board game. You should add some more, one at a time 😉
- Some maps cannot be played with the "cities and knights" expansion. Easy change in my opinion that can significantly improve the app👏
That's all folks!
Thank you for reading my review
Decent game
Although there are many crashes (about 50% of sessions end up in a crash)
That's a lot for an paid app (even bought expansions)
Also, can't play the campaign after I bought it too - game always crash. Please fix ASAP
View in iTunes
NIS 19.90

Category:

Games

Updated:

18 January 2017

Version:

4.6.2

Size:

812 MB

Languages:

English, Dutch, French, German, Portuguese, Spanish

Developer:

United Soft Media Verlag GmbH
Compatibility: Requires iOS 7.1 or later. Compatible with iPad.
Top In-App Purchases
All-expansions BundleNIS 39.90
The SeafarersNIS 19.90
Cities and KnightsNIS 19.90
The new scenariosNIS 7.90
Catan - The IslandsNIS 7.90