Diet Defense HD
By Apps Capital Social Funding, s.l.
This app is only available on the App Store for iOS devices.
Description
Gather your army of fruits and vegetables then annihilate all that junk food before it gets to you. Come up with your best strategy to defeat your food enemies in this tower defense type game.

There you are, sitting in your easy chair, relaxing. Boy, would a snack ever be good right now, maybe a nice sticky donut or a pizza. Your stomach rumbles just thinking about it. You mustn't let those things sabotage your diet but what can you do, they're irresistible and you're hungry!

Don't worry, you can fight back. Block that hotdog with a seed-firing watermelon, send that candy packing with a shot of baby carrots and let the onions release their foul odor spray on the fries. Oh, and don't forget to let the oranges out to shoot deadly juices and the pumpkins to create shock waves. You've got an army of fruits and vegetables on your side, ready to fight for your diet.

Place your battalion strategically around the room to block and annihilate that nasty junk food before it reaches you and hops in your mouth. You can use the kitchen or the livingroom as your battleground, your choice. The location isn't as important as how you play the game.

There will times when you need to pack some of your healthy soldiers with more power. No problem, when you have enough money built up from junk food kills, you just give a tap to whichever of your trusty brigade needs a boost. It'll cost you but it's well worth the price. Try double tapping and see the even more powerful version of that tomato, pumpkin, onion, orange, carrot or watermelon. They'll take on your enemies with a vengeance!

Of course, there are times when even the best soldiers need replacing. That's okay, just sell some your existing troops and buy new ones, fresh for battle.

In this tower defense style, healthy fight of the ferocious junk food attacks, you're going to have to summon your very best strategizing skills. There are four different levels to make it through and each one offers you a choice of easy, medium and hard difficulty. If you're a dedicated die-hard and feeling brave, go ahead and hit the additional endless mode for non-stop gaming.

How'd you do? Why not hop over to the Game Center and find out? That's where you can view your achievements, see your name on the worldwide leaderboard and check to see who else is playing Diet Defense. Did you kick butt?

Check out the features you get in Diet Defense HD:
* Attractive, easy-to-use interface
* Highly addictive game with a very healthy message
* Tower defense style of gameplay
* Gorgeous graphics!
* Optimized for iPad display
* Choice of room to battle in
* 4 levels of gameplay + endless mode option
* Each level of play has 3 different selections of difficulty
* Save and resume game
* Game Center and OpenFeint leaderboards and achievements
* Fun for all ages and gaming skills
* Cool music enhances gameplay fun
* Share app URL with your Twitter and Facebook friends

If you're eager to get in on a new game or just love tower defense strategy, download Diet Defense HD now. It's tons of fun, even if you're not on a diet. Good luck!

See this App in action here: http://www.youtube.com/watch?v=eT5iXC4gALA
iPad Screenshots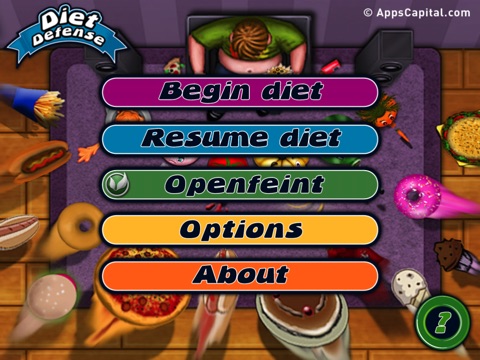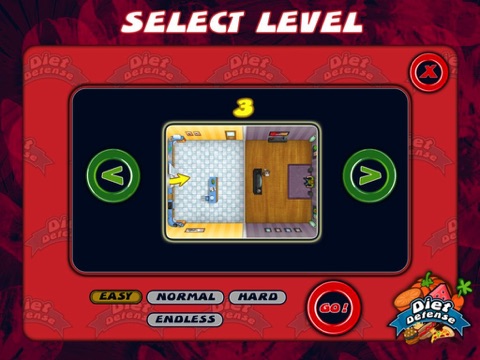 View in iTunes
NIS 7.90

Category:

Games

Released:

24 November 2010

Version:

1.0

Size:

36.9 MB

Language:

English

Developer:

Apps Capital Social Funding, s.l.
Compatibility: Requires iOS 3.2 or later. Compatible with iPad.
More iPad Apps by Apps Capital Social Funding, s.l.