גיאומטריה
By Sharon Brizinov
This app is only available on the App Store for iOS devices.
Description
אפלקצית גיאומטריה תעזור לכם בכל השיעורים , עבודות מבחנים וכו הקשורים לגיאומטריה.
האפלקציה מכילה ממשק מרהיב ונוח המאפשר לכם לשנן בקלות את כל המשפטים לבגרות!
באפלקציה תוכלו למצוא את כל הצורות הגיאומטריות הבסיסיות שאתם צריכים לדעת היטב כמו
משולש, מלבן, ריבוע, טרפז, מעגל ועוד. הכל במקום אחד! פשוט וקל

תכונות נוספות:
- כל המשפטים החשובים בגיאומטריה לכל הצורות הדומימדיות
- ממשק ציור המאפשר לכם לפתור תרגילים בתוך האפלקציה, תוכלו גם להעתיק בידיוק את השרטוט מן האפלקציה ולצייר עליו. ניתן לאחר מכן לשתף דרך המייל, פייסבוק ועוד!
- ניתן לשתף במייל את כל המשפטים בלחיצת אצבע
- ניתן לשחק עם השרטוטים, להזיז להגדיל ועוד, הכל כדי שתזכרו את הצורות כמה שיותר טוב!
- ניתן לחשב לכל צורה שטח והיקף, הכל בצורה מאוד פשוטה ונוחה
- ניתן להציג את ממשק האפלקציה ב3 שפות - אנגלית רוסית ועברית כמובן!
- חינם! האפלקציה בחינם לגמרי, רק נשאר לכם להוריד ולהנות!

באפלקציה תמצאו :
-משולש
-משלוש שוש= שווה שוקים
- משולש משצ = שווה צלעות
- מקבילית
- מלבן
- מעוין
- ריבוע
- טרפז
- עיגול


Geometry app has all the basic 2D shapes. with beautiful hand-drawing shapes, and with all the relavent theorems, you will never forget the Geometry!. In addition you can calculate the area and perimeter for each shape!

Features:
-All basic 2D shapes: Triangle, Isosceles Triangle, Equilateral Triangle, Parallelogram, Rectangle, Square, Circle, Rhombus and more!
- Draw yourself all the basic shapes with guidelines and share by email, Facebook and more!
- pinch to zoom, drag and understand better the shapes!
-Relevant theorems for each shape.
-Relevant doodle for each shape.
-You can calculate Area and perimeter for each shape.
-Email all theorems with one click!
- Free!


---------
-English ,Hebrew, Russian- language support.
What's New in Version 3.14159
- Bug fix
- iPhone 5 support
iPhone Screenshots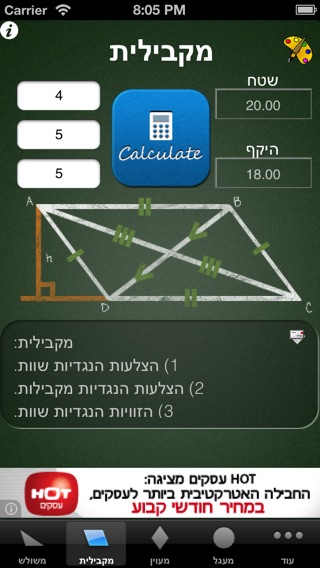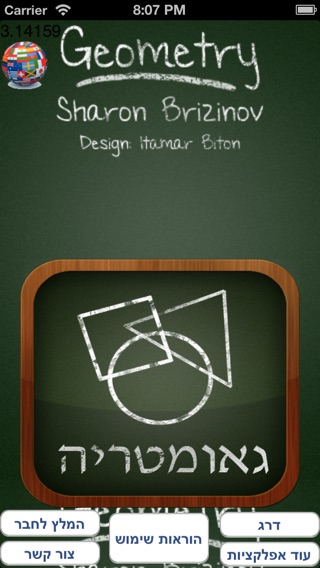 View in iTunes
Free

Category:

Education

Updated:

20 August 2013

Version:

3.14159

Size:

8.1 MB

Languages:

English, Basque, Dutch, French, German, Hebrew, Japanese, Korean, Russian, Simplified Chinese, Swedish, Vietnamese

Developer:

Sharon Brizinov
Compatibility: Requires iOS 4.3 or later. Compatible with iPhone, iPad and iPod touch.