Mobile Shrink
By Ethan Apps
Open iTunes to buy and download apps.
Description
Mobile Shrink is designed to help you reduce your anxiety and stress through gaining an greater understanding of your anxiety or stress and using proven methods to reduce it.

Mobile Shrink allows you to create customized entries to help you monitor your day to day, or even hour to hour anxiety or stress levels. By allowing you to add your own individual triggers, each Mobile Shrink application is tailored to fit your anxiety needs. This allows you to track the effect of each trigger over time with Mobile Shrink's graphing feature. In addition, mobile shrink calculates the correlation of the intensity of your trigger versus your overall anxiety to help you determine what is causing you the most anxiety or stress in your life and allow you to take steps to tackle these problems.

Mobile Shrink also allows you to track any unhealthy thought patterns you may have developed and assist you in switching to a healthier thought pattern. How we think plays a large role in how we feel and by helping you switch to healthier thoughts, Mobile Shrink will allow you to feel better and defeat your anxiety.

In addition to helping you change your thought patterns, Mobile Shrink also comes with a breathing coach to help you achieve a more optimal breathing rate. Research shows that how we breath affects both our heart rate and levels of anxiety. One of the most effective ways of reducing stress or anxiety is to find a healthier breathing rate that calms our body. Mobile Shrink allows you to achieve this by calculating your current breathing rate and then slowly lowering and tracking your target rate.

Mobile Shrink knows that even if with the best techniques to manage your anxiety, you may still feel moments of panic. Mobile Shrink walks you through a panic attack to help you shorten these terrifying, but completely harmless events.

Finally, it is important to realize that some anxiety is completely normal in life but too much may signify an anxiety disorder. While no replacement for a professional diagnosis, Mobile Shrink comes with a questionnaire to help you determine if your anxiety is within a normal range or may require help. As always, consult a mental health professional if you think you may suffer from an anxiety disorder. Mobile Shrink is designed to alleviate normal levels of anxiety or to work alongside professional help, not in place of it.
iPhone Screenshot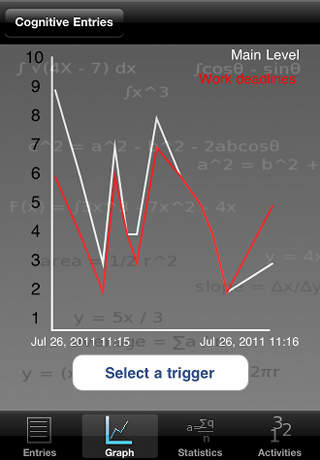 View In iTunes
NIS 7.90

Category:

Medical

Released:

20 September 2011

Version:

1.0

Size:

3.0 MB

Language:

English

Developer:

Ethan Venitz
Compatibility: Requires iOS 4.2 or later. Compatible with iPhone, iPad, and iPod touch.