Odating - Free Dating App \ הכרויות חינם
By Itay Naftaly
This app is only available on the App Store for iOS devices.
Description
ODATING Dating App - the most advance and free dating App
*Languages*
English
עברית

דייטינג – Odating 100% חינם
אפליקציית היכרויות המתקדמת וידידותית ביותר בעולם המבוססת על בסיס מיקום!
בכדי לאפשר להכיר נשים וגברים מכל רחבי העולם ובדרך היעילה והפשוטה ביותר לשימוש הגולש,
אנו ב Odating פתחנו אפליקציית מובייל חינם לחלוטין לשימוש !! עם דגש על הקלות שבשימוש ומגוון תכונות מהמתקדמות ביותר שפותחו

יש כל כך הרבה הצעות בתחום הדייטינג בעולם, אם זה אפליקציות או אתרים זה לא משנה כל כך.
לכולם יש בעיה אחת גדולה.
נרשמתם לאתר הכרויות, מה עכשיו?
כמה פעמים קרה לכם, שנכנסתם לאתר או אפליקציית הכרויות, ואף אחד פשוט לא רואה אתכם?
אז פה, בדיוק אנחנו נכנסו לתמונה.
היותר מעניין זה שהתמקדנו בנושא מאוד בעייתי, שבעיקר שזה מגיע לכל מה שקשור בהיכרויות בעולם שנרשמים לאפליקציות, או לאתרי הכרויות,
כל מי שנרשם פשוט נבלע במאגרים מטורפים שקשה בכלל לקבל חשיפה לכרטיס של אותו גבר או\ אישה.
אנחנו לקחנו את הנושא של חשיפת כרטיסים ברצינות רבה, ואמרנו ניתן לאנשים את הבמה להציג את עצמם.
יש לנו כמה אפשרויות באפליקציה לקבל חשיפה ענקית לכרטיס שלהם. ובחינם!
על מנת לאפשר לכם ליהנות משלל פיצ'רים ייחודיים לא תמצאו באף מקום

Odating is the most advanced, user-friendly, location-based and free dating application you can find!
In order to be able to meet men and women from around the world in the most efficient and simple way, we at Odating developed a mobile application that is completely free with an emphasis on ease-of-use and a variety of the most advanced features to help you fulfil your wishes ,
There are so many options available in the dating world, whether they're websites or applications, it doesn't matter.
Everyone has one big problem.
What happens after you sign up to a dating service?
How many times have you visited a dating website or application and no one sees your profile?
Here's where we come in. We focused on a very problematic issue which nearly everyone who visits dating websites or applications encounters.
People who sign up get lost in huge databases and it's hard for a man or woman to get their profile any exposure.
Unlike other application we took the profile exposure issue seriously and believed that there had to be a better and effective way for people to introduce themselves.
ODATING you can find a variety of unique features you won't be able to find anywhere else that helps your profile to get exposure - and it's all for free in!
such as:


Who's Nearby?
*Following
*Speed Dating
*Black List
*Liked Me
*Viewed Me

join now it's fun, simple to use and 100% free*
A location based social network that able you see on REAL-TIME the exact distance from others*
• Meet and chat and interact with new people
easy registration with Facebook Or Register by email*
* Multiple ways to meet new friends
------------------------------------------------------------------------------------

.
So what are you waiting for? Find your next date now!
More information in English http://en.odating.net
More information in Hebrew www.odating.net
Video : https://www.youtube.com/watch?v=MQcFIoa9TAM&feature=youtu.be
Info@Odating.net
https://www.facebook.com/Odating.ISRAEL
What's New in Version 4.2
* Speed Improvement!
* Added Match Precent of each profile which answer dating questions
* Bug fixed

------------------------------
* שיפור מהירות באפליקציה
* הוספת אחוזי התאמה בין פרופילים שענו על שאלון ההכרויות
* תיקוני באגים נרחבים
iPhone Screenshots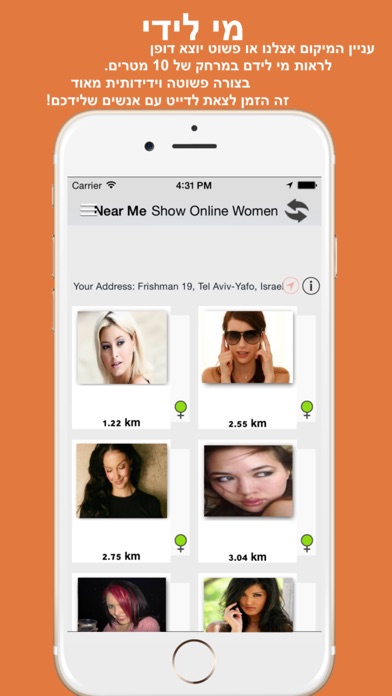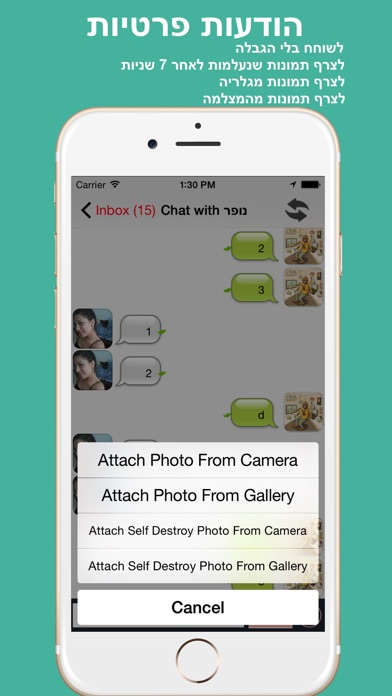 Customer Reviews
Debbie
קונספט נחמד, אפליקציה ברמה נמוכה
Sarit
אפליקציה מלאה בבאגים. בכל פעם שרוצים לעדכן כרטיס או להוסיף תמונות למשל, מתקבלת הודעה שיש שגיאה ושהנתונים לא ישמרו. כנראה שזו הרמה של האפליקציות בחינם...
לא עובד משום מה בזמן האחרון. אי אפשר להתחבר
לא ניתן להתחבר בכלל
View in iTunes
Free

Category:

Social Networking

Updated:

21 January 2015

Version:

4.2

Size:

19.4 MB

Languages:

English, German, Hebrew, Spanish

Developer:

Itay Naftaly
Compatibility: Requires iOS 6.1 or later. Compatible with iPhone, iPad and iPod touch.