Vocab Meme
By Anshul Agarwal
This app is only available on the App Store for iOS devices.
Description
Vocab Meme - Learn Words like a Boss
Learn 1000+ high frequency important vocabulary words in 10 hours.
Improve your vocabulary with our best vocab app.

English to Hindi Dictionary with pictures for Bank PO, BBA, BBS, BCA, CAT, CET, GATE, GMAT, GRE, IAS, IBPS, IELTS, IES, SAT, SSC, TOEFL & UPSC. Improve vocabulary and learn English - Vocab Meme offered by Daily Vocab

You must have heard of an old adage "A picture says a thousand words". But at DailyVocab.com "A picture will say only 1 word which you will remember for 1000 years"

Visit our website http://dailyvocab.com/

Vocab Meme app features:

• Funny memes for all vocabulary words
• New Vocab Meme (word) posted everyday
• Synonyms, Antonyms, and sentences (word usage)
• Pronunciations - learn how to say the word
• vocabulary words with meaning
• English to Hindi meaning
• Idioms and Phrases
• Mnemonic (memory aid for words)
• Exam specific Word list
• High frequency, medium frequency and low frequency words
• Create your own Vocab Meme
• My Vocab Meme list
• Mark words to Revision list
• Mark words to Learned list
• Meme vocabulary quizzes
• Quizzes for following competitive exams
• Quizzes sorted in alphabetical order
• Words sorted in alphabetical order


CONCEPTUALIZING the meaning of a word is often contextual. And what better way it would be to remember a complex word using pictures in a given context! DailyVocab, a start-up at MICA plans to do just that. According to founder, Anshul Agarwal, "English language learning is a serious problem in India and needs to be solved. One way to make the learning interesting, is through 'Vocab Meme' that teaches word power using Internet memes which are quite popular among youth and shared/liked frequently on various social media platforms." Dailyvocab.com is particularly useful for students who are preparing for competitive exams. It is also useful for people who are learning English as a second language but do not have the time to attend offline classes.

Imaginative use of pictures
The uniqueness attached to the idea is that learning is fun. It is also easy to memorize the context. Anshul says, "Initially I started with the idea of providing vocab Internet memes (memory aids for each word) only, but the project has now evolved as a one stop vocabulary solution website. Alongside the word we now offer its meaning in both English and Hindi, synonyms, antonyms, and the recent word usage from news and mnemonics". In a way, this is an improvement on link method of memory where one has to create mental images of items that one wants to memorize. The use of pictures help to etch the meaning of a word in your memory.

Vocab Meme is a place where memes teach Word Power.We help you to learn new words in a world's most innovative and funniest way. With dailyvocab.com, you can learn over 3000 High frequency words for all the major competitive exams in just a few days (which was earlier not possible). Memes here on Daily Vocab are so interactive that a word once learned on Daily Vocab stays learned forever.

Privacy Policy: http://dailyvocab.com/privacy/
Copyright Policy: http://dailyvocab.com/copyright-policy/
Disclaimer: http://dailyvocab.com/disclaimer/

Exam Vocabulary Covered:
CAT Vocabulary
GRE Vocabulary
Bank PO Vocabulary
CET Vocabulary
GATE Vocabulary
GMAT Vocabulary
GRE Vocabulary
IAS Vocabulary
IBPS Vocabulary
IELTS Vocabulary
IES Vocabulary
SAT Vocabulary
SSC Vocabulary
TOEFL Vocabulary
UPSC Vocabulary

Exam Specific Wordlist includes:
CAT Wordlist
GRE Wordlist
Bank PO Wordlist
CET Wordlist
GATE Wordlist
GMAT Wordlist
GRE Wordlist
IAS Wordlist
IBPS Wordlist
IELTS Wordlist
IES Wordlist
SAT Wordlist
SSC Wordlist
TOEFL Wordlist
UPSC Wordlist

Vocabulary Quizzes includes:
CAT Vocab Quiz
GRE Vocab Quiz
Bank PO Vocab Quiz
CET Vocab Quiz
GATE Vocab Quiz
GMAT Vocab Quiz
GRE Vocab Quiz
IAS Vocab Quiz
IBPS Vocab Quiz
IELTS Vocab Quiz
IES Vocab Quiz
SAT Vocab Quiz
SSC Vocab Quiz
TOEFL Vocab Quiz
UPSC Vocab Quiz
What's New in Version 1.2
- Bug Fixes.
iPhone Screenshots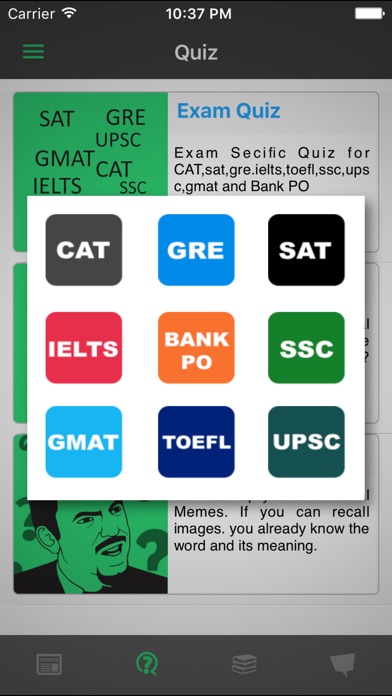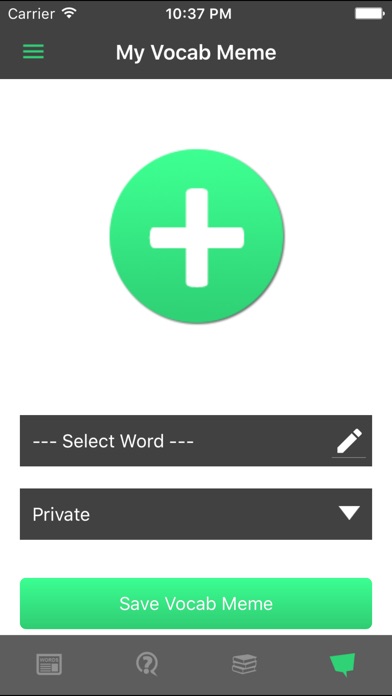 Customer Reviews
Excellent concept
Really liked the way Vocabulary has been presented in the app.

The sound is not working, so the developers can check that.
Navigation and design can be improved for better user experience.
Ayan
This app is very good..still I am using it and find it useful ... thank you so much for making such a wonderful app..
App doesn't work
After registering/signing in, when the vocab feed starts to load, the app crashes by itself. It doesn't help if you reinstall it or if you restart your phone. The app has a serious issue. Please remove this bug. I really want this app on my phone.
View in iTunes
Free

Category:

Education

Updated:

20 January 2016

Version:

1.2

Size:

23.9 MB

Language:

English

Developer:

Anshul Agarwal
Compatibility: Requires iOS 7.0 or later. Compatible with iPhone, iPad and iPod touch.