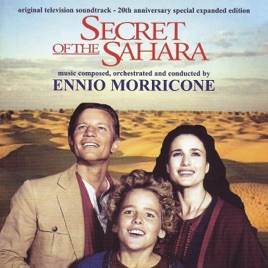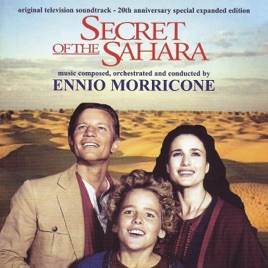 TITOLO
DURATA

The Myth And The Adventure

Secret Of The Sahara (#2)

Saharan Dream (feat. by Amii Stewart)

Ennio Morricone & Amii Stewart

Secret Of The Sahara (feat. Edda Dell'Orso)
22 brani, 1 ora 16 minuti
Data rilascio:

31 dic 1987

℗ 1987-2007 Universal Music Publishing Ricordi S.r.l.
Informazioni su Ennio Morricone
Ennio Morricone è probabilmente il compositore di colonne sonore per il cinema più famoso del XX secolo. Inoltre, è uno dei compositori di qualsiasi genere più prolifici in assoluto. Ha realizzato la musica per centinaia di film degli ultimi decenni, forse più di 500. Sebbene queste colonne sonore comprendano quasi tutti gli stili musicabili immaginabili (e per quasi tutti i tipi immaginabili di film), Morricone rimane soprattutto associato al genere degli "spaghetti Western", grazie al suo celebre e innovativo lavoro per i film del regista Sergio Leone. Le risorse stilistiche di Morricone sono straordinariamente diverse e vanno dalla musica classica al jazz, pop, rock, musica elettronica, d'avanguardia, musica italiana tradizionale e tante altre. ~ Richie Unterberger
CITTÀ NATALE

Rome, Italy

GENERE

DATA DI NASCITA

10 novembre 1928
Milioni di brani.
Senza annunci pubblicitari.
Solo per i nuovi iscritti. Dopo il periodo di prova, il piano si rinnova automaticamente.