Capoeira Berimbau
di Appsolute LLC
Apri iTunes per acquistare e scaricare le app.
Descrizione
Capoeira Berimbau is a comprehensive interactive guide for learning how to play Berimbau. It is presented in a friendly format great for both novice and advanced players.

Chapters:
* Intro
- Introduction
- What is a Berimbau

* FAQ
- How to string a Berimbau with a knee
- How to string a Berimbau with a thigh
- How to hold a Berimbau
- How to place Cabaça and check sound
- How to strike a string
- How to untie a Berimbau
- If your pinky hurts
- Illustration of toques

* How to make sounds
- Low tone
- High tone
- Buzz note

* How to play rhythms
- How to play Angola
- How to play Benguela
- How to play Sao Bento

* Rhythms
- Angola
- Angola 2
- Sao Bento Pequeno
- Sao Bento Grande de Angola
- Sao Bento de Mestre Bimba
- Benguela
- Santa Maria
- Santa Maria 2
- Iuna
- Cavalaria
- Cavalaria 2
- Samango
- Idalina
- Jogo de Dentro
- Samba de Roda
- Miudinho

* Improvisations
- Angola
- Sao Bento Grande de Angola
- Benguela
- Santa Maria
- Iuna
- Cavalaria
- Samba de Roda
- Jogo de Dentro
- Miudinho


Features:
* Large library of capoeira toques and improvisations
* Video lessons and FAQs (no internet connection needed)
* HD graphics optimized for iPhone "Retina" display


Axé!
Novità nella versione 3.0
Thanks for your support and reviews!
Here is a massive update for you, folks!

Update includes:
► Video features updated
- swipe on video to watch next chapter
- slo-mo button for slow motion video playback
- AirPlay support for your devices (like AppleTV)

► New In-App Purchases (in "Watch the rest" section)
You can download:
- Beautiful Capoeira 112 movements, kicks, floreios, warm-ups, roda entries, combos!
- lessons pack on Atabaque by Mestre Xuxo
- a complete interactive library of Handstands
- Mestre Xuxo's signature style capoeira moves pack

► New UI
- new user interface with gestures of iOS 8 (swipe from the very left of the screen to go back)
- buttons for 1 flame forward/backward for precise animation control (for downloaded content)
- both landscape and portrait orientations supported

► Bug fixes
We've fixed all the issues with iOS 8 and now the app works flawlessly.


Plans for the next version:
- we will add a descriptions for every move with detail instruction on the movement execution
- new content: Capoeira songs lessons

Please send us a feedback (to lev@appsolutegroup.com) or leave a review on what would you like to see in the next version of the App!

Axé :)
Istantanea iPhone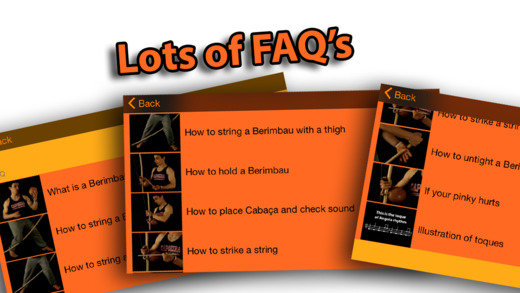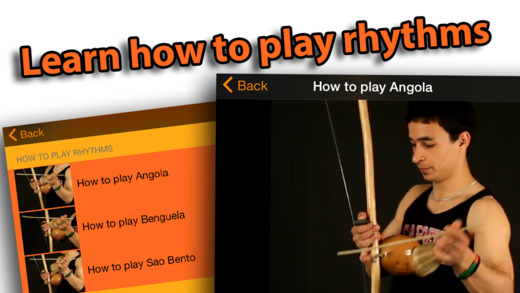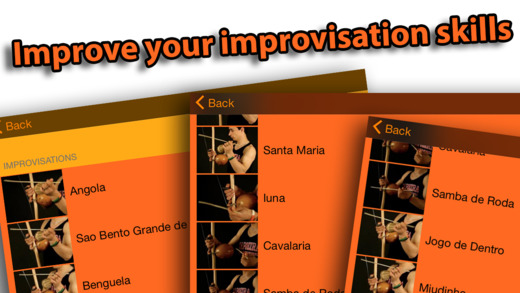 Vedi in iTunes
1,99 €

Categoria:

Musica

Aggiornato:

05/06/2015

Versione:

3.0

Dimensioni:

247 MB

Lingua:

Inglese

Sviluppatore:

Appsolute LLC
Compatibilità: Richiede iOS 7.1 o versioni successive. Compatibile con iPhone, iPad e iPod touch.