CLIP STUDIO PAINT EX for manga
Di CELSYS,Inc.
Questa app è disponibile solo sull'App Store per dispositivi iOS.
Descrizione
[ Now free for 6 months, instead of $8.99 per month ] (Until December 20, 2017)
The best drawing App for manga & comic.
More than 3,000,000 users worldwide*.
The most popular app in the graphics software market** and among users of world-class social media sites*** .

Frequently used in professional fields.
World-class graphic app with superior functionality.
All-in-One Digital Art App for illustration, comics and animation.

Along with the natural feel of the pens, matched with the capabilities of the Apple Pencil, quality and speed of any work-flow are supported greatly.

Feature details
-for comic,manga - http://www.clipstudio.net/en/promotion/manga
-for illustration - http://www.clipstudio.net/en/promotion/illustration
-for animation - http://www.clipstudio.net/en/promotion/animation

for Drawing & Painting
-Pen/brush tool with which you can comfortably draw a Manga
-Natural, realistic-looking pen strokes
-Draw vectors that can be processed and edited without losing quality
-[3D drawing figures] with freely customizable body shape
-Ruler for accurate drawings
-Neat, smooth color filling
-Create your own original colors
-Adjustment feature to improve the quality

for Manga & Comic
-Automatic creation of effect lines
-Unlimited screen tones
-Text balloons and handwritten text
-Smoothly create complicated frame borders
-All the management features you need for manga creation
-Perform auto actions with 1touch
-Advanced exporting functions

for Animation
-Light table and centerfold
-Onion skin
-Set the display order and speed in the timeline
-Export as a movie
-Export as an animated GIF
-Export as a series of still images

* Survey by CELSYS
** BCN Award and ranking calculated by number of sales through Amazon and nationwide retailers in the graphics software category
*** Calculated by CELSYS from figures announced on pixiv (2015/12-)

[ OS ]
iOS11

[ Target devices ]
High resolution illustrations, manga, etc.
-2017 Version of the iPadPro 12.9inch or 10.5inch
-2015 Version of the iPadPro 12.9inch

Standard sized illustrations, comics and manga for web, etc.
-iPadPro 9.7inch
-iPad (5th)
-iPad Air 2

Web illustration etc.
-iPad running iOS 11

[ Pen supporting pen pressure ]
-Apple Pencil (for iPad Pro)
-Wacom Bamboo Sketch (for iPad)
-Wacom Bamboo Fineline 3 (for iPad)

[ Import format ]
BMP,JPEG,TGA,PNG,TIFF,PSD,PSB,IPV(ibisPaint work file)
CSNF (CLIP STUDIO storyboard/name file)
3D data:FBX,LWO,LWS,OBJ,CS3C(CLIP STUDIO Character Format),CS3O(CLIP STUDIO Object Format),CS3S(CLIP STUDIO Background Format)
Movie data:MOV,MP4

[ Export format ]
BMP,JPEG,TGA,PNG,TIFF,PSD,PSB,EPUB,PDF
Movie data:MOV,Animation GIF,MP4

[ About in-app billing ]
In-app billing is required to save a canvas and export a file to various formats.

-CLIP STUDIO PAINT EX monthly charge $8.99 (1 month)
All functions will be available.

[ Restoring in-app charges ]
To use the app on another iPad device, please execute the restoration from the in-app billing screen.
The in-app billing status for the purchase will be reflected.

[ About confirmation and cancellation ]
Select ""Recommended"" at the bottom of the AppStore application -> Select Apple ID -> Select ""Show Apple ID"" -> Select CLIP STUDIO PAINT EX from ""Administration"" in subscriptions.
From this screen check the next automatic update time, and cancel or set the automatic update.

[ Notes ]
-Fees charged within application can not be canceled by any method other than the above
-Charges will be processed via an iTunes account.
-Subscriptions are automatically updated from 24 hours before the subscription deadline of in-app billing and billing will then be continued.
-If you do not want to continue the subscribtion automatically, please cancel at least 24 hours before the subscription deadline.

[ Privacy Policy ]
https://www.celsys.co.jp/en/information/privacy/
Istantanee iPad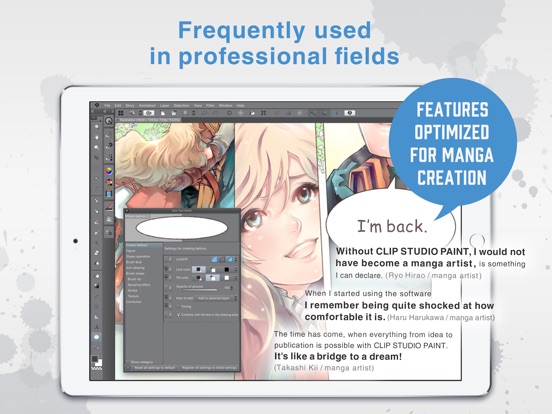 Recensioni clienti
La migliore app per disegnare e colorare
L'arrivo di Clip Studio Paint sull'appstore mi fa veramente dubitare dell'utilità di un computer. CSP per iPad è identico alla controparte da computer, fin troppo direi, visto che ci sono ancora le scorciatoie da tastiera nei menù a tendina e l'apertura/salvataggio dei file deve fare i conti con il file system di iOS. Ecco, se fosse meno una conversione brutale della versione per computer e meglio integrata con iOS sarebbe il massimo e darei 5 stelle.
Per tanto tempo ho dovuto portarmi chili e chili di laptop e cintiq appresso se volevo disegnare in giro. Adesso ho il mio programma di disegno preferito sull'iPad e viaggio leggero... cosa posso volere di più? Magari un abbonamento mensile più leggero di quello che comincerà tra un po'. Ma per ora mi godo i 6 mesi gratis e non ci penso!
Una rivoluzione
È identico alla versione per mac, su ipad pro 12,9" ci si lavora benissimo. Ci voleva un'applicazione così, non c'è più bisogno di duplicare lo schermo del mac sul tablet adesso, quindi si può lavorare a schermo pieno e senza lag, una rivoluzione. Peccato che manchi la lingua italiana
Finnaly!
An amazing ipad version of this such great drawing software!
I waited for it for such long time. It works perfectly. It is insane! Now I can easily switch working remotely changing device on a same project.
My only very bad impression is the price! 8€/month!!!
Come on guys! Are you serious? It's practically the cost of one desktop license of CSP per year, you propose through your regular yearly discount!
Right now I'm having the 6 month trial but I certainly won't be able to afford spending that much money for just the pleasure of having a secondary use of CSP on my iPad!
It's such a shame considering as a freelance artist, CSP is my primary everyday drawing tool.
Please revise it. Sadly, I won't keep my subscription at the end of my trial if your price stays unchanged.
Vedi in iTunes
Gratis

Categoria:

Intrattenimento

Pubblicato:

07/11/2017

Versione:

1.6.9

Dimensioni:

454 MB

Lingue:

Cinese Tradizionale, Coreano, Francese, Giapponese, Inglese, Spagnolo, Tedesco

Sviluppatore:

CELSYS,Inc.
Compatibilità: Richiede iOS 11.0 o versioni successive. Compatibile con iPad Air, iPad Air Wi‑Fi + Cellular, iPad mini 2, iPad mini 2 Wi-Fi + Cellular, iPad Air 2, iPad Air 2 Wi‑Fi + Cellular, iPad mini 3, iPad mini 3 Wi-Fi + Cellular, iPad mini 4, iPad mini 4 Wi-Fi + Cellular, iPad Pro 12,9", iPad Pro 12,9" Wi-Fi + Cellular, iPad Pro 9,7", iPad Pro 9,7" Wi-Fi + Cellular, iPad (5a generazione), iPad Wi-Fi + Cellular (5a generazione), iPad Pro 12,9" (seconda generazione), iPad Pro 12,9" Wi‑Fi + Cellular (seconda generazione), iPad Pro 10,5" e iPad Pro 10,5" Wi‑Fi + Cellular.
Top acquisti In-App
CLIP STUDIO PAINT EX7,99 €