Dreamboard, the safe and secure self-tracking dream journal
Di Dreamboard Inc
Questa app è disponibile solo sull'App Store per dispositivi iOS.
Descrizione
Dreamboard mobile and web application is a unique, simple and fun way to safely and securely track and log your dreams. Designed in collaboration with world leading Psychologists, Dreamboard is much more than a simple dream diary.

* Dreamboard is a dream journal that allow you to track, analyze & record your dreams.
Dreamboard gives you the ability to record and allow self interpretation of lucid dreams and nightmares, with sleep tracker analysis. *

By allowing you to record emotions and feelings, along with the narration from your nightly dream story, you start to build a complimentary picture that is free from the bias that impacts us in our daily waking life.

▶ With Dreamboard you can:

* Record your Dreams in seconds
Simple input icons and options allow you to save and review all your dream sequences quickly when you wake up.

*Allows you to enter in more detail your complete dream story now or later.

* Browse your Dream journal
Save and store your complete dream sequences then search and sort by title date or similarities over time from both mobile device and web.

* Analyze and Track your dreams
Observe and reflect on mood and emotional trends over time by clicking on the dream graph so you can start to develop a better and deeper understanding of how your dreams fit in to your everyday life.

▶ Features:

- keep track of your pleasant and unpleasant dreams
- write down the narration, for future use
- more than a diary, an analytical tool for dreams, mood and emotions
- record data
- 100% free, secure

▶ A NEW Dreamboard

Thanks to you Dreamboard has grown beyond its initial expectations and so the first major upgrade deals with improving with stability, security and speed for our users all over the world.

However based on feedback we received we have also introduced some additional improvements to the functionality and look of the Dreamboard application.

1. Brand new HD graphics, look and feel
2. Mobile edit functionality to review and update when ever and wherever is convenient for you.
3. Choice of day or night screens and background
4. Increased input icons for easier and quicker dream recording
5. New inputs to track when dreams are lucid or nightmares.
6. Improved password recovery functions
7. A new and easier to use alarm clock with daily reminders
8. Icons for sharing dreams with your friends on your favorite social network

We hope you enjoy. Tell your friends and look out for more upgrades in the very near future!
Novità nella versione 2.1.5
- fixed problem with hours in AM/PM format
Istantanee iPhone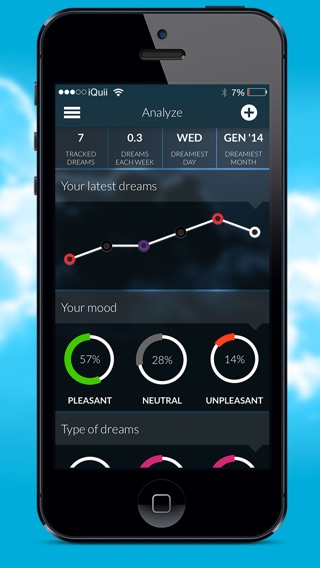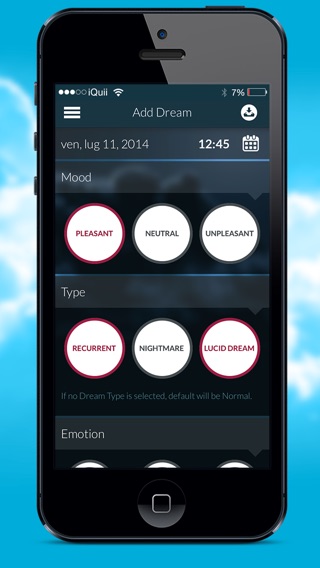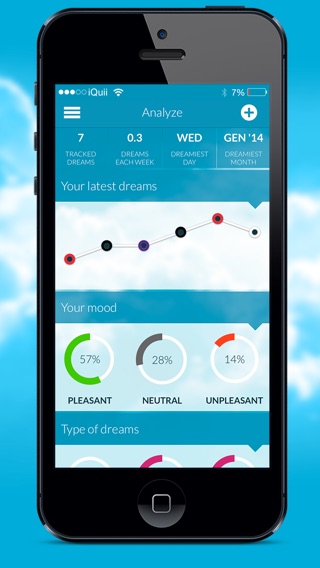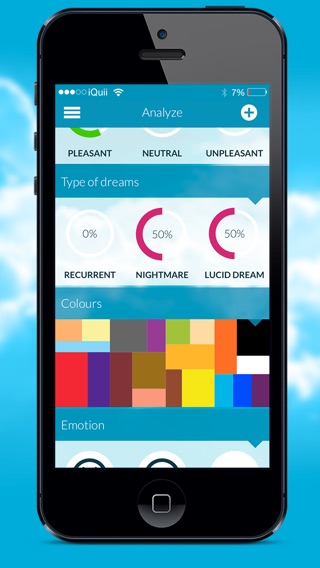 Recensioni clienti
Non male!
Lo uso ancora da poco per poter fare una recensione efficace. In compenso mi sembra ben organizzata, mi piace in particolare l'idea di poter associare dei colori a un sogno.
Il range dell'emozioni andrebbe forse ampliato un po' , anche per poter associare più di un'emozione allo stesso sogno.
Ben fatto
Finalmente i bug e i problemi sembrano essere spariti... Spero solo decidano di aggiungere l'albero dei sogni che adoravo ed è stato rimosso dal sito :( e la possibilità di modificare il tema a piacimento... Fino ad allora il mio voto è di quattro stelline :)
Perfetta
La migliore nel suo genere.
Ed è completamente gratis!
Vedi in iTunes
Gratuiti

Categoria:

Salute e benessere

Aggiornato:

12/02/2015

Versione:

2.1.5

Dimensioni:

25.4 MB

Lingue:

Cinese Semplificato, Francese, Giapponese, Inglese, Rumeno, Russo, Spagnolo, Tedesco

Sviluppatore:

DREAMBOARD, INC.
Compatibilità: Richiede iOS 7.0 o versioni successive. Compatibile con iPhone, iPad e iPod touch.