Due — Promemoria + Timer
Di Due Apps LLP
Questa app è disponibile solo sull'App Store per dispositivi iOS.
Descrizione
Due remembers all the things that you need so you don't have to.

Because it repeatedly reminds you of items that are due until you act on them, it's impossible to forget anything with Due.

Fast, simple and effective. There's no account to create, no start or end date to set, no need to prioritize, tag nor categorize.

What there is however are what that matters: what you'd like to be reminded about, and an alert that is set up in seconds.


FEATURES

◆ Updated for iOS 11
◆ Optimized for iPhone X, iPhone 8 and iPhone 8 Plus
◆ Apple Watch support with Complications
◆ Never miss any reminders with auto-snooze. Repeatedly* notifies you of missed reminders until marked done or rescheduled (every 1, 5, 10, 15, 30 and 60 minutes)
◆ Set due dates and reschedule existing ones *fast* by tapping on any of the 12 preset and customizable times. No need to scroll through the time picker wheel. Or, use…
◆ Natural date and time parsing. Set due dates by typing or dictating them directly
◆ Reusable countdown timers. Precise to the second, perfect for making the perfect soft-boiled eggs, brewing your coffee and more. Set them up once and reuse them forever
◆ Keep track of outstanding tasks with Smart Badges
◆ Powerful recurring reminders. From the simple daily and weekly reminders to the complex every-3rd-Wednesday-of-the-month kind of reminders
◆ Time zone shifting. Receive timely reminders no matter where you are in the world
◆ iOS Reminders integration: auto import reminders created with Siri
◆ 59 great sounding alerts of varying lengths to choose from
◆ Universal app, looks and works great on both iPhone and iPad
◆ Keep reminders in sync** across your iPhone, iPad and Mac with iCloud or Dropbox.
◆ Undo and redo. Never worry about making mistakes again
◆ No internet connection required
◆ Full VoiceOver support
◆ Full Dynamic Type support (for smaller and large text sizes)
◆ Localized for 17 languages

* In iOS 10, auto snooze repeats 5 times, and can be configured to repeat up to 10 times. Whenever you launch Due or act on any of its notifications, Due can then auto snooze any overdue items indefinitely.
** For iCloud syncing, Due must be launched for sync to take place. Due can sync in the background with Dropbox. Sync on Mac requires Due for Mac (sold separately)


WHAT'S THAT IN-APP PURCHASE ABOUT?

If you purchase Due from version 2.0 onwards, there is *no* additional in-app purchase required. You get to use *everything* in the app.

That in-app purchase is meant for customers who have purchased Due before 2.0, and would like to unlock the extra goodies in 2.0 at a discounted rate.


COMPATIBILITY

Due requires an iPhone, iPod touch or iPad running iOS 10 or later.
Novità nella versione 2.6.1
Fixes bugs where:
• Reminders created from search bar are wrongly modified on the next search attempt
• Search not working properly after creating a reminder from search
• Portions of search results underlapping the keyboard
• Reminders/Timers may sometimes not be scrolled to top on launch
• Visual glitches on iPhone X
• "Delete Imported Reminders" button not localized and styled correctly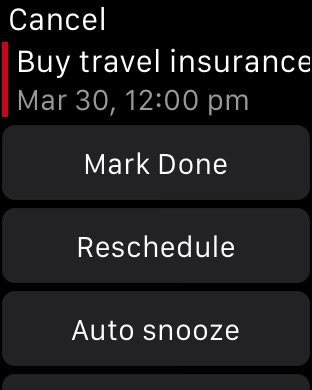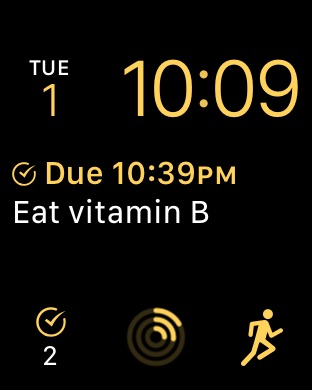 Vedi in iTunes
Quest'app è progettata per iPhone e iPad
Offre l'app di Apple Watch per iPhone
5,49 €

Categoria:

Produttività

Aggiornato:

16/11/2017

Versione:

2.6.1

Dimensioni:

50.8 MB

Apple Watch:

Sì

Lingue:

Italiano, Arabo, Bokmål Norvegese, Cinese Semplificato, Cinese Tradizionale, Coreano, Danese, Francese, Giapponese, Inglese, Olandese, Polacco, Portoghese, Russo, Spagnolo, Svedese, Tedesco

Sviluppatore:

Due Apps LLP
Compatibilità: Richiede iOS 10.3 o versioni successive. Compatibile con iPhone, iPad e iPod touch.
Top acquisti In-App
Upgrade della versione 1.03,49 €
Altre app da Due Apps LLP