EasyCoach!
Di Ascella AS
Questa app è disponibile solo sull'App Store per dispositivi iOS.
Descrizione
MAKES COACHING EASIER
For sports team coaches, EasyCoach is a professional yet easy to use tool that saves time on administrative tasks and provides better overview. EasyCoach allows you to:

•Manage teams
•Register and track attendance
•Message players and parents
•Share team with co-coaches and assistants

EasyCoach supports multiple platforms and also comes with a web module to use with your PC, offering more functionalities and increased overview.

By utilizing "cloud computing", EasyCoach safely stores your data and ensures seamless data transfer between platforms.

Eases team management
•Add players and parents manually or from your phone's contact list
•Import team lists from CSV/Excel (Pro, Web)
•Register and manage multiple teams (Pro)
•Export team lists to CSV/Excel (Pro)
•Share teams with co-coaches and assistants (Pro)

Eases attendance tracking
•Register attendance on your mobile device
•Display attendance statistics per team and player
•Filter attendance statistics on dates
•Create trend charts for attendance (Web)
•Export attendance statistics to CSV/Excel (Pro)
•Share statistics with co-coaches and assistants (Pro)

Eases messaging
•Send text and e-mail messages to players and parents (Pro)
•Send to the team or to selected team members (Pro)
•Keep message log (Pro)

Eases team sharing
•Share your team with co-coaches and assistants (Pro)
•Allow other coaches to manage your team, track attendance, and send messages (Pro)
•Accept invitations to assist other teams (Pro)
•Compare your team with shared teams (Pro)

Supports multiple platforms
•Use EasyCoach with the phone of your choice
•Share your team with other coaches, no matter which phone they use
•Change your phone without having to switch to a new coaching tool

Utilizes cloud computing
•Ensures that up-to-date information is always available to all users
•Prevents loss of data in case of phone breakdown or theft
•Eases switching of phones

Try it!
•The basic version of EasyCoach is free to use – download the app or learn more and register at www.EasyCoach-Pro.com
•After you have tried out the basic features, you can gain access to more advanced features by upgrading to the Pro-version at a one-time cost of only $5.99

Happy coaching!
Istantanee iPhone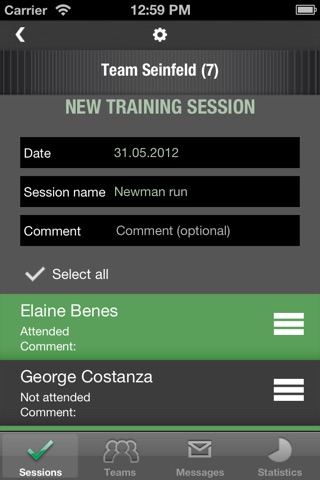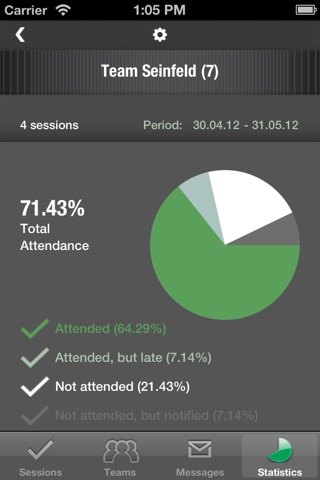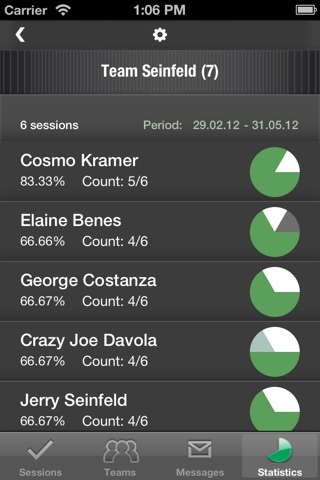 Recensioni clienti
Ottimo - Good work!!
Niente male davvero. Tiene traccia di tutto ciò che serve. Molto meglio di tutti quelli che ho provato finora.
Non posso dare 5 stelle perchè:
- manca la versione per ipad
- si deve migliorare l'usabilità almeno in questi punti:
---- a) il salvataggio dati: si deve andare sempre in fondo a fare tap sul pulsante ">" che invece andrebbe tenuto sempre a portata di mano
---- b) il cambio di stato (attended, not attended, attended, but in late etc..) andrebbe fatto al volo, facendo tap sul nome per cambiare in uno degli stati disponibili
---- c) nella Statistiche mancano i risultati numerici di alcuni stati, e leggerli solo in percentuale non basta

iPad version pleaseeeeee :)
Vedi in iTunes
Gratuiti

Categoria:

Sport

Pubblicato:

21/06/2012

Versione:

1.0

Dimensioni:

3.2 MB

Lingua:

Inglese

Sviluppatore:

Ascella AS
Compatibilità: Richiede iOS 5.0 o versioni successive. Compatibile con iPhone, iPad e iPod touch.
Top acquisti In-App
EasyCoach Pro Module5,49 €
Altre app per iPhone di Ascella AS